1. A Modern Hamptons Vein Center Is Minimally Invasive
A great recent development in venous medicine is the addition of several minimally invasive vein treatments that resolve the symptoms and appearance of veins in 30 minutes or less. Outdated vein treatment centers in the Hamptons, and some that are run only by vascular surgeons, might not be trained in the newest procedures. But techniques like sclerotherapy, VenaSeal, Varithena, and radiofrequency ablation have an excellent track record and are approved by the FDA for gentler, safer, and faster vein relief. These are exactly the types of procedures you'll find at our award-winning vein treatment center in the Hamptons.
2. An Innovative Vein Treatment Center Avoids Surgery
Choosing an innovative vein center is key to avoiding unnecessary vein stripping surgery (phlebectomy). Only a small number of patients require extraction surgeries to treat veins, for reasons like blood clots or highly enlarged and tortuous varicose veins. Most patients don't need surgery, since minimally invasive methods treat veins without cutting them out of your body. Endovenous injections, thermal energy, and vein adhesives can close off a damaged vein, so that it's harmlessly reabsorbed by your body, without open incisions, stitches, or general anesthesia. This is one of the best reasons to choose innovative vein doctors like those at our Hamptons vein center.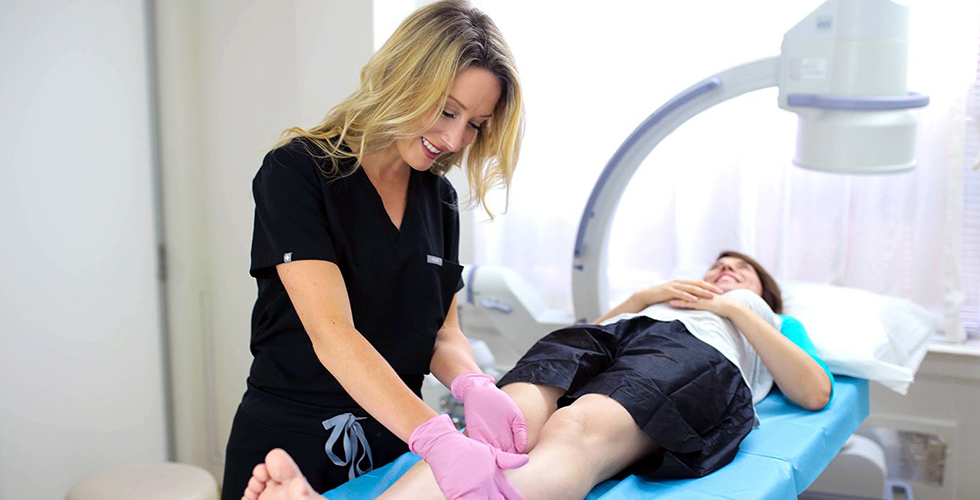 3. A Modern Center Has Several Varicose Vein Treatments
Modern venous medicine presents several options for spider and varicose vein treatment, as well as treating blood clots and vein disease. Look for an accredited vein center whose vein doctors are trained in the latest techniques and use state of the art equipment, so that you're given a variety of options for treatment. If you're allergic to a vein adhesive, you can try radiofrequency ablation. If your veins are too twisted for a catheter, you can try foam sclerotherapy. Select a Hamptons vein treatment center with doctors trained in multiple methods to meet your preferences. Our vein center has locations in North Shore, South Shore, and Hampton Bays, so it's easier than ever to treat your veins.
4. An Advanced Vein Center Has Years of Experience
An advanced vein center like ours only hires the top vein specialists, which means patients benefit from physicians' combined years of experience. Our team consults each other on every patient's case, so you get the wisdom of several vein experts in your diagnosis. The top vein centers hire doctors from the premiere medical schools, like our vein specialists who are Harvard trained. If you want the most accurate diagnosis and customized treatment, stick with the best vein center in the Hamptons. Our practice is a "Center of Excellence," with "RealSelf Top Doctors" who are certified diplomates and academic leaders. Our medical group is so experienced that other doctors seek our expertise on minimally invasive vein care. We frequently lecture on and contribute to medical textbooks on innovative medicine.
5. A Cutting Edge Vein Center Has Board Certified Doctors
Always check to see whether the doctors are board certified before visiting any medical center. This is especially true of a vein center, since some providers aren't doctors, and others aren't board certified in anything, including venous medicine. Cutting edge vein centers that use ultrasound-guided imaging, specialty catheters, and vein adhesives are more likely to hire board certified vein doctors, since these methods are highly technical and require precision and expertise. Board certified doctors, also known as diplomates, complete residency training after medical school, undergo specific fellowships, and pass a board examination. They also commit to continuous learning in their field to provide their patients with superior care. Our medical center for veins is staffed entirely by board certified vein doctors. We accept all major insurance carriers, so it won't cost you anything extra for our extensive expertise.
6. Elite Medical Groups Know Who Suffers From Vein Disease
Another reason to choose an esteemed medical group for vein care is that vein doctors know how to identify who suffers from vein disease. Chronic venous insufficiency and other vein diseases are underdiagnosed, since some patients ignore their symptoms, and others seek vein treatment from non-medical groups like spas where vein disease isn't investigated. Many patients with spider veins and varicose veins actually have an underlying disease, which means their vein damage will recur until the problem is resolved. If you've sought spider or varicose vein treatment before, but vein defects have recurred, you're likely someone who suffers from vein disease. Our vein doctors can treat these diseases quickly and gently so your vein health is truly restored. Our comprehensive solutions relieve vein disease symptoms like swelling, heaviness, aching, discoloration, and rashes, as well as the visibility of diseased veins.
7. An Up-to-Date Center Has Highly Trained Vein Specialists
It's important to choose an up-to-date medical center for vein care, since new research is always emerging. Accredited vein centers like ours undergo reviews of our equipment and practices to ensure that we're always providing the top level of care to our patients. Our board certified doctors conduct research, attend medical conferences, and stay current on best practices and medical advances to provide the best solutions for our patients. Vein medicine has changed dramatically in the last few decades, and it continues to change for the better. You're guaranteed the best care from the best doctors at our award-winning Hamptons vein treatment center.
8. Top Vein Centers Do Pre-Visit, Preventive & Follow-Up Care
If you visit our premiere vein center, you'll receive so much more than the 15-minute consultation you get at other vein centers. Our patient care begins before you arrive, as our insurance specialists help determine your coverage. Our doctors spend ample time getting to know you and providing an accurate diagnosis. They also provide preventive tips to help avoid vein issues in the future. Our caring team follows up with each patient to make sure you're satisfied with your results. We're not the typical medical center that rushes you out the door. We take time to understand your medical history, symptoms, concerns, and treatment preferences, answering each of your questions along the way. Schedule an appointment today to receive the best vein care in the Hamptons.