Clifton Vein Doctor
Do you live in or around Clifton, New Jersey? Are you looking for a vein doctor in your area? If so, it's possible that you're already concerned about venous disorders.
Chronic venous insufficiency is a common condition in which your vein valves malfunction. These valves are usually responsible for smooth blood circulation to the heart. They act like one-way doors that allow blood to pass through but prevent it from flowing back down due to gravity. When they malfunction, blood flows backward due to gravity and accumulates in your leg veins.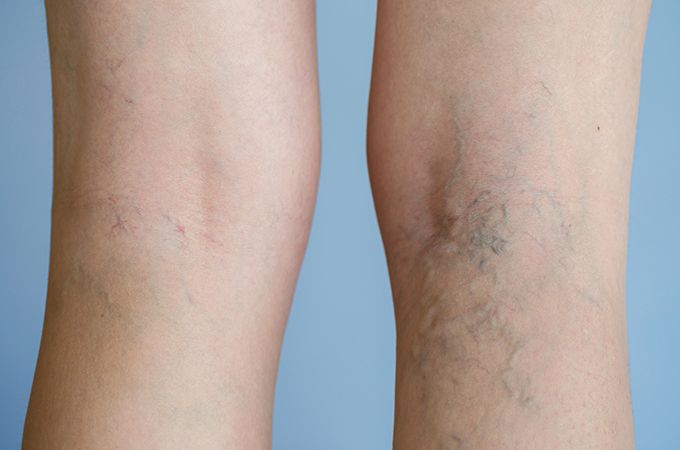 Over time, blood accumulation leads to vein dilation, which eventually leads to the formation of spider veins or varicose veins on the surface of your skin. Spider veins are clusters of blood vessels on the surface of the skin while varicose veins are large protruding trunk-like veins bulging out of the skin.
In addition to spider veins and varicose veins, venous disorders also lead to conditions like leg heaviness, restless leg syndrome, leg swelling, frequent leg cramps, leg ulcers, skin diseases, skin discoloration, and deep vein thrombosis. The last of these is particularly dangerous because the accumulated blood in your veins may clot and these blood clots may eventually break and travel to the lungs, which leads to a potentially-fatal condition called pulmonary embolism.
If you have any of the initial warning signs of venous disorders — leg heaviness, restless leg syndrome, leg swelling, especially at the end of the day — you must consult a vein medical center in Clifton NJ immediately.
However, you shouldn't just contact any medical center. There are a lot of vein doctors in Clifton NJ but not all of them are right for you. Before you contact a medical center, you must do a bit of research. In this article, we show you how to select the best Clifton vein doctor.
Is the Vein Doctor Board Certified?
When searching for vein doctors in Clifton NJ, you have to ask if the vein doctor is board-certified. This is the first level of filtration. Strike out all the doctors who aren't board-certified. While board certification isn't necessary to practice vein care, it's the strongest and most objective indication of quality and experience.
Sure, there are plenty of brilliant vein doctors without board certification, but there are also plenty of inexperienced vein doctors out there. The only way to ensure you find the right vein doctor is board certification. To get board-certified, vein doctors have to be extremely skilled and they need to have achieved several challenging professional milestones.
So look out for board-certified vein doctors in Clifton NJ.
What is their Educational Background?
Next, filter the remaining vein doctors based on their educational background. A vein doctor's educational background is another major determinant of the quality of treatment. Look out for vein doctors who have graduated from Harvard or other Ivy League Universities or those of equal standing.
How Much Experience do they Have with Venous Disorders?
Once you've filtered your list of vein doctors in Clifton NJ, narrow down your selection further by looking at their level of experience and reputation. Go through the vein doctor's website, online testimonials from patients, and other such details.
You can also schedule an appointment with the shortlisted vein doctors. During your initial consultation, ask them about their experience with venous disorders. Once they study your symptoms, ask them if they have experience treating a condition like yours.
While asking these questions, also study if the vein doctor is friendly and patient. These soft skills are extremely important because they help doctors carefully formulate treatments according to your specific needs, thus minimizing the risk of side effects and complications.
Do they Recommend Vascular Surgery?
This is an important factor — what's the vein doctor's recommended treatment strategy? Do they recommend vascular surgery?
If so, you should leave the vein medical center and never return. Vascular surgery is the historical option for vein treatments and is no longer favored because it's risky and has a relatively low success rate. If a vein doctor recommends vascular surgery, it's an indication that they're out of touch with modern vein treatments.
Which Minimally Invasive Procedures do they Recommend?
Modern venous disorder treatments are completely minimally invasive and non-surgical. You should only consult vein doctors who solely provide minimally invasive procedures because they're highly effective, completely safe, and they conclude within an hour with no downtime. You can even seek vein treatment during your lunch break and return to work the same day.
The best minimally invasive procedures for vein treatment include radiofrequency ablation, endovenous laser ablation, and venaseal. During these procedures, the vein doctor uses heat energy, laser energy, or vein glue to collapse or close down the affected saphenous vein, i.e., the source of venous disorders. The accumulated blood reroutes to healthier veins and the diseased vein eventually hardens and gets absorbed by the body.
In addition to these procedures, you can also seek ambulatory phlebectomy and sclerotherapy procedures to remove the symptomatic spider veins and superficial varicose veins. These procedures are minimally invasive but they only treat the surface symptoms rather than the actual vein disease — which is why they're considered to be cosmetic procedures.
Who is the Best Varicose Vein Specialist in Clifton, New Jersey?
Vein Treatment Clinic, which works in conjunction with VIP Medical Group, is the best vein medical center in Clifton, New Jersey. We also have some of the country's best vein doctors — Dr. Michael Nguyen, Dr. Sareh Rajaee, and Dr. Caroline Novak.
All of our vein doctors are board-certified, have exceptional educational backgrounds, flawless track records with patients, and they provide the latest minimally invasive vein treatments for venous disorder.
As mentioned earlier, venous disorders progress at a rapid pace. If you have any of the signs or symptoms of vein disease, please schedule an appointment with the best vein specialist in Clifton NJ today.