The best vein clinic in the Hamptons is located on the Montauk Highway
If you're looking for a spider vein and varicose vein center near the Hamptons, you can't do better than the vein clinic in Hampton Bays. Located at 225 W Montauk Highway Suite 3, Hampton Bays, the vein clinic has a stellar reputation for providing the best vein treatments in Long Island. The vein clinic is currently in partnership with a phenomenal group of skin specialists called MDCS Dermatology, extremely close to South Hampton, Water Mill, East Hampton, Montauk, and other neighboring towns. You can call the vein clinic at +1 631-518-3830.
You can also find equally amazing vein clinics in Jericho and Lindenhurst, LI
If you live on the south shore or north shore of Long Island, you can also find vein clinics closer to your location. If you're on the south shore, you can drive down to our vein clinic in Lindenhurst — 481 W Montauk Highway. If you're on the north shore, you can drive down to our vein clinic in Jericho — 350 Jericho Turnpike Suite 1A. Both vein clinics are led by incredibly talented vein doctors specializing in the latest minimally invasive vein treatments for spider veins and varicose veins.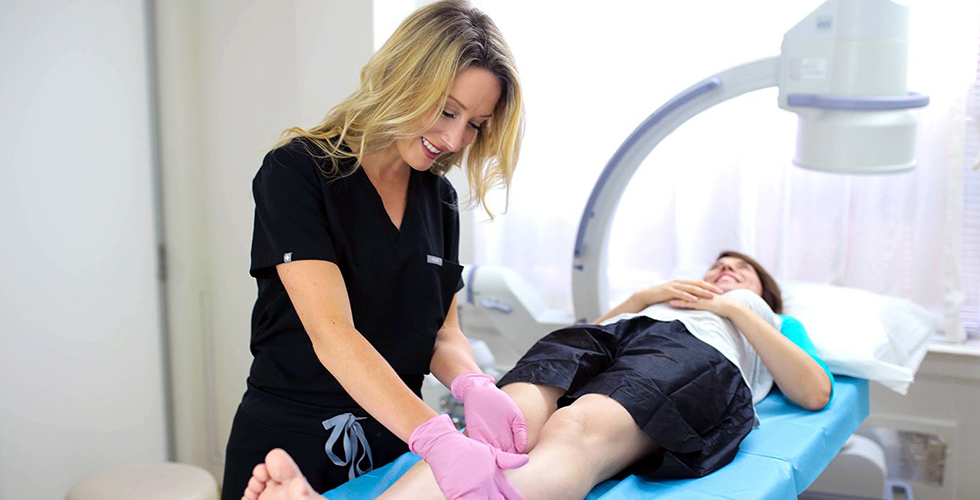 What are patients saying about the vein clinic in the Hamptons?
The best way to gauge a vein clinic's reliability and quality is to read their reviews and testimonials. Patients can leave unbiased, unfiltered, and authentic reviews for their vein clinics and vein doctors on Facebook, RealSelf, or Google. Reading patient testimonials can give you an honest impression of vein clinics while ensuring the vein clinic remains accountable. Our vein clinic in the Hamptons has unanimous 5-star ratings and reviews from all patients, which indicates a perfect track record and excellent vein care standards.
One of our recent patients wrote, "I had a wonderful experience with Dr.Arnold. The pain in my legs dissipated within a few weeks of the treatment, and there was a noticeable improvement in the appearance of spider veins. Everyone in the office is extremely friendly. I would highly recommend treatment with Spider and Varicose Vein Treatment Center!"
Who is the leading vein doctor at the vein clinic in the Hamptons?
Dr. Thomas Arnold is the leading vein doctor at the vein clinic in the Hamptons. He's an incredibly talented and compassionate vein doctor with over 25 years of experience and stellar credentials. He graduated from the University of Pennsylvania and eventually joined the faculty at the prestigious State University of New York at Stony Brook in 1993. He has devoted his entire career to the vascular health of his patients in northern and eastern Long Island. He has performed thousands of minimally invasive vein treatments with no complications or problems.
What can I expect from my vein treatment at the vein clinic in the Hamptons?
Initial consultation and vascular imaging to determine if you have chronic venous insufficiency
Your vein treatment journey will start with a comprehensive consultation with the vein doctor. He will examine your leg veins and review your medical history to gauge the likelihood of vein disease. He'll also ask about your symptoms, asking you to identify the symptoms of vein disease, such as leg heaviness, frequent leg cramps, restless leg syndrome, and more. Based on the consultation, he'll determine if you might have venous insufficiency, the root cause of most vein problems.
A comprehensive and transparent treatment planning process
Chronic venous insufficiency is a medical condition wherein the collapse of your vein valves makes blood flow backward and accumulate in your leg veins. The continued accumulation of blood in your leg veins eventually leads to spider veins and varicose veins. Your vein doctor will perform a vascular imaging scan, known as duplex ultrasound, to visualize the blood flow in your leg veins. This will reveal the presence or absence of chronic venous insufficiency. The vein doctor will curate a personalized vein treatment for you.
Minimally invasive treatments for chronic venous insufficiency
If you have chronic venous insufficiency, your vein treatment will start with one of the following procedures: radiofrequency ablation, endovenous laser ablation, or venaseal. The ablation procedures involve inserting a catheter into the diseased vein under ultrasound guidance. The catheter generates thermal energy or laser energy to destroy the problematic vein. VenaSeal involves injecting a medical adhesive into the diseased vein to seal its walls shut. The accumulated blood reroutes into healthier leg veins, restoring effective blood circulation.
Minimally invasive treatments for spider veins and varicose veins
If you don't have chronic venous insufficiency or after the primary vein treatment, the vein doctor will recommend one of the following treatments: ambulatory phlebectomy or sclerotherapy. Ambulatory phlebectomy is a minimally invasive procedure wherein your superficial varicose veins are extracted through small incisions on the skin's surface. Sclerotherapy is a minimally invasive treatment wherein a sclerosant solution is injected into spider veins. Then sclerosant medicine fuses the spider veins' walls, turning them into scar tissues eventually metabolized by the body.
A quick in-office procedure without downtime or complications
Minimally invasive spider vein and varicose vein treatments conclude within an hour with no downtime. After the procedure, the vein doctor will apply pressure on your legs while you stand up. You'll be asked to start walking immediately, and you'll have to wear compression stockings for a few days. You can resume most of your daily activities immediately, but you must avoid swimming or engaging in strenuous workouts. You can take over-the-counter medications to reduce post-treatment discomfort.