Which Vein Center Is Hamptons Residents' Favorite?
There's nothing more relaxing than lounging seaside in the Hamptons. What's on your checklist for a perfect day at the beach? Is it the new bestseller, a great playlist, or a picnic basket of goodies from the farmer's market? If you're like many beachgoers, you'd love to add flawless skin to that list! If you're one of the many who want to erase vein damage before hitting the beach, click here to visit our award-winning vein center in the Hamptons. Healthier veins are just minutes away with our vein doctors, so you'll have your toes in the sand without delay! Keep reading to learn why we're the favorite vein treatment center for patients in the Hamptons and throughout the United States.
Why Are Our Long Island Vein Centers the Top Choice?
Our vein centers in Lindenhurst, Roslyn Heights, and Hampton Bay, NY, are renowned for several reasons, including our state-of-the-art facilities and world-class vein doctors. Our vein centers are fully accredited in vein imaging and vein medicine, which means your safety is paramount in our medical centers. Your results will also be second-to-none, since our medical group is fueled by the latest research and technological innovation.
In addition, we offer 3 convenient locations for residents and guests of the Hamptons. You can pop into any of our Long Island vein centers and emerge with flawless skin in less than 30 minutes. We beautify your skin's appearance and, unlike some other vein centers on Long Island, we also treat the issues that cause those spider veins and varicose veins to appear.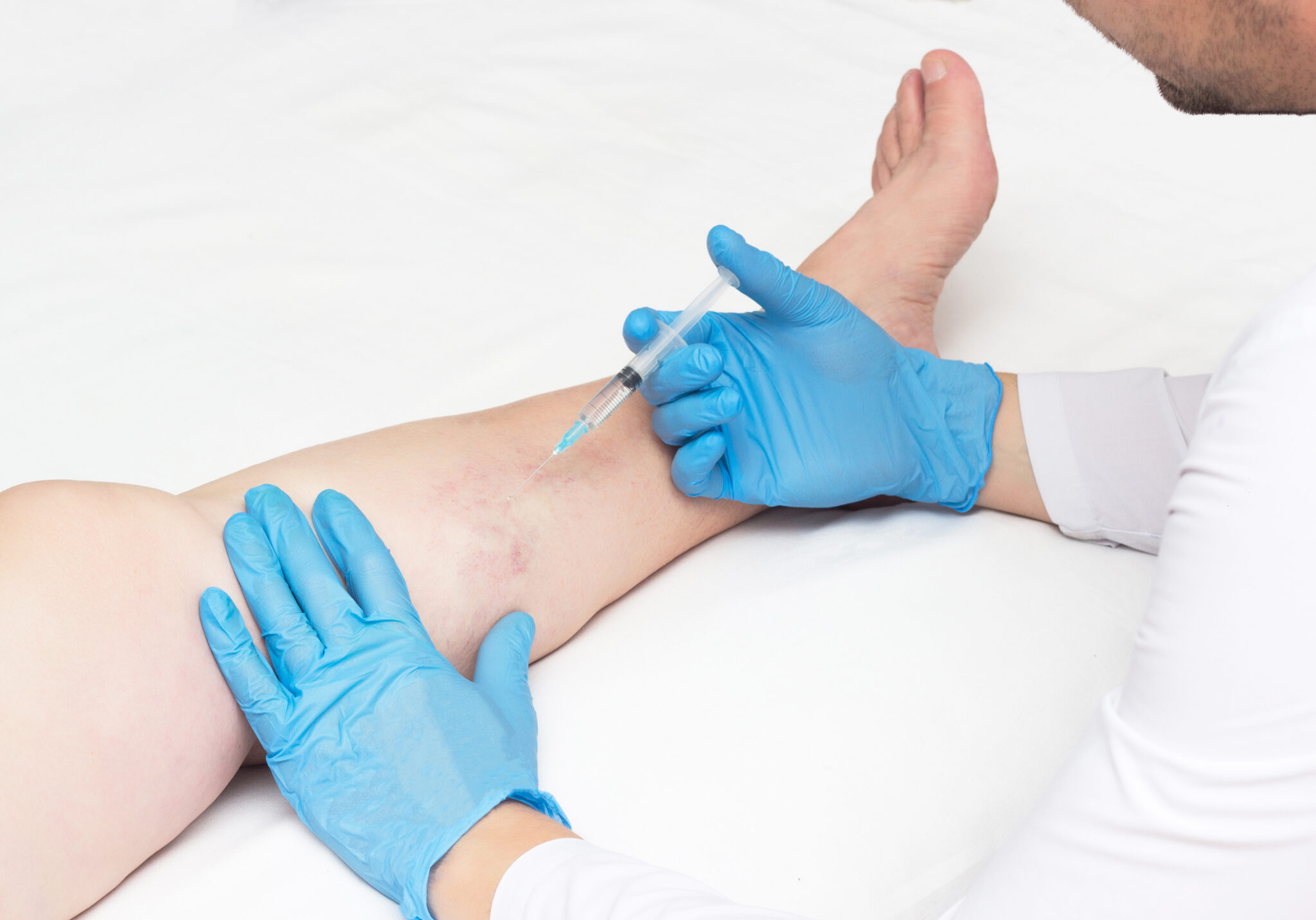 Why Are Our Vein Treatments Favored?
When the sand and sea are calling, the last thing you want is to be stuck recovering from vein surgery. Each of our treatments for spider veins and varicose veins is fast and minimally invasive. This means that most of our patients can resume their regular routines right away, including taking a Hamptons beach day! Our procedures don't cause significant scarring, bruising, or swelling, so you can look beach-ready right away. There's no general anesthesia used in our gentle treatments, which eliminates anesthetic risks, as well as time spent waking from anesthesia.
Many of our procedures are ultrasound guided, which ensures treatment precision and comfort for our patients as well as verification of the treatment's success. What's more, our vein specialists are part of a larger network of accomplished vein doctors located throughout the nation. We pool our insight, research, and resources for endless, customized options to treat each patient. You won't believe how different it is to work with our collaborative team– the process is remarkably pleasant for our patients.
Why Are Our Hamptons Vein Doctors Preferred?
Our Hamptons vein doctors offer a unique combination of elite training and superior communication. Patients are equally as pleased with their outcome as they are with the way they're treated by our team. Known for our accessibility to patients, we're always there to address any concerns you have. We're committed to delivering stunning results, and also to educating you about your vein condition. We want our patients to know what's going on within their veins and how to prevent future issues.
We also want our patients to feel 100% informed and confident about their vein treatment before we begin. Each of our vein doctors is board certified and was chosen for their exceptional academic and clinical success. Our physicians see you as an individual with specific symptoms, needs, and concerns and they're honored to craft the perfect solution for you.
What Can We Do for Your Spider Veins or Varicose Veins?
Our vein doctors aren't limited to the handful of options some vein centers in the Hamptons provide. Since we're a fully accredited and certified medical center, we have an abundance of groundbreaking technology to offer our patients. From duplex ultrasound scans, to specialty catheters, to innovative medicines, we're armed with the latest vein treatment devices. We provide several forms of sclerotherapy (including Varithena), as well as vein adhesives like VenaSeal, and ablative techniques like radiofrequency ablation.
We address the cosmetic aspect of spider veins and varicose veins, which is the chief complaint for some patients. But we also treat vein diseases like chronic venous insufficiency and the concurrent symptoms, which might include cramps, restless legs, swelling, hyperpigmentation, pruritus, dermatitis, and heaviness in your legs. Our vein doctors are known for their interventional approach.
We won't recommend surgery unless it's the only possible choice, which is quite rare. We let patients know whether they require vein treatment from a medical perspective, or whether it's an aesthetic choice they can make. We offer the full range of functional and cosmetic solutions to suit each patient with damaged veins, including compression stockings and tips to try at home.
How Soon Should You Visit Our Vein Center in the Hamptons?
If you're debating visiting a Hamptons vein center, here's why you shouldn't delay. Vein damage that stems from vein disease will only worsen as the disease progresses. In addition, most people don't just develop a single spider vein or varicose vein. That's because they often have valve failure in veins that they can't see, which will continually cause veins to swell and dilate, if it isn't treated. If you tackle the problem now, you might ward off future vein damage. You'll be amazed how exhilarated you feel when the visibility and symptoms of defective veins no longer holds you back.
More importantly, if your spider veins or varicose veins signify blood clots or vein disease, seeing a Hamptons vein doctor is essential to your health. Left untreated, some troubled veins are prone to hemorrhaging or causing venous ulcerations that are resistant to healing. Don't take chances with your venous health. Talk to our vein experts today. You can squeeze in a quick vein treatment at our Hamptons vein center and be on your way to the shore the very same day! Visit the vein doctors that Hamptons residents trust the most, so you can expect amazing results.