The Best Knee Pain Treatments 2019 | A Harvard Doctor Weighs In
Knee pain is a common issue amongst many Americans and can significantly affect lifestyle and overall quality of life. Knee problems range from chronic knee pain as a result of a medical condition, to a sports accident that causes a knee injury. If your knee joint is left without medical advice, symptoms may progress and lead to further health complications.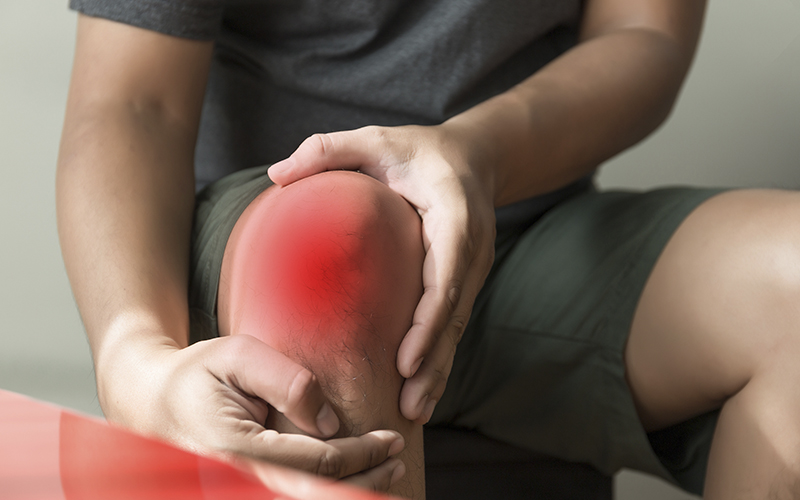 Nowadays, many orthopedic surgeons hastily suggest knee replacement surgery to relieve knee pain. However, surgery is not always the best option to maximize health because it carries many risks and complications. Individuals that choose to have unnecessary invasive surgeries put themselves at risk of wound site infections, blood clots, issues with anesthesia and lengthy recovery periods. Surgical patients also rely on taking long-term pain medication and narcotics which can also have negative health consequences.
Due to these risk factors, it is important to consider visiting a Board Certified pain doctor to receive an accurate assessment of your problem and discuss conservative treatments to help you. The great news is that there are many non-invasive treatment options available that maximize health through minimally-invasive procedures. These procedures combine the latest techniques in regenerative medicine with a holistic approach to health to provide the best knee pain treatments in 2019. Let's take a look at some of the most popular knee pain treatments:
Steroid Injections/ Corticosteroids
Steroid Injections or Corticosteroids tend to be the first line of treatment that a pain doctor will select in order to alleviate knee joint pain. This is an excellent treatment choice because it directly targets the area of concern and reduces pain and inflammation more rapidly than traditional over the counter anti-inflammatory medicines.
The procedure is a fast, safe and effective way to target knee joint pain. First, your pain doctor will topically anesthetize your knee before injecting the tissue with a combination of corticosteroid and local anesthetic. The injecting needle is then withdrawn and your pain doctor will wrap the area with a sterile bandage. This ensures immediate pain relief that can be felt for weeks and even months after having this efficient and effective procedure.
The second most popular treatment choice is an injection of Hyaluronic Acid (also known as Viscosupplementation). A pain doctor may select this treatment choice for patients that require longer-term knee pain treatment.
Hyaluronic Acid is a lubricating agent that is produced naturally in the body. It is responsible for ensuring that joint surfaces are kept lubricated and supple, allowing joints to glide over one another without causing friction. If there is an apparent lack of this lubricating liquid, your joints will be unable to move in a supple manner, creating friction and subsequent pain, tenderness and swelling.
During this procedure, your pain doctor will ask you to lie on your back with straight knees, or to sit upright with your knees bent. Following this, your pain doctor will disinfect the area before applying a local anesthetic to increase comfort levels. Next, small amounts of Hyaluronic Acid are injected directly into the knee joint capsule. Some pain doctors use X-Ray guidance to ensure they are injecting the Hyaluronic Acid into the area that will provide maximum pain relief. Once this has been completed, your pain doctor will wrap your knee in a sterile bandage.
This treatment is highly successful and carries minimal risk, making it one of the top treatment choices by Board Certified pain doctors. Hyaluronic Acid injections are sometimes required 3-5 times a week to maximize pain relief and greatly improve joint function.
Genicular Nerve Block
Another great example of a conservative treatment option is a Genicular Nerve Block. Genicular Nerve Blocks are a popular knee pain treatment option as they provide immediate pain relief due to highly sought after anesthetic properties.
This procedure involves a pain doctor using X-Ray guidance whilst injecting local anesthetic directly into the knee to block the nerves that are transmitting pain signals. Your pain doctor then repeats this process around several points in the knee to block the genicular nerves from sending these pain signals.
A Genicular Nerve Block is well tolerated by patients and is an excellent treatment choice due to its rapid pain relief and minimally invasive nature.
Platelet Rich Plasma (for osteoarthritis and tendonitis)
PRP injections are an innovative and popular treatment for patients struggling with osteoarthritis and tendonitis. PRP uses your body's natural healing properties in the blood to directly stimulate growth and healing.
Your blood contains natural growth factors and platelets which are responsible for initiating natural healing processes. Based on this premise, PRP injections are used to inject your body's own platelets into the knee joint to stimulate these growth and healing properties around the area of the knee. This will encourage the growth of healthy cells in your knee joint, thereby minimizing pain and maximizing healing.
All of the best knee pain treatments in 2019 should be performed by a Board Certified pain doctor. Pain doctors are leaders in the field of pain medicine and have access to the latest diagnostic techniques to provide an accurate assessment of your knee pain. They will then recommend the best physical therapist, R.I.C.E. (rest, ice, compression, elevation) and a non-invasive treatment option that is tailored to your lifestyle needs. At the VIP Medical Group, all our pain doctors are Board Certified and have received the highest levels of medical training in order to provide exceptional medical treatment.
As we've seen, there are many non-invasive treatment options to help your knee pain. Pain doctors advocate the importance of using the latest techniques in regenerative medicine to provide the best treatment options without undertaking unnecessary knee surgeries.
It is no secret that the United States is currently facing an opioid epidemic, and risky surgeries combined with long-term pain medication is not always the best way to maximize our health. Studies are now shedding light on the negative consequences associated with these medical interventions.
At the VIP Medical Group, our doctors believe in maximizing health through minimally-invasive procedures. Our pain doctors are all Ivy League alumni with many years of training in the field of pain medicine. They are expert in using diagnosing techniques such as taking a medical history and ordering imaging scans (like ultrasounds or X-Rays) to accurately assess and diagnose a problem.
Once they have seen the results from the scan and/ or the medical history questions, they can then establish a treatment plan to suit. This involves a recommendation for the best physical therapist in addition to R.I.C.E. (rest, ice, compression, elevation) and a non-invasive procedure like the ones that we've discussed to get you back to full health. They may also recommend other lifestyle modifications, such as weight loss techniques or glucosamine and chondroitin supplements (commonly used for patients with arthritis) to help your rehabilitation.
At the VIP Medical Group, our doctors value the importance of establishing healthy patient-doctor relationships. That's why our highly experienced Ivy League pain doctors are on hand to provide medical advice and answer any concerns you may have.