Do Varicose Veins Come Back After Treatment?
Varicose veins are large rope-like knotted blood vessels that bulge out of the surface of the skin. Some people also describe them as twisted branches and trunks of trees. They're cosmetically ugly to look at and their presence leads to social anxiety and mental health problems, but they're also physically dangerous.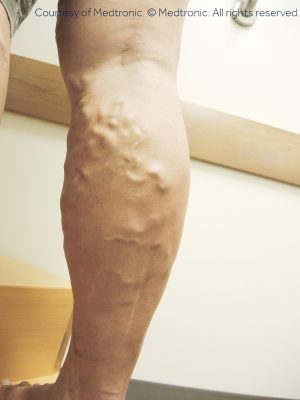 If left untreated, varicose veins can lead to the following complications:
Over time, varicose veins become extremely sensitive and prone to bursting, which can lead to profuse bleeding. When that happens, you have to be taken to the emergency room.
Leg veins also lead to swollen ankles and feet due to the accumulation of blood in the veins.
The lack of blood circulation in the leg also leads to skin discoloration.
You suffer from skin diseases because of varicose veins and the underlying vein disease.
Formation of leg ulcers, i.e., non-healing wounds on the skin because of the lack of blood circulation.
Deep vein thrombosis, i.e., the formation of blood clots in your veins. Over time, the blood clots may also break away and travel to the lungs, which can lead to a potentially fatal condition called pulmonary embolism.
Most people worry that varicose veins treatment is complicated and risky. Many even worry that varicose veins come back after treatment. However, if you go to the right vein doctor and are careful, you can reduce the chances of leg veins coming back.
In this article, we discuss do varicose veins come back after treatment, the importance of duplex ultrasound scan, and how to reduce the chances of varicose veins returning.
We have two types of blood vessels in our body — arteries and veins. Our veins carry blood from different body parts to our hearts. Our veins also consist of valves that act like one-way doors — they allow blood to flow through but prevent blood from flowing back. They're important because they prevent the force of gravity from pushing our blood back down into our leg veins.
Sometimes, however, these leg veins collapse, which causes blood to flow backward and accumulate in our leg veins. This condition is known as chronic venous insufficiency and it's a serious circulatory disorder that only gets worse with time. Eventually, the accumulated blood in the veins will cause vein dilation, which will lead to the formation of spider veins and varicose veins.
To put it shortly, the root cause of varicose veins is an underlying condition called chronic venous insufficiency.
Importance of Duplex Ultrasound Scan
Varicose veins are almost always caused by chronic venous insufficiency. However, some people suffer from superficial varicose veins or spider veins, i.e., dense clusters of blood vessels that appear on the surface of the skin but aren't bulging veins.
Duplex Ultrasound Scan is important because it helps the vein doctor diagnose the underlying chronic venous insufficiency. This is an imaging test that helps the vein doctor visualize the blood flow in your veins, which helps them diagnose the presence of vein disease.
If your varicose veins aren't caused by vein disease, it's treated as a cosmetic issue. If your varicose veins are caused by vein disease, then the vein doctors have to curate a completely different plan. Some inexperienced vein doctors only treat the superficial varicose veins without running the diagnostic test — that's dangerous because it will increase the risk of varicose veins coming back.
As such, a duplex ultrasound scan is important because it helps the vein doctor diagnose the root cause of your varicose veins and thus reduce the chances of your leg veins returning.
In the past, varicose veins could only be treated with complicated, risky, and often ineffective surgical procedures. However, thanks to modern medicine and technologies, varicose veins can be treated with minimally invasive and non-surgical procedures that have a negligible risk of side effects, are painless, and conclude within an hour with zero downtime. The following are some of the best minimally invasive treatments for varicose veins that ensure they don't come back.
Radiofrequency Ablation
Radiofrequency ablation is a minimally invasive procedure in which the vein doctor uses heat energy or thermal energy channeled through a catheter to collapse your diseased leg veins. This treats the underlying vein disease.
Endovenous Laser Ablation
Endovenous laser ablation is a procedure in which the vein doctor uses laser energy to disrupt the vein walls and eventually destroy the diseased saphenous vein. This also treats vein disease, though it causes more post-procedural discomfort.
VenaSeal
VenaSeal is a procedure that involves the use of medical adhesive to fuse the saphenous vein's walls and close it down, treating the underlying vein disease.
Ambulatory Phlebectomy
Ambulatory Phlebectomy is a procedure in which the vein doctor manually removes the superficial varicose veins. This doesn't treat the underlying vein disease — only restores the cosmetic appearance — so this is generally used after one of the aforementioned treatments.
Sclerotherapy
Sclerotherapy is a procedure in which the vein doctor injects medicine into your spider veins to harden them and gradually make them disappear. This procedure also provides cosmetic relief but doesn't treat the vein disease.
How to Reduce the Chances of Varicose Veins Returning?
The following steps will reduce the chance of varicose veins returning:
Find the best vein doctor in your area.
Seek an evaluation of your condition through tests like a duplex ultrasound scan.
If you have vein disease, the doctor will treat it with radiofrequency ablation, venaseal, or endovenous laser ablation.
The vein doctor will get rid of the superficial varicose veins and spider veins with ambulatory phlebectomy and sclerotherapy.
You'll have to wear compression stockings.
You'll have to experience frequently to facilitate smooth blood circulation.
VIP Medical Group has some of the best vein doctors who treat the underlying vein disease using the best minimally invasive procedures to completely eliminate or reduce the chances of varicose veins returning. For more information, please schedule an appointment today.