Best Vein Doctor Near Me
Do you have thin clusters of web-like veins on the surface of your skin? Do your legs feel heavy or restless? Have you been experiencing frequent leg cramps? Can you see large swollen rope-like knots of blood vessels bulging from your skin? If so, you must be wondering "where to find the best vein doctor near me?"
Based on the symptoms described above, you're probably suffering from vein disease that's manifested in the form of spider veins and varicose veins on your skin. Vein Disease, also known as Chronic Venous Insufficiency, is a dangerous condition in which your vein valves malfunction and blood accumulates in your leg veins, thereby leading to poor blood circulation to the heart and a whole host of other complications.
Vein disease progresses rapidly but most people fail to notice its initial warning signs. That's because the initial signs of vein disease — heaviness of legs, restless leg syndrome, leg cramps, swollen ankles — seem benign and get misattributed to signs of aging. That's why you have to be wary of these symptoms and consult a vein doctor the moment you notice them.
If left untreated, vein disease can lead to complications like bleeding, leg ulcers, skin infections, and deep vein thrombosis. In rare situations, vein disease can also be fatal.
But how and where do you find the best vein doctor in your area? Well, as a general rule, you can find some of the best vein doctors in a reputable vein treatment center. In this article, we'll answer your question "where to find the best vein doctor near me".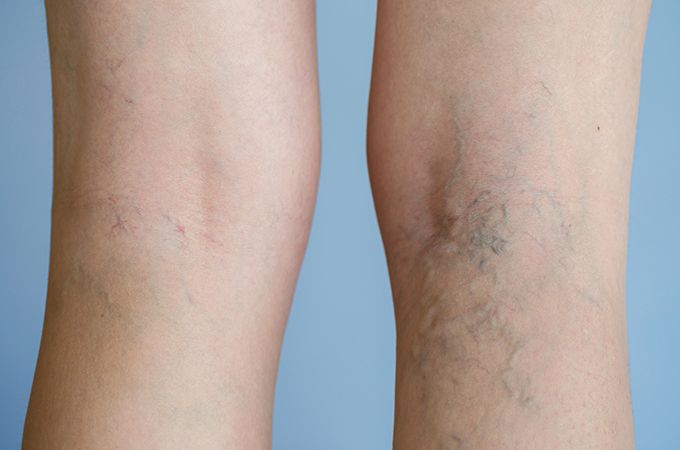 Qualities of the Best Vein Treatment Center
Board-Certified Vein Doctors
The most important quality of a good vein treatment center is the presence of board-certified vein doctors. There are a lot of ill-equipped and poorly-trained vein doctors out there. That's why it's important to look for a vein treatment center that only accepts distinguished board-certified vein doctors who have met the high requirements of board certification. Seeking treat from an ill-experienced vein doctor will increase your risk of side effects and complications like allergies and infections.
State-of-the-Art Technology
Vein medicine advances at a rapid pace. While older treatments would still be effective at treating vein disease, they may lead to more side effects and discomfort. That's why it's important to find a vein treatment center that's equipped with the latest state-of-the-art equipment and technologies such as ClariVein and ClosureFAST for radiofrequency ablation. These technologies allow vein doctors to diagnose and treat vein disease with extreme accuracy.
Minimally Invasive Procedures
Long ago, vein disease could only be treated with complex surgical procedures that were painful, led to your being hospitalized, and had a high risk of complications. However, thanks to advancements in vein care, you can now treat vein disease with minimally invasive procedures.
The best minimally invasive procedures for vein disease treatments are radiofrequency ablation, laser ablation, venaseal, and sclerotherapy. During these treatments, the vein doctor uses heat, laser, or vein glue to close down the diseased saphenous vein, thereby restoring blood flow to healthier veins. That's all the procedure entails and it usually concludes within an hour and there's no recovery downtime so you can return to your daily activities immediately.
When looking for a good vein treatment center, make sure that they specialize in the latest minimally invasive vein procedures.
Personalized Approach
Finally, it's also important that the vein treatment center takes a personalized approach to treatment. Their vein doctors should be friendly and they should clear all your concerns about the treatment. They should also listen to your concerns, examine your medical history, and run tests in order to determine the best vein treatment for your needs.
Best Vein Specialists in the US
Are you wondering "who is the best vein doctor near me"? Well, if you're in or around New York, New Jersey, or California, then you have access to some of the country's finest vein doctors. The best vein doctors in New York are Dr. Namrata Khimani, Dr. Michael Nguyen, and Dr. Juan Montoya. The best vein doctors in New Jersey are Dr. Sareh Rajaee and Dr. Caroline Novak. And the best vein doctors in San Diego are Dr. Carly Guthrie and Dr. Billy Schoenfeld.
All of the above mentioned vein doctors are highly-qualified board-certified Ivy League-educated vein doctors specializing in the latest minimally invasive vein treatments such as sclerotherapy, ultrasound-guided radiofrequency ablation, phlebectomy, laser ablation, and venaseal.
If you don't have access to these vein doctors, you can still find the best vein doctor in your area by looking at their credentials — they should be board certified, ideally trained in an Ivy League university, friendly, and have a perfect track record with their past patients.
Consult the Best Vein Doctor in your Area
Spider Vein and Varicose Vein Treatment Center is the best vein clinic in the US with some of the best vein doctors available. Once you schedule an appointment, the doctor will study your symptoms, discuss your medical history, and run a Doppler Ultrasound test to visualize the underlying vein. If you're found to have vein disease, then the vein doctor will curate a treatment plan perfect for you. If you're suffering from vein disease, please visit your nearest vein doctor for a consultation.