Is Back Pain Treatment Covered by Insurance? Pain Management Physician Answers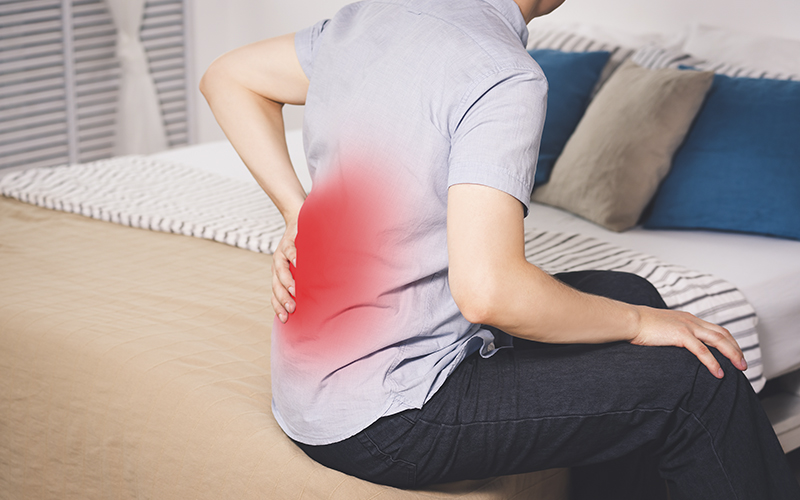 If you have chronic low back pain, your health insurance will likely offer limited coverage to services like pain management counseling and prescription drugs. But is back pain treatment covered by insurance? Does insurance cover acupuncture, corticosteroids, or other forms of nonpharmacologic treatments?
To a large extent, the kind of back pain treatment covered by insurance depends on your specific insurance plans, the state you're in, and various other factors. You generally don't receive insurer coverage for nonpharmacologic treatments like acupuncture or chiropractic care, though some specific plans may include them.
This is a missed opportunity for insurance companies that still largely provide coverage for prescription opioids even though their overprescription has thrown the US into an opioid crisis. Chronic low back pain, in specific, has a high correlation to opioid use.
However, according to a guideline sent out by the American College of Physicians, nonpharmacologic treatments for chronic low back pain are far more advisable because they address the root cause of your back pain and treat it. As such, nonpharmacologic treatments like epidural injections and facet joint injections can offer lasting relief from back pain and enhance the quality of your life without the risk of addiction.
But is non-invasive and nonpharmacologic back pain treatment covered by insurance? To an extent, they may be covered, but not entirely and not always. Please discuss your insurer coverage with your pain management physician and insurance providers.
In this article, we discuss some of the most effective ways to treat chronic low back pain through physical therapy and nonpharmacologic treatments.
How to Treat Chronic Low Back Pain?
When you consult a pain management physician or interventional pain specialist for chronic low back pain, they'll initially recommend some home treatments. All nonpharmacologic treatments start with the following home treatments for back pain.
RICE
RICE, taught in every first-aid class, is the most effective way to provide immediate relief from back pain. RICE is short for Rest, Ice, Compression, and Elevation. You need to first rest the injured or sore spot, then apply an ice pain to reduce swelling, wrap the area in an ACE bandage for compression, and finally elevate it on a pillow while sitting or lying down.
Physical Therapy
Your pain management physician may also recommend physical therapy, which is often extremely effective against chronic back pain. While physical therapists can't treat the source of back pain, they can ease pain from certain pressure points and help with mobility. Physical therapy is often prescribed by pain management physicians while you undergo other minimally-invasive nonpharmacologic treatments.
Chronic low back pain can be treated with several minimally-invasive nonpharmacologic treatments that cause minimal pain or discomfort. The following are some of the best treatments for back pain.
Epidural Steroid Injections
An epidural steroid injection is used to deliver an anti-inflammation medication to the epidural space in your back to relieve back pain that's caused by inflamed spinal nerves, disc herniation, or spinal stenosis. The epidural space is a fat-filled space between the bone and the protective sacs of the spinal nerves. The entire procedure takes less than 30 minutes and it provides instant pain relief, though you may need to return for several sessions for a few weeks. In addition to the epidural steroid injection, you will also need physical exercise.
This procedure is highly effective, it's an outpatient procedure so you can resume your daily activities immediately with no downtime, you experience little to no pain, and the whole procedure only lasts for 30 minutes. The only drawback is that the cortisone injection is extremely powerful so it may weaken your tendons and cartilage if taken frequently.
Facet Joint Injections
A facet joint injection, also known as a lumbar facet injection or facet joint nerve block, is a procedure in which the pain management physicians inject an anesthetic or numbing medication around the nerves of the joints on each side of the vertebra of the lower back. You may need as many facet joint injections as the number of joints causing chronic low back pain.
This is a simple procedure that offers instant relief, helps with back pain diagnosis, and concludes within an hour with no downtime. However, this procedure is only suitable for patients suffering from arthritis or those with mechanical lower back pain. While it doesn't treat chronic low back pain permanently, it does provide enough relief that you can carry on with your physical therapy.
Lumbar Radiofrequency Ablation
Lumbar radiofrequency ablation — also known as rаdіоfrеquеnсу rhіzоtоmу, rаdіоfrеquеnсу neurotomy, rаdіоfrеquеnсу dеnеrvаtіоn, or medial branch nеurоtоmу — is a minimally invasive nonpharmacologic treatment recommended for those who have chronic low back pain due to arthritic changes. Your pain management physician will only recommend this treatment if the aforementioned facet joint injection works, thus diagnosing that your back pain is caused by arthritis.
During this procedure, the pain management physician will generate heat energy and direct it to the affected nerve area endings, thus eliminating them and offering pain relief for at least a year. This is one of the most effective treatments for chronic low back pain and it's often covered by insurance since facet joint osteoarthritis is a serious medical condition.
Schedule your Pain Management Appointment
Pain Treatment Specialists has some of the best pain management and interventional pain specialists who can identify the root cause of your chronic low back pain and provide long term nonpharmacologic treatments without relying on addiction opioids. We can also help you get the best insurance coverage possible for your pain treatment. For more information, please schedule your pain management appointment today.