What are the Top Leg Vein Treatment Options?
Do you have large leg veins that make you self-conscious? Are these leg veins hard to cover up? These prominent leg veins may either be spider veins or varicose veins. You can identify spider veins as thin reddish web-like clusters of blood vessels visible just under the surface of the skin. You can identify varicose veins as the swollen twisted trunk-like veins that bulge out of the surface of the skin.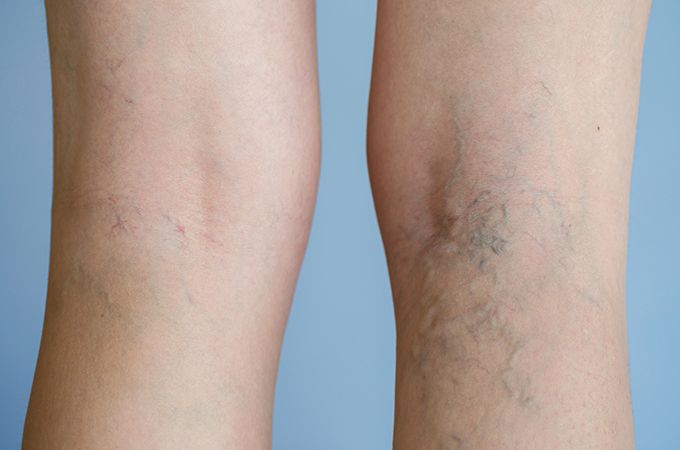 In either case, leg veins affect a lot more than your physical appearance — they can also be indicative of anunderlying venous insufficiency. This is a condition in which the valves in the veins malfunction, which means they can't facilitate smooth blood circulation to the heart. As a result, blood flows backward and pools around the leg veins, eventually causing your leg veins to expand. That's how you get spider and varicose veins.
Some people are at a higher risk of leg veins due to various factors like genetics, hormones, etc. You're also more likely to get spider veins if you have a stationary job that requires you to sit or stand still for long stretches of time, such as teaching, nursing, driving, working a desk job, etc. If you don't treat leg veins — and the underlying vein disease — in time, you can also end up with serious complications such as skin diseases, leg ulcers, profuse bleeding, and even deep vein thrombosis.
In this article, we discuss what are thetop leg vein treatment options, touching on both medical treatments and home remedies.
Radiofrequency Ablation
Radiofrequency ablation is perhaps one of the most popular non-surgical minimally-invasive leg vein treatment procedures available. Essentially, this is a procedure in which thermal energy is used to destroy the saphenous vein that's causing leg veins in order to restore blood circulation to the heart.
During the procedure, the vein doctor will first make a small incision on your thighs. The doctor will then insert a catheter into the incision under ultrasound guidance until it enters the diseased vein. Once the catheter is in place, the doctor will engage it to pass thermal energy into the saphenous vein, which will irritate the vein walls and eventually collapse the vein. The accumulated blood will automatically move into healthier veins and the diseased vein will — over time — get absorbed by the body.
Radiofrequency ablation is an in-office treatment procedure that can be conducted on an outpatient basis and it only takes one hour. You can resume your daily activities immediately after the treatment. Furthermore, it's also a largely painless experience and it has a high 97% rate of success with only a negligible risk of side effects.
Endovenous Laser Ablation
Endovenous laser ablation is a procedure in which the vein doctor creates an incision on your thighs in order to insert a catheter with a laser fiber. Once the catheter is in place, the vein doctor activates it in order to generate laser energy that immediately destroys the diseased vein.
However, before activating the laser, the doctor also has to inject anesthesia all along the saphenous vein to protect the surrounding tissues. This makes endovenous laser ablation a slightly more painful procedure and you'll experience some soreness after the treatment.
Other than that issue, laser ablation also has a high success rate of 97%, it concludes within an hour, and it allows you to return to your daily routine and activities immediately after the treatment.
VenaSeal
VenaSeal is the latest vein treatment procedure and it's also the most minimally invasive. There are no incisions and there's no need for anesthesia either.
During the procedure, the vein doctor simply injects a medical adhesive into the diseased vein. This vein glue seals the walls of the vein in order to reroute the accumulated blood to healthier veins and restore effective blood circulation. VenaSeal has a 99% rate of success, it's the most minimally-invasive and painless procedure for varicose vein treatments.
Sclerotherapy
Sclerotherapy is a cosmetic treatment that only treats the surface leg veins. Basically, it treats the symptoms of spider and varicose veins but not the underlying disease. As such, it's generally used for surface spider veins or it's used after the primary vein treatment is done.
During this procedure, the vein doctor injects a medicine called sclerosant into the surface spider veins. This medicine makes the walls of the veins stick to each other, which shuts them down and makes them gradually disappear into the body.
Home Treatment for Varicose Veins
In addition to the medical treatments, you can also try a few home treatments. These won't cure the underlying vein disease, but they might help manage the pain of varicose veins or minimize some of the symptoms.
Wear Compression Stockings: By applying pressure on the blood vessels, they help push blood to the heart.
Regular Exercise: Swimming, running, yoga, and cycling activate your calf muscles to help with blood circulation.
Elevate your Legs: Doing so allows some of the accumulated blood to flow towards the heart because of gravity, thus restoring blood circulation temporarily.
Consult a Reputable Spider and Varicose Vein Center
AtVIP Medical Group, we have some of the world's most renowned board-certified and Ivy League-educated vein doctors who can carefully study your conditions in order to diagnose the root cause of your leg veins. Once they've diagnosed vein disease, we use a number of minimally invasive procedures to treat the root cause so your leg veins don't resurface later. For further information on leg veins, pleaseschedule an appointment with a spider and varicose vein treatment center.