Disease of the Veins in Legs
Are you concerned that you have vein disease in legs?
There are various signs and symptoms that suggest you might have vein disease, also known as Chronic Venous Insufficiency.
Do you notice spider veins or varicose veins in your legs? Do your legs get extremely tired at the end of the day, even if you've just been sitting or standing still? Do you feel a heaviness or throbbing in your legs?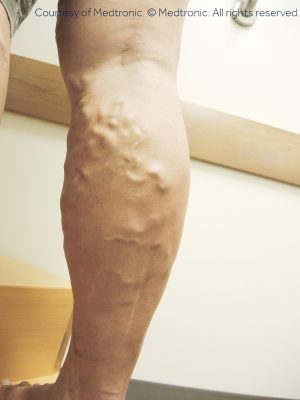 You might think that these are just harmless or normal signs of aging. However, these are actually all signs and symptoms of vein disease in legs.
Chronic Venous Insufficiency is an extremely under-diagnosed but dangerous condition. It can lead to a number of serious issues like bleeding, leg ulcers, skin infections, and, in some cases, pulmonary embolism.
But rest assured, vein disease can very easily be cured, especially if you identify it in the early stages and go to a reputable vein treatment clinic.
In this article, we'll show you all the symptoms of vein disease in legs and offer some effective minimally-invasive non-surgical treatment solutions.
Causes of Vein Disease in Legs
Chronic Venous Insufficiency (or Vein Disease) occurs when the valves in the veins stop functioning as they should.
These valves encourage your blood to flow from your legs to your heart and prevent backflow of blood due to gravity. When these valves malfunction, the blood flows back down and pools around the legs. This leads to venous insufficiency, i.e., vein disease in legs.
Venous insufficiency may occur because of blood clots in the veins which prevent natural blood flow. It can also occur when your leg muscles are too weak and unable to ensure that blood return to the heart, which, in turn, causes blood to pool in the legs.
Symptoms of Vein Disease in Legs
The most dangerous aspect of vein disease is that it can go undiagnosed until it's too late. That's mostly because the symptoms of vein disease in legs is often mistaken as signs of aging.
The following are some of the most common signs and symptoms of vein disease in legs:
Development of spider veins. A small amount of spider veins is usually normal. However, it can also be indicative of an underlying vein disease so you should get tested anyway.
Varicose veins are almost always a sign of venous insufficiency.
Chronic skin changes, such as the red and beefy discoloration of the skin.
Development of leg ulcers, i.e., non-healing wounds in the legs.
A general sense of heaviness and exhaustion of the legs, especially at the end of the day.
Aching or heaviness after sitting or standing for long periods of time. This usually occurs because sitting or standing still causes more blood to pool in the legs.
Throbbing sensation in the legs.
Swelling of the legs and ankles.
If left untreated, venous insufficiency can also be potentially lethal.
In some rare cases, blood clots may form in the veins due to all the accumulated blood. This is known as Deep Vein Thrombosis. If the clot breaks, it may get carried to the heart, which will immediately induce a pulmonary embolism, which can be potentially life-threatening.
Diagnosis of Vein Disease in Legs
If you experience any of the aforementioned signs and symptoms, you should go to your local spider vein specialist in NY or vein specialist NJ immediately.
It may be nothing. But you shouldn't take that chance, especially because venous insufficiency can progress quickly and, as already explained, it can be lethal.
Once you consult a vein specialist, they will examine your legs and run some tests to diagnose venous insufficiency.
Duplex Ultrasound for Diagnosis of Venous Insufficiency
Duplex Ultrasound is the most popular method for diagnosing venous insufficiency. It combines Doppler and traditional ultrasound to produce a visual representation of the blood vessels and identify any signs of blood clots or venous reflux.
Duplex Ultrasound has a 99% success rate, it is completely non-invasive, and the entire process can be concluded within 30 minutes.
Best Treatments for Vein Disease in Legs
When you're seeking treatment for vein disease in legs, you have to go to a board-certified vein specialist in NY or vein specialist in NJ.
You should not, under any circumstance, rely on home remedies and treatments found online. Treatments like exercising, massage, wearing compression stockings can only relieve some of the pain and pressure. They CANNOT cure vein disease in legs.
Furthermore, treatments like drinking apple cider vinegar, consuming witch hazel, and other similar DIY treatments are completely useless. So don't trust them.
The only way to treat vein disease in legs is through medical approaches. The following are the most effective minimally-invasive non-surgical treatments for vein disease.
VenaSeal
VenaSeal is a medical adhesive (vein glue) that is used to close the affected veins in the legs and re-route the blood to healthier veins. This method has a 99% success rate, is completely safe, and causes minimal pain and discomfort. Patients can resume their daily activities immediately after the treatment.
Radiofrequency Ablation
Radiofrequency Ablation (RFA) is a method in which thermal energy is used to close down the affected veins. This method is every bit as effective as VenaSeal. You can even get this procedure done during your lunch break because it only takes 15 to 45 minutes and you can resume your daily activities immediately.
VenaSeal and Radiofrequency Ablation are the most effective treatments for venous insufficiency.
However, there are other treatment options available such as Endovenous Laser Ablation and Sclerotherapy. These treatments, however, aren't highly recommended because they aren't as effective or they cause more discomfort.
Which is the Correct Venous Insufficiency Treatment for Me?
Every patient is unique.
As such, a vein specialist needs to carefully examine your legs, your medical history, and your current condition in order to come up with a treatment plan that's perfect for you.
At VIP Medical Group, we treat all our patients individually and carefully curate a treatment plan with minimal downtime, minimal risk, minimal discomfort, and maximum efficiency.
As mentioned earlier, venous insufficiency often goes undiagnosed until it's too late. So don't wait around and book an appointment today!