What Does Varicose Vein Pain Feel Like?
Are your veins throbbing? Do your legs feel heavy at the end of the day? Do you experience sharp cramping sensations in your legs?
Those are all symptoms of varicose veins and they indicate that you have underlying vein disease.
Varicose vein pain progresses rapidly so you should seek treatment as soon as possible. If left untreated, varicose veins can also lead to severe bleeding, skin infections, leg ulcers, and various other complications. All of these diseases and complications can be pretty painful, and, in some cases, also dangerous.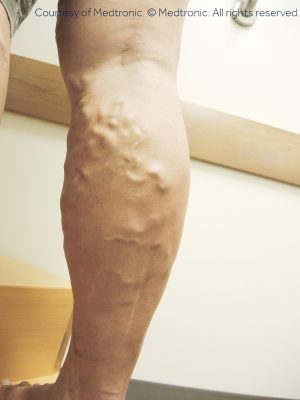 If you see any signs or symptoms of varicose veins, you should go to a reputable vein specialist in NY or vein specialist in NJ immediately to seek treatment.
Meanwhile, you must have a lot of questions about varicose veins. What does varicose vein pain feel like? How to relieve varicose vein leg pain? How to treat varicose veins permanently?
In this article, we answer all your questions about varicose veins leg pain.
What are Varicose Veins?
Varicose veins (also known as varicosities) are large swollen blood vessels visible on the surface of the skin. They look dark purple, blue, red, or green, and they often protrude out of the skin. While healthy veins run in straight lines, varicose veins look like twisted and knotted ropes.
Chronic Venous Insufficiency: The Primary Cause of Varicose Veins
Varicose veins occur as a result of an underlying vein disease called Chronic Venous Insufficiency.
Venous insufficiency is a medical condition in which the valves in your veins malfunction. These valves usually act as one-way doors, i.e., they allow blood to flow to the heart and prevent it from flowing back down to the legs.
When these valves malfunction, blood flows back down because of gravity and pools in the veins behind the dysfunctional valves. The accumulated blood applies greater pressure on the walls of the veins, leading to enlarged veins that eventually protrude out of the skin.
And that's how venous insufficiency leads to the formation of varicose veins. In order to treat varicose veins, it is necessary to treat the underlying vein disease.
It is also important to note that you may have venous insufficiency before you actually see the varicose veins. In fact, the presence of varicose veins is usually an indication that the vein disease has progressed to its latter stages.
Venous insufficiency is an extremely under-diagnosed disease because most people attribute its signs and symptoms to age. However, if you notice any signs of vein disease, it is important to seek treatment immediately.
What does vein disease feel like? Find out in the next section.
What Does Varicose Vein Leg Pain Feel Like?
Initial Symptoms of Varicose Veins
Heaviness and an aching sensation in the legs.
Persistent throbbing of leg veins.
Inflammation of veins, which manifests in a burning and itching sensation.
Cramping sensations.
Restless legs.
Swollen ankles and legs.
These are all the initial symptoms of varicose veins. You may even experience them before you actually see the varicose veins.
Generally speaking, varicose vein leg pain will be worse at the end of the day because of the accumulation of blood in your legs. These symptoms may also worsen if you've been sitting or standing for long stretches of time.
Advanced Complications of Varicose Veins
If left untreated, varicose veins can have terrible consequences and complications. These include:
Eczema: Red and beefy appearance of skin around the veins because of blood cell breakdown.
Bleeding: Unstoppable bleeding if you even scratch or bump your varicose veins.
Leg Ulcers: Slow-healing or non-healing wounds on your shins and calves.
Lipodermatosclerosis: Permanent disfiguration of the skin.
Deep Vein Thrombosis: Clotting of the accumulated blood in your veins.
Pulmonary Embolism: When the clotted blood breaks away, it may travel to the lungs, which can be fatal.
How to Relieve Varicose Vein Leg Pain?
The following are two methods by which you can relieve varicose vein leg pain. However, it is important to note that these methods only provide temporary relief.
They may relieve some of the pressure and make you feel better momentarily, but they will not cure venous insufficiency. So it is still important to seek varicose vein treatment from a reputable vein treatment clinic.
The following methods can provide temporary relief from varicose veins leg pain.
Compression Stockings: These are stockings that apply pressure on your ankles and feet, thus improving blood circulation.
Exercise: Exercises like swimming, walking, jogging, and yoga enhance blood circulation in the legs. As such, some of the accumulated blood flows back to the heart and relieves pressure from your legs.
These methods can only provide temporary relief from pain. They cannot cure or treat varicose veins. If you want to treat varicose veins permanently, you need to consult a highly-qualified board-certified vein specialist in NY or vein specialist in NJ.
Treating Varicose Veins Permanently
Long ago, the only way to treat varicose veins permanently was through complex risky surgical procedures. However, thanks to modern technology and medical advancements, varicose veins can be treated with some minimally-invasive procedures.
Best Minimally-Invasive Varicose Veins Treatments
The following are the best varicose veins treatments available right now.
Radiofrequency Ablation (RFA): Thermal energy (heat) is directed into the affected vein via a catheter to modify the walls of the affected veins.
Endovenous Laser Ablation (EVLA): Laser energy delivered to the walls of the affected vein generates an inflammatory reaction and closes it down.
Venaseal: A medical adhesive is used to fuse the walls of the affected veins together, effectively shutting them down.
In all of these medical treatments, the diseased vein is closed down and the accumulated blood reroutes to healthier deeper veins. The closed vein eventually hardens and is reabsorbed by the body.
Benefits of Minimally-Invasive Varicose Veins Treatments
All of the aforementioned varicose vein treatments have the following benefits:
Minimally-invasive while being maximally-effective.
The entire procedure concludes within 30 minutes to 1 hour.
You experience little to no pain or discomfort.
Extremely high success rate.
They treat varicose veins permanently by addressing the underlying venous insufficiency.
Can be performed on an outpatient basis and you can resume your daily activities immediately.
Relieve Varicose Vein Pain Now
At Vein Treatment Clinic, our board-certified and Harvard-educated vein doctors specialize in minimally-invasive treatments for varicose veins. They are extremely patient and friendly and they carefully study your varicose veins and medical history to curate a treatment plan perfect for your specific needs.
So book an appointment at a vein treatment clinic in NY or NJ and say goodbye to your leg pains!