Which Procedure is Used in the Treatment of Spider Veins?
Spider veins are tiny and wispy web-like clusters of blood vessels that appear just beneath the surface of the skin. They look pretty terrible and patients of spider veins often complain that it gives them social anxiety and self-conscious. As such, people who have spider veins often disengage from society, become reclusive, and stop going to parties, which can also lead to mental health issues.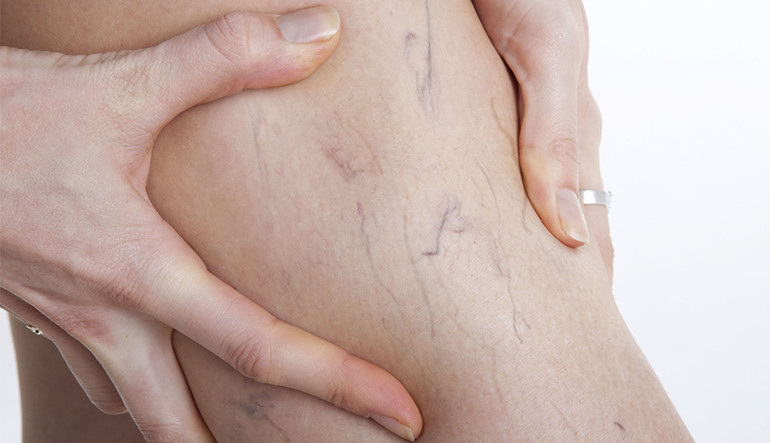 In addition to the cosmetic aspects of spider veins, they can also be physically dangerous. In most cases, spider veins aren't physically dangerous. However, sometimes, spider veins are merely symptomatic of an underlying vein disease called chronic venous insufficiency. This is a dangerous circulatory disorder in which the vein valves collapse and fail to facilitate blood circulation to the heart, which leads to the accumulation of blood in the leg veins.
If you have spider veins, you're probably wondering which procedure is used in the treatment of spider veins. Well, sclerotherapy is the most popular spider vein treatment out there. In this article, we'll discuss sclerotherapy and other treatments for spider veins.
Sclerotherapy Spider Vein Treatment
Sclerotherapy is a spider vein treatment that gets rid of surface and superficial spider veins and varicose veins. During this procedure, a salt solution or sclerosant medicine is injected directly into the affected surface veins. This solution irritates the vein walls and causes them to stick to each other and the accumulated blood to clot. Over a period of a few weeks, the collapsed vein hardens into scar tissue and gradually fades away.
Advantages of Sclerotherapy
Sclerotherapy is the best spider vein treatment for the following reasons:
This procedure has been used to treat spider veins since the 1930s so there are decades of history regarding its high success rate.
It has a negligible risk of side effects and you'll only experience some slight soreness after the treatment.
Sclerotherapy is a minimally invasive and non-surgical procedure so it only includes a single injection.
This is an in-office procedure that concludes within 30 minutes.
It can be conducted on an outpatient basis so you don't have to be hospitalized and you can resume your daily activities immediately.
Disadvantages of Sclerotherapy
The only major disadvantage of sclerotherapy is that it's a cosmetic treatment that can't treat the underlying vein disease. As previously mentioned, what causes spider veins may be venous insufficiency. In that case, if you only use sclerotherapy treatment to get rid of the surface spider veins, they will simply come back later. You will need other procedures to treat the underlying root cause of spider veins.
Who is the Best Candidate for Sclerotherapy?
You need to consult a vein doctor to determine if you're a good candidate for sclerotherapy. Generally speaking, sclerotherapy isn't suitable for you if you're pregnant, take birth control pills, or if you've suffered from deep vein thrombosis (blood clots in the veins) in the past. Furthermore, sclerotherapy is also unsuitable for spider veins on the face and feet because these regions are dense with artery-vein connections — injecting sclerosant into the arteries can be dangerous.
Cost of Sclerotherapy
The national average cost of sclerotherapy is around $700. However, that differs for individual cases and you may also need to return for multiple sessions.
How to Prepare for Sclerotherapy Vein Treatment?
You should follow these tips to prepare for sclerotherapy vein treatment:
Give your doctor a complete list of all the medicines you take, including over-the-counter drugs and supplements. The doctor may ask you to avoid certain medications prior to the treatment.
Stop taking aspirin before the treatment.
Don't apply any lotion to your legs before the sclerotherapy vein treatment.
Don't consume any anti-inflammatory drugs for a period of 48 to 72 hours before the treatment either.
Other Spider Vein Treatment Procedures
As previously mentioned, sclerotherapy is the best treatment for spider veins if there's no underlying vein disease. However, if you're suffering from venous insufficiency — and the spider veins are a mere symptom of that — you may need the following minimally invasive vein treatments.
Radiofrequency Ablation
Radiofrequency ablation is a procedure in which the vein doctor channels heat energy into the diseased vein. This will rupture the vein walls and restore smooth blood circulation to the heart.
Endovenous Laser Ablation
Endovenous laser ablation is a procedure in which the vein doctor passes laser energy into the diseased vein via a catheter and a laser fiber. This will immediately generate an inflammatory reaction and destroy the diseased vein in order to facilitate blood flow to the heart.
VenaSeal
VenaSeal is a procedure in which the vein doctor simply injects a vein glue medicine into the diseased saphenous vein. This automatically induces a chemical reaction that seals the vein walls together, thereby rerouting the accumulated blood to healthier veins and restoring blood circulation.
Spider Vein and Varicose Vein Consultation
Sclerotherapy is the best spider vein treatment available. But, as we've pointed out, spider veins can be deceptive in that the root cause of the problem may be much deeper than your surface veins.
At VIP Medical Group, our vein doctors carefully diagnose the root cause of your spider veins through extensive imaging tests. Based on the diagnosis, we curate a vein treatment plan that's ideal for your needs and ensures that your spider veins and varicose veins don't return later. For further information, please schedule a spider vein and varicose vein consultation today.