Do You Want to Pursue Spider or Varicose Vein Treatment?
Are you tired of the way your spider veins or varicose veins make you look or feel? These damaged blood vessels are more than a visible flaw beneath your skin. They also cause symptoms like heaviness, cramping, restlessness, and fatigue in your legs. They often indicate that vein disease is lurking beneath the surface, prompting issues like venous ulcerations, stasis dermatitis, hyperpigmentation, and bleeding that's hard to control. If you're considering spider or varicose vein treatment, you're in good company. Spider veins, varicose veins, and Chronic Venous Insufficiency are very common, and also very treatable, when you choose the right vein specialist in Jericho.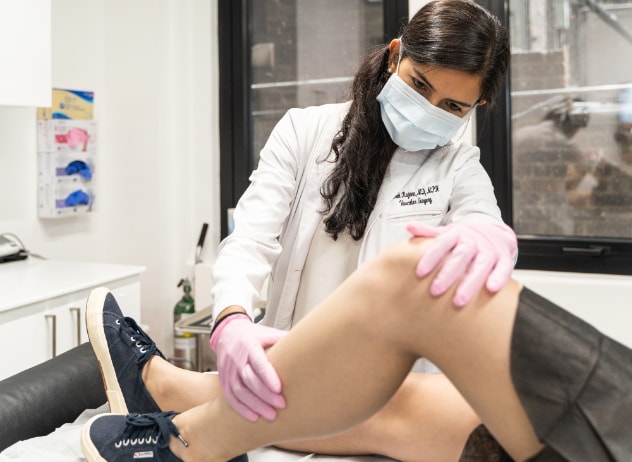 Wondering Which Vein Specialists in Jericho to Choose?
If you're seeking the best vein specialists in Jericho to treat your condition, it's important to note that they aren't all equally trained or qualified. Some vein specialists are trained distinctly in venous medicine and venous anatomy, completing fellowships, research, and residencies involving vein treatments and diseases. Others might be trained as dermatologists or estheticians for certain cosmetic procedures for veins, rather than the full scope of procedures for varicose veins, deeper vein issues, and vein disease. Choose an accomplished, board certified vein specialist for best results, since the damage you see is often linked to issues deeper within your vasculature.
Do You Prefer Board Certified Vein Specialists?
Are you aware of the significance of board certification? It's an important distinction for all doctors, but particularly for those who treat your circulatory system. Board certified vein specialists complete a voluntary review of their skill, technique, training, and knowledge through a comprehensive exam, to determine their proficiency with veins. Many doctors are not board certified, either because they didn't pass the exam, or because they aren't qualified to achieve certification. Veins are both powerful and delicate, forming an intricate system that is uniquely your own. No two people have the same venous anatomy, so you need a doctor who's trained to examine your unique venous pathways. Connecting veins, blood clots, valve failure in deeper veins… these are all things that should be identified prior to treatment. Choose our team of Certified Diplomates for an expert's opinion on your veins.
Want State of the Art Spider Vein and Varicose Vein Care?
How important are state of the art procedures in vein care? Consider the differences. Outdated surgical procedures involve hospitalization, general anesthesia, surgical extraction of veins, recovery time, large medical bills, surgical risks, pain, scarring, bruising, bleeding, time off of work, and more. In contrast, state of the art treatments are outpatient, in-office procedures with little or no local anesthesia, no hospitalization, no downtime, no recovery period, no large incisions, no surgical risks, and often, no out-of-pocket costs. If you are eligible for state of the art, minimally invasive vein care (and most patients are), why would you choose anything else? Our innovative treatments like VenaSeal, Varithena, radiofrequency ablation, and sclerotherapy have you back on your feet immediately. Many of our procedures don't even require you to keep your skin dry or avoid your usual activities.
Are You Near Long Island Expressway & Northern State Parkway?
Do you want a convenient vein specialist in Jericho? Our treatments are done in under 30 minutes, so choose a vein center near your home or office to fit in an appointment with ease. Our vein treatment center is near Long Island Expressway and Northern State Parkway, so you can pop in on your lunch break or before you pick the kids up from school and be on your way within minutes. While we have vein clinics throughout New Jersey and New York, you don't have to leave your neighborhood to get cutting-edge care for your veins.
Want to Book an Appointment with a Vein Specialist in Jericho?
Ready to book an appointment with our award winning vein specialists? Book online, give us a call, or simply stop by and our scheduling team will find an appointment that works perfectly for you! Our insurance specialists will verify your coverage prior to any treatments, so you'll know exactly what to expect. Since we partner with all major insurance carriers, our procedures are as affordable as they are effective. Visit us today to see why our medical center is Jericho's favorite place to seek spider and varicose vein treatment.
Want to Check Out Our Vein Clinic at 350 Jericho Turnpike?
Curious, but not quite ready to schedule treatment? Book a consultation to see what our vein treatment center is all about. Our vein specialists will talk you through the different procedures, answer your questions, and explain what your options are. Since we're board certified vein experts, we can offer various treatments to our patients, and even combine treatment methods for a customized approach to your care. We love explaining what we do and addressing any of your concerns.
Check out our 5-star reviews and our before-and-after gallery for evidence of our excellent track record. Read through our vein specialists' bios to learn about their Harvard training and multiple certifications. And then come see us so we can get to know each other. Our vein specialists make a concerted effort to spend ample time with each patient, learning about their medical history, symptoms, prior treatments, and comorbidities, to devise the perfect treatment plan. We'll never recommend a treatment you don't need, or one you aren't comfortable with. Our patients consistently remark that vein treatment was so much faster, gentler, and easier than expected with our compassionate team. We are certain you will feel the same way. See you soon!