#1. Accessible location in Woodland Park
Dr. Todd Kobrinski is widely considered the best vein doctor in Woodland Park. He is currently the leading vein doctor at our spider veins center in Woodland Park, NJ, which is located at 1167 McBride Ave Suite 2 in Passaic County, a short drive from the Garden State Plaza. If you're in Passaic County, you should definitely book an appointment with Dr. Kobrinski. You can also book an appointment at our state-of-the-art vein treatment clinics in Clifton or Paramus, NJ.
Location isn't the most important factor when looking for vein doctors, but it's certainly one of the primary determining factors. You should find spider vein and varicose vein doctors near your home or place of work — those that can be accessed within 30 to 60 minutes. That's because vein treatments are extremely convenient and conclude within an hour, so you can easily fit them into a busy schedule if you find an accessible spider veins doctor in Woodland Park, NJ.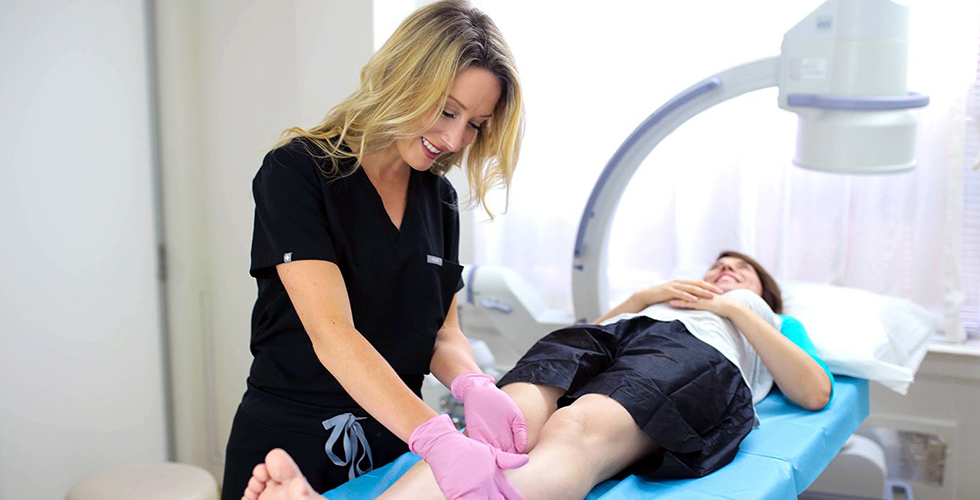 #2. Perfect track record and testimonials
You should ideally look for vein doctors with a perfect track record and exceptional testimonials from patients, and Dr. Kobrinski certainly meets that criteria. He has unanimous 5-star ratings from patients on Google, Facebook, Real Self, and all online platforms. That's because he's incredibly compassionate and friendly, and he ensures you have a safe and comfortable experience. He also maintains a perfect track record — no complications or vein disease recurrence.
#3. Excellent educational background
Dr. Todd Kobrinski has excellent credentials and an exceptional educational background. He completed his Bachelor's and Master of Science degrees from George Washington University, following which he acquired his medical degree from Nova Southeastern University in Florida. He also completed eight years of post-graduate training from the Icahn School of Medicine at Mount Sinai St. Luke's Roosevelt Hospital Center in New York City. During this period, he completed three years of Residency in Internal Medicine, followed by five years of Fellowships in Cardiovascular Disease and Clinical Cardiac Electrophysiology. He is also published in numerous journals, including the American Journal of Cardiology and the American College of Cardiology Scientific Sessions.
Even if you don't consult with Dr. Kobrinski, you must find a vein doctor with excellent credentials — they should have completed their residency program and fellowship training in fields related to vein care. The barrier for entry into vein care is fairly low, which means you'll find lots of inexperienced vein doctors who only provide cosmetic treatments for spider veins and varicose veins. If you find a highly-skilled and trained vein doctor, you can at least rest assured that they'll examine your leg veins and review your medical history thoroughly. Furthermore, advanced training in minimally invasive vein treatments indicates they follow the latest treatment protocols.
#4. Specialized training in vascular imaging
You should ideally find a vein doctor in Woodland Park with specialized training in vascular imaging. This is one of the most important skills for vein doctors because ultrasound scans are used to diagnose chronic venous insufficiency and treat the root cause of your vein problems. During your consultation, the vein doctor must administer a duplex ultrasound scan to visualize the blood flow in your leg veins, revealing the source of your spider veins and varicose veins. And they must also perform minimally invasive vein treatments under ultrasound guidance to ensure optimal and precise results.
#5. Minimally invasive vein treatments
Dr. Todd Kobrinski maintains a 5-star rating and a perfect track record because he focuses on comprehensive vein care and minimally invasive vein treatments for chronic venous insufficiency. He doesn't simply treat spider veins and varicose veins using cosmetic procedures, such as sclerotherapy. Instead, he examines your leg veins, reviews your medical history, and performs ultrasound diagnostic scans to determine if you have vein disease. After diagnosing the root cause of your vein problems, the vein doctor recommends the ideal minimally invasive vein treatments, including radiofrequency ablation, endovenous laser ablation, and venaseal.
The following are some of the most effective minimally invasive vein treatment options:
Radiofrequency Ablation: The vein doctor channels thermal energy into the diseased saphenous vein via a catheter to collapse its walls, rerouting the accumulated blood into healthier leg veins.
Endovenous Laser Ablation: The vein doctor channels laser energy into the problematic vein via a catheter to make it collapse, restoring effective blood circulation to the heart.
VenaSeal: The vein doctor injects a medical adhesive into the diseased saphenous vein under ultrasound guidance, sealing it shut to restore optimal blood flow to the heart.
Ambulatory Phlebectomy: The vein doctor makes small incisions to extract the superficial varicose veins from your legs.
Sclerotherapy: The vein doctor injects a sclerosant medicine into the spider veins to turn them into hardened scar tissues eventually metabolized by the body.
#6. Free insurance verification
Dr. Todd Kobrinski is one of the best vein doctors in Woodland Park because he actively helps patients with insurance coverage. First off, our spider vein and varicose vein treatment centers in New Jersey provide free insurance verification. When you book an appointment, the front desk team will ask for your insurance details, verify them, and provide an overview of your vein treatment costs before the procedure. Dr. Kobrinski actively considers your insurance coverage options while curating treatment plans, recommending the ideal vein treatments to minimize your out-of-pocket financial burden. When looking for vein doctors, you must ensure they help with insurance verification and coverage.