1. Determine Why You Want to See a Vein Doctor on LI
Spider veins and varicose veins often stem from the same issue, a disease called Chronic Venous Insufficiency. However, the symptoms, treatments, and risks vary from one patient to another. Some patients might have a small, asymptomatic cluster of spider veins on their leg which requires a surface injection of sclerotherapy. Other patients might have multiple large and tortuous varicose veins that demand a deeper intervention. And some patients have advanced vein disease with symptoms ranging from heaviness, swelling, and cramping, to venous ulcerations, hyperpigmentation, or blood clots. Identifying your symptoms and concerns is important since some vein centers are not qualified to treat severe vein damage or vein disease. For best results, choose a doctor who's trained to treat surface veins, as well as valve failure in deeper veins, where the problem often begins. Our award-winning vein doctors on Long Island treat the full range of venous issues, from superficial repairs to advanced vein disease.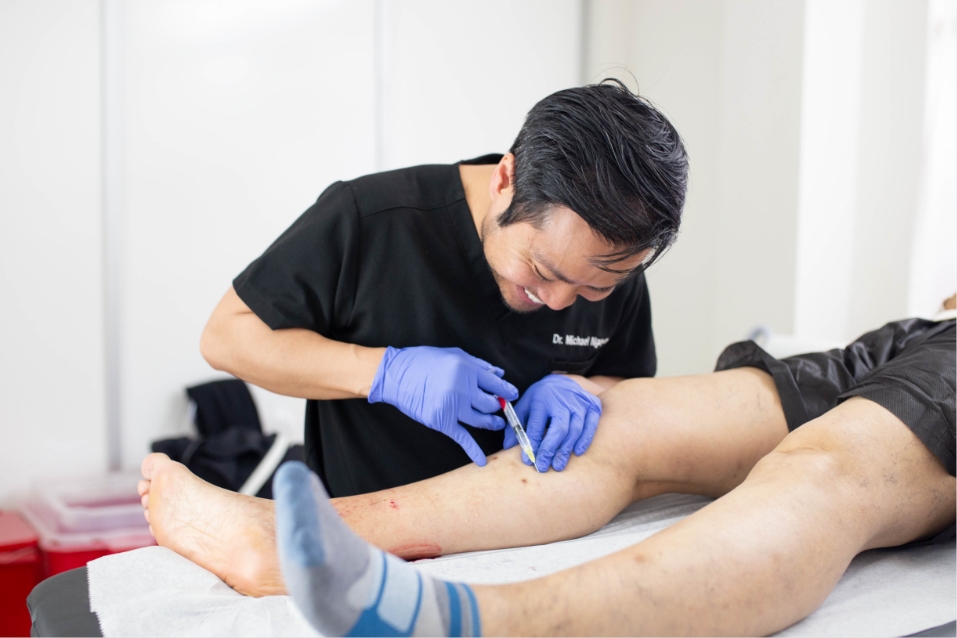 2. Choose a Qualified Medical Center
While some cosmetic spas offer vein treatments, most aren't accredited by the IAC as a medical center for veins. They might not have access to or training in the latest treatments or sufficient experience with the techniques. Done correctly, non-surgical vein treatment is quick, easy, and largely risk-free. But in the wrong hands, vein treatments can cause complications like pain, nerve damage, necrosis, or even a pulmonary embolism. Since vein treatments are often covered by insurance at a qualified medical center, you won't save money by going to an esthetician or cosmetic vein center, rather than seeing a vein doctor on LI. Look for a Long Island vein center known for minimally invasive techniques as well. Surgery is no longer a first-line treatment for most patients, so choose a doctor trained in newer methods.
3. Pick Board Certified Vein Doctors and Medical Directors
What is board certification and why does it matter? Some patients equate "MD" with board certification. But being board certified and achieving a Doctor of Medicine degree at a university are two different things. Doctors can only become board certified following specific training in a particular specialty, and this distinction is granted by the American Board of Medical Specialties, a private entity. Vein doctors should also obtain a medical license, which is issued by a state medical board. The distinction of board certification shows that your doctor has spent significant, additional time training in your specific field. Board certification is not required to practice medicine, like a medical degree or license is. Thus, it's indicative of a doctor's advanced training and superior expertise in their field, a pursuit they chose in order to provide the best care.
4. Inquire About Non-Surgical Varicose Vein Treatments
Not every vein doctor is a vascular surgeon, and not every vein doctor uses minimally invasive techniques. Varicose vein treatments rarely involve surgery anymore, since ultrasound guidance helps doctors pinpoint vein issues, and tiny devices deliver thermal energy, medical adhesives, and sclerosants directly to the troubled vein. Look for a doctor that favors, and is skilled in, non-surgical varicose vein treatments for best results. Our renowned vein doctors will identify whether surgery is necessary, but for most patients, gentler treatments work best.
5. Check the Vein Clinic or Vein Center's Reputation
It's easy to check Google, Yelp, or social media to see what other patients think of a vein doctor. Our LI vein doctors consistently get 5-star reviews! However, it's also important to determine what the doctor's peers and licensing, governing, and accrediting entities think about your doctor. We're a team of Harvard-trained, certified diplomates, named a Center of Excellence and a Medtronic Training Site. We're fully accredited by the Intersocietal Accreditation Commission and our doctors each hold double or triple certification in vein medicine and complementary fields. We frequently train other doctors from all over the world in our minimally-invasive, innovative techniques.
6. Request Insurance Verification Before Your Appointment
Some medical clinics don't check your insurance coverage prior to treatment, so it's difficult to plan for the expense and you're left with unexpected bills. It's important to request insurance verification before your appointment to protect yourself from unplanned costs. Having your doctor's office do this is more effective than trying to figure it out yourself, because insurance companies are often intentionally non-committal about costs when speaking to patients. In addition, asking about your insurance coverage is a good way to determine whether the vein center accepts your plan and is transparent in their pricing. Non-medical vein centers often aren't in partnership with insurance companies because their procedures are deemed cosmetic or elective, and not medically necessary.
7. Determine How Easy It Is to Speak to a Vein Doctor
Doctors are busy, perhaps now more than ever, but you deserve their full and prompt attention. When you call for an appointment, ask how easy it is to speak with a doctor and how they plan to communicate. Can you meet virtually, have a telehealth visit, or be seen quickly if your issue escalates? Do the doctors return your calls or emails in a timely manner? Some medical groups take on too many patients and pack too many appointments into their schedule to maximize their income. But no patient should be rushed out of the office or leave with unanswered questions. Our vein treatment center offers superior care, with longer appointments and doctors who are great listeners. We love explaining your venous anatomy and how our vein treatments can help. We have a concierge system that provides quick communication from your doctor. We follow up with all of our patients to ensure you're happy with your treatment. Choose a vein doctor who makes time for you. Getting answers to all of your questions will improve your quality of life and could even save your life. Contact us today to receive care from the top vein doctors on Long Island.