1. Varicose Vein Treatment Has Changed Significantly
If you've heard stories of hospitalization, pain, and downtime following varicose vein treatment, they were likely told by your parents or grandparents. Varicose vein treatment has changed significantly over the last 30 years, now requiring no hospitalization or downtime whatsoever. Our vein doctor in Jericho performs minimally invasive procedures in 15-30 minutes and you can return to work the same day. If you have enough time for a lunch break, you have enough time to treat your veins!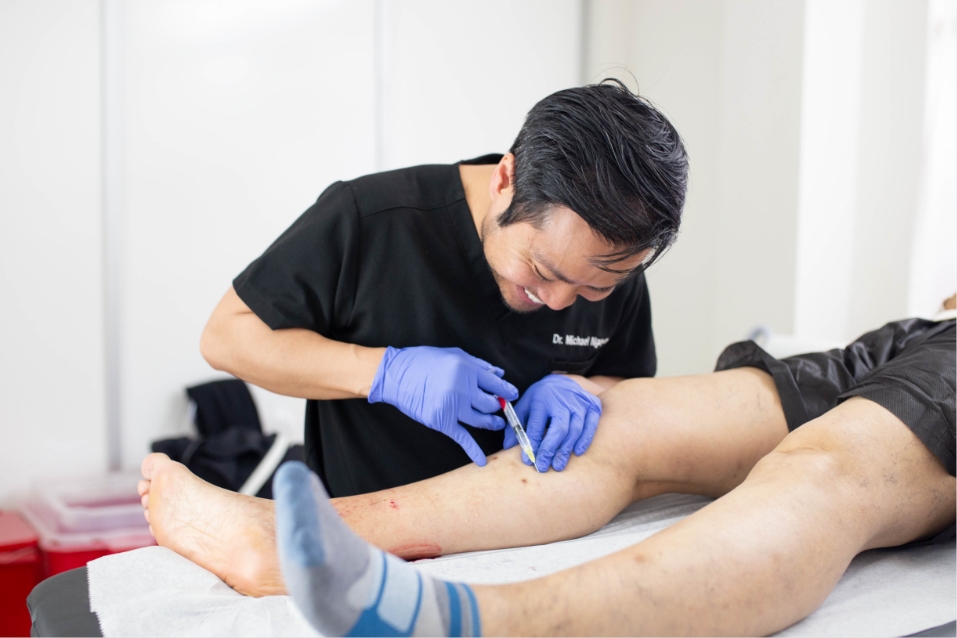 2. Spider Vein and Varicose Vein Care Is Mostly Non-Surgical
While vein stripping surgery remains the best option for a small number of patients with complex varicose veins, the vast majority of spider vein and varicose vein care is now non-surgical. That means no large incisions, no general anesthesia, and no stitches or scars to deal with. It also means the procedures are safer, faster, and gentler than ever before. In fact, some of our spider and varicose vein treatments don't even require a local anesthetic. You'll be able to stand up and resume your regular activities immediately after the procedure.
3. Top Vein Doctors Use State of the Art, Less Invasive Tools
Modern vein doctors use state of the art, less invasive tools to treat the vein at the trouble spot. With ultrasound guidance, we can identify the exact point of valve failure or vein defect and seal it off with tiny tools like rotating catheters and hollow needles that inject sclerosants or adhesives. Our vein doctor in Jericho is trained to use ultrasound technology, rather than relying on an ultrasound technician, which enables them to locate and treat the vein in a single procedure. Our medical group is board certified and qualified to administer several state of the art treatments, including VenaSeal, Varithena, radiofrequency ablation, and sclerotherapy.
4. You Might Have Undiagnosed Chronic Venous Insufficiency
It's important to visit a vein center when you have spider veins or varicose veins, and not just because they're affecting your self-confidence. Vein damage presents a visible issue to treat, but it also signifies that something isn't working correctly beneath those surface veins. Millions of people have a disease called Chronic Venous Insufficiency, which often goes undiagnosed. This disease causes a host of problems in addition to spider and varicose veins, including cramping, heaviness, swelling, eczema, discoloration, restlessness, and ulcerations on your legs. Our patients constantly report that they would have sought treatment sooner if they knew how their veins were affecting their health. Treating Chronic Venous Insufficiency is quick and virtually painless, so talk to our Jericho vein doctors today!
5. Opt for a Medical Clinic & a Progressive Vascular Surgeon
It's possible for someone other than a vein doctor to treat certain types of spider veins, like the ones on your face. However, they're likely to recur if the person who treats your veins isn't trained to look for vein disease. When you have venous insufficiency, spider veins will keep developing until the issue is resolved. In addition, only a doctor should treat most spider veins and varicose veins, including those that form on your lower extremities, since those typically stem from deeper leg veins, not accessible by an esthetician or dermatologist.
Choose a medical clinic for comprehensive vein care that identifies the problem, rather than using a temporary solution. Does that mean you need a vascular surgeon? Not necessarily. Many vein issues are resolved with simpler procedures. Having a vascular surgeon on staff is a great asset, especially if you end up needing surgery. Just be sure to choose a progressive surgeon who is trained in less invasive tactics too, so you can avoid unnecessary surgery.
6. Each Vein Doctor in Jericho Has Different Training
Vein doctors are not universally trained in the same techniques, or even the same field. Some vein clinics are staffed by doctors that haven't studied vein medicine in depth. It's not a requirement to be board certified in venous medicine to provide certain vein treatments, so be sure to choose a vein treatment center with qualified doctors. Our team is composed of double and triple board certified vein doctors with distinct training in vein medicine, as well as complementary fields like internal medicine, pain medicine, and anesthesiology, which lends a more thorough approach to our care.
7.  You Should Book an Appointment Soon for Optimal Results
Want to know when you should see a vein doctor? ASAP! Patients who seek care early in the development of varicose veins and vein disease see the best results from treatment. If you're unsure whether you actually need treatment, book an appointment for an honest consultation. Our insurance experts will verify your coverage beforehand, so you don't have to worry about the expense. Our vein doctors are excellent communicators who take time to understand each patient's concerns and won't recommend any treatments you don't need. We provide each of our patients with various treatment options so you can choose the one that sounds best to you.
8. Our Vein Center at 350 Jericho Turnpike Can Help You
If you're tired of how your spider veins and varicose veins look, or you're concerned about ongoing symptoms or vein disease, contact us today! Our Jericho vein center at 350 Jericho Turnpike, near Northern State Parkway has simple solutions to put your mind at ease. Our award-winning vein doctor in Jericho wants you to know that you deserve to feel better and that we have the tools to make that happen! Restore your confidence and vascular health today at our premiere vein treatment center.