There are no universal treatment procedures that work for everyone; every human body is unique and has specific needs. Depending on how advanced your condition is and whether you have other underlying conditions, the treatment method that is best for you changes. Maybe you don't have a significant amount of spider veins or varicose veins, you may simply not be happy with its appearance. Maybe spider veins and varicose veins cover more than 20% of your legs and are now also causing you pain and great discomfort. If caught early, spider and varicose veins can be easily treated by our team of expert vein specialist doctors. Our highly trained vein doctors will first listen to you and ask you about your experience with the condition. They will take your experience and feelings with your condition into account before going forward with the diagnosis and treatment.
To diagnose your condition, vein doctors will first perform a physical exam. This often involves observing the affected veins while you are standing. Doctors may also perform duplex ultrasounds to help with the diagnosis.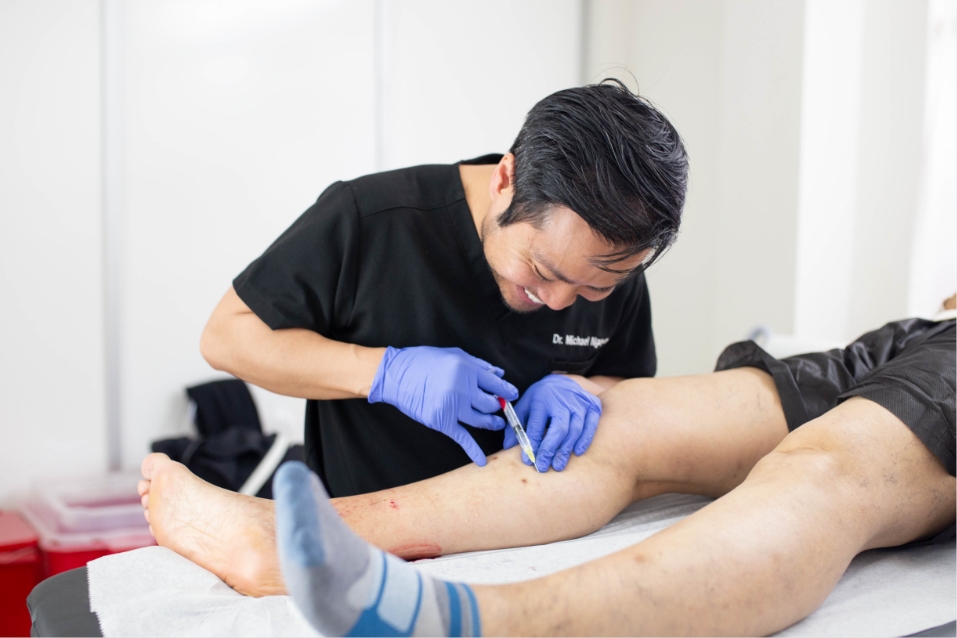 Innovation and massive advances in medical technology have meant that vein treatment procedures have become less and less invasive over the last decade. Most procedures now require only local anesthetics, and some don't require anesthetics at all. The procedures are minimally invasive and take such a short time that you can be treated as an out-patient and be able to walk out of the vein clinic within an hour of your procedure.
Here are five minimally invasive vein treatment procedures that are most frequently used:
   Endovenous laser varicose surgery:
In this vein procedure, heat from a laser is applied to close or shrink the varicose veins. Endovenous laser surgery is a minimally invasive procedure that takes less than an hour and does not require a hospital stay. You will be able to walk out of the hospital within an hour after the procedure is done.
   Sclerotherapy:
Sclerotherapy is the most frequently used method of treatment of spider veins. An agent called a sclerosant is injected into the diseased veins that cause the veins to stick to one another and close up. The veins are then absorbed by the body, clearing the skin.
   VenaSeal:
VenaSeal is a minimally invasive medical procedure in which a bio-adhesive is applied on the diseased veins using a catheter, causing the veins to seal off. The vein procedure takes anywhere between 30 minutes to 60 minutes. Eventually, the veins are reabsorbed by the body.
   Radiofrequency Ablation:
Similar to endovenous laser varicose surgery, this procedure applies heat to the diseased veins. Heat is produced using radiofrequency. The heat then stops blood flow in the diseased veins, and over time the veins disappear.
   Varithena:
Varithena is a microfoam sclerosant that is injected into diseased veins. This is a non-surgical procedure that takes less than 60 minutes in which the diseased veins are closed down and eventually disappear. The recovery period for this procedure is also very short; the patient will be able to move about freely within an hour of the vein procedure.
Keep in mind that the treatment method depends upon your condition, and your conversation with your doctor so you two can decide what is the best course of action for you. While the above-mentioned treatments are for when surface veins are affected, you may require vascular surgery if deeper veins are affected. To know which treatment method is best for you, book an appointment now with the best vein doctors and vascular surgeons in San Jose.
How much do these treatment procedures cost?
The cost of vein treatment depends on the severity of your condition, the type of treatment you require, and the state you live in. If you have medical insurance, they usually cover the cost for an initial consultation and your medical procedures if the procedures are deemed to be 'medically necessary'.
If you are paying out of pocket, sclerotherapy generally costs around $350 to $500 per session. You may require multiple sessions, depending on the extent of your varicose veins. You can get a more precise estimate of the number of sessions you would require and the overall cost after your doctor reviews your case in the first consultation.
More advanced procedures can cost more, such as Varithena (which costs around $2000 to $3000) and radiofrequency ablation (around $3000 to $5000). Again, a more precise estimate can only be made after an evaluation of the extent of your disease.
Are these treatment procedures covered by insurance?
This depends on the purpose of the treatment procedure. Varicose vein treatments are covered by most insurance companies, as long as they are deemed 'medically necessary'. For this, some insurance companies may require a referral to cover treatment so they can verify that it is medically necessary. Even then, it is possible for the front office staff at the vein center to obtain a referral on your behalf. Speak to the vein center about this when you book your appointment. They can then gain an understanding of your insurance coverage and maybe even obtain a referral for you without you having to go through the hassle of visiting your primary care physician.
However, spider vein treatment is generally considered a cosmetic treatment and not medically necessary, which would mean that most insurance will not cover spider vein treatment. It is best to discuss with the doctor's office to determine whether your insurance does cover the treatment.
The Vein Clinic boasts a team of highly experienced vein doctors who are at the top of their fields and have all been trained at Ivy League universities. All our doctors are fellowship-trained and double board-certified. With cutting-edge, state-of-the-art technology, and world-class medical infrastructure at their disposal, these vein specialists use the most advanced procedures to treat their patients. To top it all, our doctors know to keep patients' comfort ahead and treat them with friendliness, patience, and kindness.
In San Jose, our vein clinic is located in a beautiful neighborhood near Palo Alto, Sunnydale, and Santa Clara. It is down the block from the Santa Clara Medical Center, and the Santana Row Shopping Mall. Our experienced Harvard-trained vein doctors can offer the best care possible to help you.