Step 1: Google "vein clinic near me in New Jersey" to find the nearest vein clinics
When looking for a vein clinic nearby in New Jersey, you should start your search with Google. When you enter the terms "vein clinic near me in New Jersey," you'll find a list of vein clinics near your location. You can filter the vein clinics based on proximity to your location, focusing on those within 30 to 60 minutes from your home or place of work.
VIP Medical Group manages three state-of-the-art vein clinics in New Jersey, each located in extremely convenient areas in Paramus, Clifton, and Woodland Park. The following are our vein clinics in New Jersey:
Our vein clinic in Clifton is at 1117 US-46 Suite 205, right off NJ-3 and near the garden state parkway. You can call the vein clinic at +1 973-447-1383.
Our vein clinic in Paramus is at 140 NJ-17 #103, just off garden state parkway and near the Paramus Park Mall. You can call the vein clinic at +1 201-485-5020.
Our vein clinic in Woodland Park is at 1167 McBride Ave Suite 2, extremely close to the Garden State Plaza. You can call the vein clinic at +1 973-381-2115.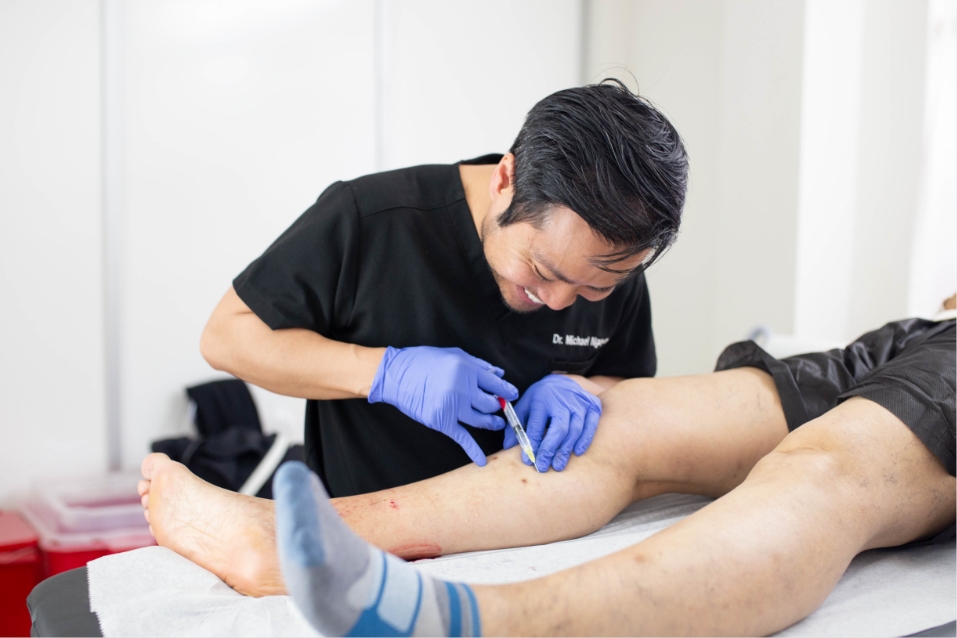 Step 2: Go through the vein clinic's patient testimonials and reviews
After narrowing down your selection of vein clinics close to your home or place of work, you should focus on their patient testimonials and reviews. Patients can leave unbiased reviews for their vein clinics and vein doctors on Google, Facebook, and Real Self. Furthermore, these reviews can't be deleted or modified, so you can hear from your actual peers about their experiences. You should focus on vein clinics with 5-star ratings and reviews because they're likely to have a perfect track record.
Our vein clinics in New Jersey have unanimous 5-star reviews from all patients. That's because we maintain a perfect track record and excellent standards of vein care. One of our recent patients said, "I would highly recommend Dr. Todd Kobrinski and his staff! There is no waiting! Very professional and a great atmosphere! Being treated for my veins, able to work right after the procedure! I want to thank all of you for making this a very comfortable experience!"
Step 3: Read about the vascular surgeons and staff in the vein clinic
Once you've further narrowed down your selection of vein clinics, you should read about their vein doctors and vascular surgeons. You can go to the vein clinic's official website to learn about their vein doctors. The vein doctor should ideally be board-certified by the American Board of Venous and Lymphatic Medicine, which guarantees that the vein doctor has passed numerous professional milestones to establish themselves as leaders in vein care. The vein doctors should also have excellent credentials.
We have an extremely strict set of guidelines when selecting vein doctors. We hand-pick vein doctors from the country's leading medical schools, residency programs, and fellowships. Furthermore, our vein doctors undergo board certification from ABVLM, and they must stay abreast of the latest developments in vein care. This allows us to ensure that you always receive the latest and safest vein treatments, according to the most recent medical innovations.
Our vein clinics in New Jersey are led by Dr. Sareh Rajaee and Dr. Todd Kobrinski.
Dr. Sareh Rajaee
Dr. Rajaee is a board-certified and Yale-trained vein doctor and vascular surgeon. She completed her medical doctorate from the Alpert Medical School at Brown University, followed by an Integrated Vascular Surgery Residency at Yale New Haven Hospital. She also has specialized training in open and endovascular procedures for chronic venous insufficiency and other vein problems. She has performed hundreds of minimally invasive vein procedures without complications, and her patients love being under her care.
Dr. Todd Kobrinski
Dr. Kobrinski is an incredibly compassionate vein doctor specializing in cardiovascular disease and venous medicine. He completed his medical degree from Nova Southeastern University in Florida. He also completed eight years of extensive post-graduate training through the Icahn School of Medicine at Mount Sinai St. Luke's Roosevelt Hospital Center in New York City, which included three years of Residency in Internal Medicine and five years of Fellowships in Cardiovascular Disease and Clinical Cardiac Electrophysiology.
Step 4: Learn about the vein clinic's minimally invasive, outpatient treatment options
After learning about the vein doctors, you must learn about the vein clinic's vein treatment options. Some vein clinics still recommend vascular surgeries for vein disease, even though surgical treatments have a relatively high risk of complications and involve more downtime. Furthermore, surgical treatments are less effective than their minimally invasive counterparts. That's why you must only look for vein clinics providing minimally invasive, outpatient procedures.
Our vein clinics in New Jersey only provide in-office, minimally-invasive, outpatient vein treatments, such as radiofrequency ablation, endovenous laser ablation, venaseal, ambulatory phlebectomy, and sclerotherapy. During these procedures, the vein doctor performs vascular imaging tests to visualize the root cause of your vein problems, diagnose chronic venous insufficiency, and remove the diseased vein responsible for your problems. After the primary vein treatment, they perform sclerotherapy to remove spider veins.
Step 5: Look for vein clinics providing free insurance verification
Most vein treatments can be covered by insurance plans if you have underlying chronic venous insufficiency and if the vein treatment is deemed medically necessary. Our vein clinics in New Jersey actively work to help you achieve optimal insurance coverage. We accept all major insurance plans, including Medicare, and provide free insurance verification. Furthermore, we provide a complete overview of your vein treatment costs in advance, so you can proceed with the treatment with complete mental clarity.