1. Our Vein Specialists Are Trained to Spot Vascular Disease
Why should you visit a vein clinic near Lindenhurst, rather than a dermatologist or spa to treat your veins? The number one reason is that qualified vein specialists, like the doctors at our Lindenhurst vein clinic, are trained to identify vascular disease. Most superficial vein damage stems from underlying issues like Chronic Venous Insufficiency, blood clots, or cardiovascular diseases that estheticians and cosmetic vein clinics aren't qualified to diagnose or treat. If you simply perform a cosmetic procedure on a varicose or spider vein caused by vein disease, the results won't last. Read number 8 below to learn why! More importantly, left untreated, vascular diseases will worsen and can even be fatal. Book an appointment at our renowned vein clinic in Lindenhurst to properly treat your veins.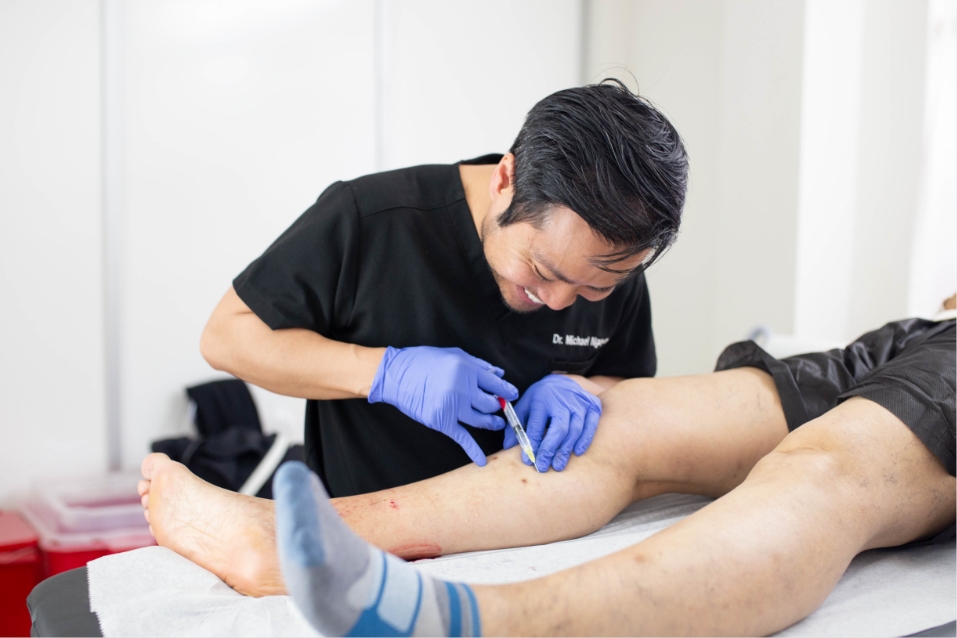 2. Our Vein Clinic Offers Varicose Vein Treatment
Another reason people love our Lindenhurst vein doctors is that they eliminate unsightly varicose veins. You know, those bulging, prominent veins that make you shy away from shorts, dresses, and swimsuits? Our vein specialists eradicate them in a matter of minutes! Our state of the art techniques include foam sclerotherapy (Varithena), medical adhesives (VenaSeal), and thermal treatments (Radiofrequency Ablation). We also treat any diseases that are causing varicosities, so that they don't return. How long have your varicose veins bothered you? Without treatment, they can cause heaviness, achiness, itchiness, swelling, discoloration, restlessness, and worse. Visit our vein clinic near Lindenhurst today to forget about them forever!
3. Our Vein Clinic Near Lindenhurst Treats Spider Veins Too
Another frustrating, visible sign of vein damage is the development of spider veins. These defective blood vessels spread in tiny clusters, particularly on your lower limbs or face. Since they form just beneath the skin's surface, they cause patients to feel self-conscious of their appearance. In addition, they signify that you might have a vascular disease like Chronic Venous Insufficiency. If one of your deeper veins experiences valve failure, tiny spider veins or bulging varicose veins are the visible evidence of this problem. Visit our medical clinic today to erase those spider veins and determine whether a disease is to blame.
4. Our Minimally Invasive Vein Treatments Simplify Your Life
Unhealthy veins cause several impositions for patients. First, there's the self-consciousness caused by visible vein damage. Second, there are a plethora of uncomfortable symptoms that accompany damaged veins. Patients contend with swollen feet and ankles, hyperpigmentation, burning and cramping sensations, venous eczema, slow-healing ulcerations, fatigue, heaviness, and restlessness in their legs, plus potentially life-threatening blood clots when vein health isn't restored. Our minimally invasive vein treatments are done in under 30 minutes, so you can banish all of those bothersome issues and head right back to your busy life. You won't need a recovery period or downtime to heal from our gentle techniques. Simplify your life today by treating the venous issues that are weighing you down.
5. Our Award-Winning Vein Doctors Answer Questions Correctly
Step away from your phone or keyboard. The internet doesn't have the accurate answers you need about your individual health. Each person's venous anatomy is completely unique. So, what's causing your friend to develop spider veins might be different from what's causing yours. And the best vein treatment depends on several factors, including your medical history, vascular health, connecting veins, allergies, and underlying vein disease. Our doctors conduct a thorough evaluation and physical exam, including diagnostic tests if needed, to make sure your diagnosis and treatment plan are catered specifically to you. We not only make time for your questions, we welcome them. We love explaining what we do and helping our patients learn how to promote healthy veins. There is no wrong question for our doctors, so don't be hesitant to speak up at your appointment. You'll always receive accurate answers that apply directly to you.
6. Our State of the Art Tools Outperform a Vascular Surgeon
If you're wary of vein surgery, you might be right to be concerned. Vein stripping was once a first-line varicose vein treatment, but it's been largely replaced by state of the art, minimally invasive vein treatments that outperform invasive tactics used by a vascular surgeon. A small percentage of patients' veins are so enlarged, severely twisted, or complicated by blood clots that they require surgical removal. But the overwhelming majority of patients are better suited to minimally invasive procedures like sclerotherapy, RFA, and VenaSeal. Visit our Lindenhurst vein clinic to learn about all of our innovative options.
7. Our Medical Group Is Led by Board Certified Vein Doctors
Veins are part of an intricate system that includes your heart, arteries, and capillaries, and they perform an essential function: returning blood to your heart to collect oxygen that will be delivered throughout your body. Why would you trust such a critical part of your body to someone who is not medically trained or certified in venous medicine? Our vein clinic is fully accredited and staffed entirely by board certified doctors, most of whom are certified in multiple, complementary fields in addition to vascular medicine, lending even greater expertise to their patient care. Don't delay treatment, but above all, don't seek treatment from someone who isn't qualified to treat your veins.
8. Our Comprehensive Medical Clinic Delivers Lasting Results
Our patients rave about the long-term relief they get from their spider and varicose vein treatment at our Lindenhurst clinic. The reason our treatments are so permanent is that we look for the root cause of your damaged veins, rather than simply treating them at the surface. If valve failure exists in deeper veins, pressure will continually build beneath that faulty valve as blood collects in the vein. So, new spider veins and varicose veins will continue to form until that issue is addressed. Patients who try vein treatment at other clinics often find that their vein damage recurs since the root issue wasn't addressed. But our vein doctors treat the symptoms, visible presentation, and causative disease associated with unhealthy veins for lasting results.
9. Our Patients Voted This Vein Treatment Clinic as the Best
We love our patients and our practice, so of course, we recommend that you choose us! But as a patient, you don't have to just take our word for it. Check out our long list of awards, certifications, and recognitions, and also our 5-star reviews. Lindenhurst patients voted this vein treatment clinic as their favorite medical group in New Jersey. In fact, all of our NY, TX, CA, and NJ vein clinics consistently rank as the favorite in their respective cities. With reviews like that and credentials like ours, you can trust us completely with your veins. We look forward to working with you!