If you're suffering from vein disease and the complications that come with them, it's time to make an appointment with a reputable varicose vein specialist. You can expect state-of-the-art care from outstanding physicians at Vein Treatment Clinic New York. Click HERE to book an appointment at our excellent vein center, or keep reading to learn more about 10 questions you should ask to make sure you make an appointment with a great vein treatment center.
1. Is their vein center's website educational and informative?
In the age of the internet, a fast search of "vein center in New York" will yield all the knowledge you might ever need about vein treatment centers in New York. You don't really need to leave your house to assess a vein center; in most cases, a vein center's online presence will tell you a lot about it. Check to see if their webpage is clear and comprehensive, since a good vein treatment center would provide you with pertinent information about vein disease to help you understand your diagnosis and treatment choices.
2. Are there positive patient testimonials?
To learn more about the vein center, read patient feedback on the center's website. Patient testimonials will give you insight on the staff's professionalism, such as how patient they are when discussing treatment protocols or how thorough they are in learning about a patient's medical background and conditions. Keep in mind that these responses can often be on the extreme ends of the spectrum, but reading multiple testimonials can give you a general idea of how the vein center operates.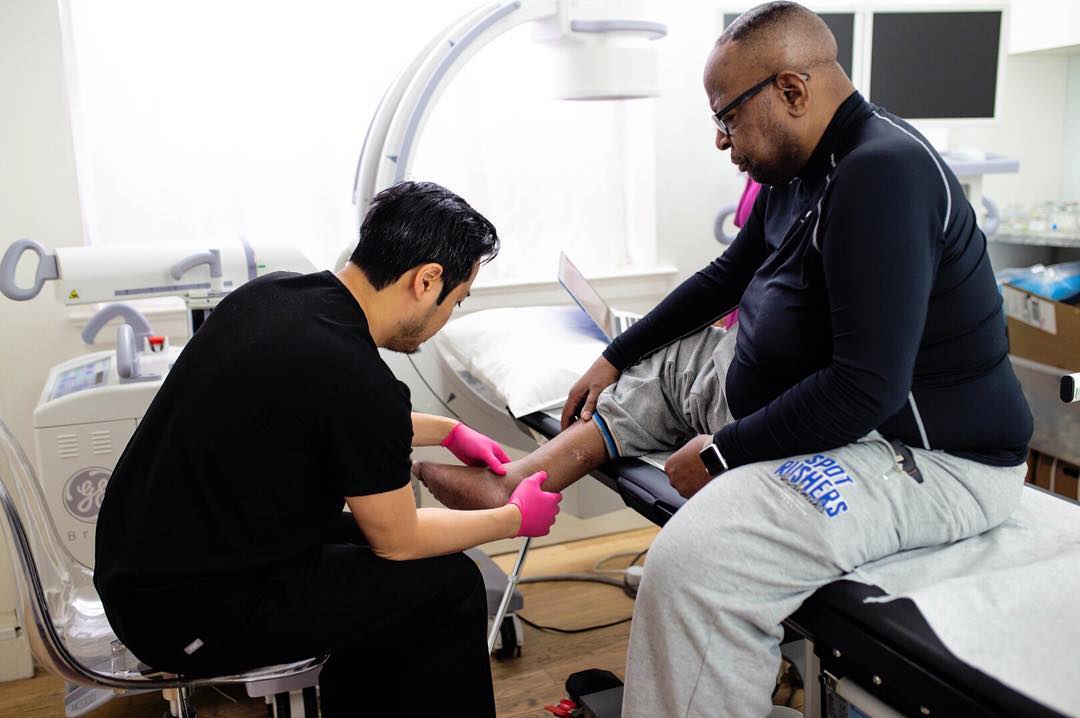 3. Does the vein center have accessible contact information?
After visiting a vein center's website, locate the contact details or use the chat box (if they have one) to reach out to a representative of the vein center and ask any follow-up questions you may have. The vein center staff will be able to answer any questions or concerns you might have before you make your decision to visit the vein treatment center,
4. Does the vein center offer minimally-invasive procedures?
If you're looking for a vein center to treat a vein condition like chronic vein insufficiency, varicose veins and spider veins, or deep vein thrombosis, make sure they provide minimally invasive treatment options. These methods are safer for the patient, easier for the doctor, and eliminate the weeks or months of recovery that are associated with more invasive surgical methods. 
5. What minimally-invasive treatment options are available for spider veins?
Sclerotherapy is a minimally invasive technique to treat spider veins that involves inserting small doses of medication into the veins with tiny needles to dramatically reduce spider veins in size and number in just one month. There is no need for medication or recovery time because the operation takes less time than a typical lunch break and causes minimal pain.
6. What minimally-invasive treatment options are available for varicose veins?
Varicose veins and venous insufficiency can also be treated with non-surgical minimally invasive treatments including VenaSeal, radiofrequency ablation, or varithena. Sclerotherapy can also help with varicose veins.
The new FDA-approved vein adhesive VenaSeal is used to close the varicose veins in your leg. The VenaSeal glue shuts down the diseased vein, which blocks your blood flow through it and eventually re-routes it through your legs.
Radiofrequency ablation begins with a local anesthetic and the use of ultrasound imaging to insert a small catheter in the uneasy vein. The catheter uses thermal energy to close the damaged vein's walls and redirect the flow of blood across healthy veins.
Varithena is a sclerotherapy foam injected into the damaged vein to reduce the appearance and symptoms of varicose veins
Avoid vein treatment facilities that use endovenous laser ablation, which uses laser light to induce an allergic response in the vein, resulting in a seal that enables blood to reroute through other veins. While this technique seems similar to the previous ones, it requires a week or more of recovery and is associated with considerably more pain and discomfort.
7. Is the vein center in an accessible location?
It is important to seek care at a vein treatment center that is close to your home and easily accessible, especially if you have to go in for imaging, diagnostics, or follow-up treatment. If you are looking for a vein center in New York, you can contact us at either of our Vein Treatment Center locations in Manhattan and Long Island.
8. Are the vein specialists board-certified and experienced?
When searching for a vein center, the experience of their vein doctors is crucial. Check to see if the vein doctors are board-certified, which means they've had thorough experience in venous disease treatment methods, minimally invasive procedures, and ultrasound technology.
9. Are the vein specialists highly qualified?
It is important to ensure that the person who treats your vein disease is highly qualified and experienced in venous medicine. A vein doctor is called a phlebologist and can come from various backgrounds in medicine, such as cardiology, anesthesiology and emergency medicine, provided they have adequate vein treatment training.
10. Do they prioritize patient care?
Above all, you want a doctor who has your best interests at heart and communicates with you effectively about every stage of treatment. A vein specialist who is compassionate and professional will prioritize your experience and strive to provide you with the best possible results. You can schedule your consultation with any of our incredible vein doctors at our vein centers in New York and be assured of the highest-quality care. They all prioritize patient care and strive to provide treatment with compassion and professionalism. Check out the Vein Treatment Center location in New York City today!