#1. Accessible Location in Clifton, NJ
The Spider Vein and Varicose Vein Center in Clifton, widely recognized as the "best vein center in Clifton," is extremely accessible. The vein center is located at 1117 US-46 Suite 205 — it's right off NJ-3 and a short drive from the Ford dealership on route 46-E. The vein center has plenty of parking spaces, so you don't need to worry about parking your car. Furthermore, the vein center is also close to the garden state parkway, which connects it to all other parts of New Jersey, such as Paramus, Woodland Park, Newark, etc.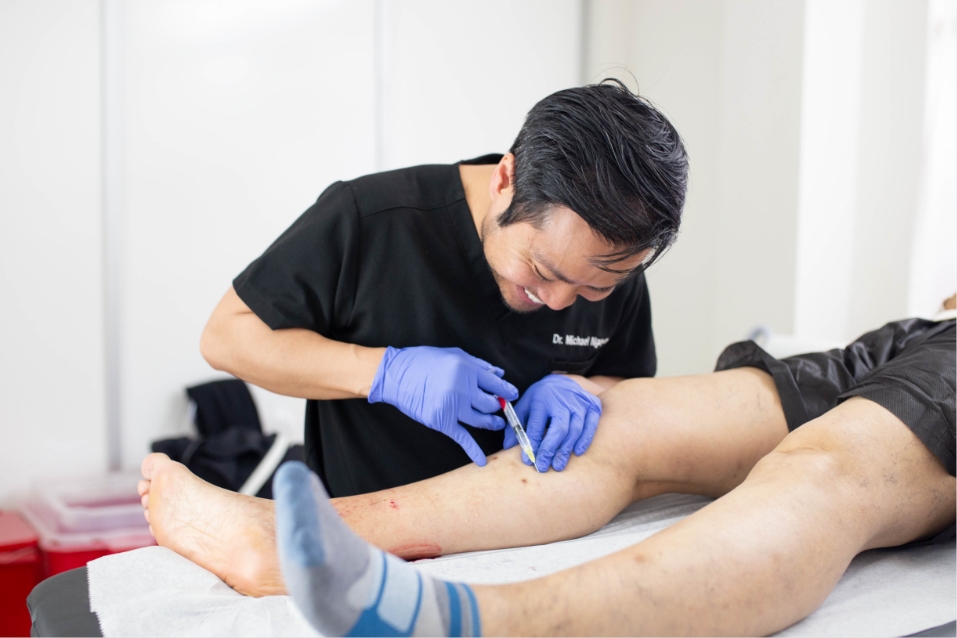 #2. Perfect Track Record
The Spider Vein and Varicose Vein Center, Clifton, maintains a perfect track record with all patients, as evidenced by their 5-star ratings and reviews on Google, Facebook, and RealSelf. If you read their patients' testimonials, you'll find that all of them are stunned by their vein care experience and results.
The following is one of their most recent reviews:
"I can't express what a wonderful experience I've had dealing with the vein doctor and her support staff. The first time I visited a doctor seeking this kind of treatment, I was told that I'd have to have a pretty invasive surgery (referred to as "vein stripping"). When I asked for alternative treatments, I was told that there were no other feasible alternatives. I was then informed by my insurance that the procedure would not be covered and that I would have to pay out of pocket as it would be considered cosmetic.
After having my first consultation with the vein doctor here, I was relieved to learn the following:
Vein disease is a real and very dangerous condition if not treated.
There is a wide area of non-invasive or minimally invasive procedures that can be used to treat and eradicate vein disease.
My insurance should absolutely cover the cost of these treatments due to the severity of the consequences of leaving this condition untreated. So, I repeat, VEIN DISEASE IS NOT COSMETIC.
I am now on the tail end of my treatment regimen and have experienced considerable improvement in the appearance of my legs, pressure, and discomfort. If you have been deterred from seeking treatment for any of the reasons I cite above, stop what you are doing and call the vein center now. I'm certainly happy that I did."
The review cited above explores most of the problems with other vein centers and how the spider vein and varicose vein center in Clifton differs from their approach. Most vein centers force patients into complicated surgeries (instead of exploring all minimally invasive options). And they offer little-to-no assistance with insurance coverage, even though most patients can get some insurance coverage for their treatments.
#3. Board-Certified Vein Physician
The Spider Vein and Varicose Vein Center, Clifton, is led by Dr. Sareh Rajaee, one of the state's leading board-certified vein doctors specializing in minimally invasive vein treatments. She's officially recognized by the American Board of Venous and Lymphatic Medicine, a distinction conferred upon the country's top 1% vein doctors. Furthermore, she's also incredibly kind and compassionate — she explains every step of your vein treatment process, discusses your insurance coverage options, and ensures your overall comfort.
The following is an overview of Dr. Rajaee's educational and training background:
Double-majored in Biomedical Engineering and German at the University of Rhode Island.
Medical doctorate from the Alpert Medical School at Brown University.
Master's in Public Health at the Harvard School of Public Health.
Residency in Vascular Surgery at Yale New Haven Hospital.
Board-certified by the American Board of Venous and Lymphatic Medicine.
#4. Cutting-Edge Technologies
The Spider Vein and Varicose Vein Center, Clifton, is a state-of-the-art medical center equipped with the latest vein treatment technologies, such as ClariVein, ClosureFAST, and VNUS. These technologies assist in the latest minimally invasive vein treatments while ensuring optimal results. ClariVein, for example, is particularly useful when treating especially tortuous and twisted veins that can't be treated effectively using other methods. Furthermore, the vein center is also accredited by the IAC for meeting the highest standards of safety.
#5. Comprehensive Vein Treatments
The Spider Vein and Varicose Vein Center, Clifton, provides comprehensive vein treatments that address the root cause of your vein problems rather than just the visible symptoms. The vein doctors use the latest diagnostic techniques, such as duplex ultrasound, to visualize the blood flow in your leg veins. This indicates the presence (or absence) of vein disease, the root cause of most vein problems. If you have underlying vein disease, the vein doctors must close or destroy the diseased saphenous vein before addressing the spider veins and varicose veins.
#6. Minimally Invasive Procedures
The Spider Vein and Varicose Vein Center, Clifton, only provides minimally invasive vein treatments — no vascular surgeries, such as vein stripping and venous bypass surgery. That's because minimally invasive vein treatments are safer, more comfortable, and more convenient than surgeries. They also have a higher success rate with a negligible risk of complications, whereas surgeries have a high risk of complications. Minimally invasive vein treatments, such as radiofrequency ablation, venaseal, and sclerotherapy, usually conclude within an hour with no downtime.
#7. Free Insurance Verification
The Spider Vein and Varicose Vein Center, Clifton, provides free insurance verification for all patients. You can request free insurance verification when you book an appointment online — the insurance concierge will handle all the paperwork and work out your insurance providers' terms and conditions. As such, during your appointment, you'll receive a complete overview of your vein treatment costs (with or without insurance coverage), so you can proceed with the treatment with a clear mind.