The Most Common Causes Of Back Pain
There are many reasons that you might be struggling with back pain. So, does arthritis cause back pain? In theory, it can cause back pain. However, there are many underlying causes of back pain, from chronic pain to pain that has been sustained through traumatic injury.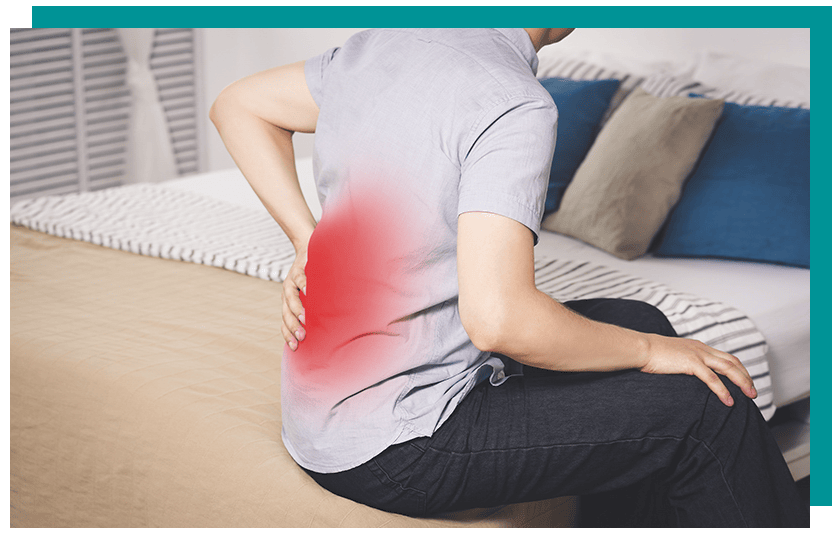 The human spine is composed of many bones, ligaments, muscles and nerves that all work together to provide support and movement. It is made up of many vertebrae that contain cushion-like discs between them. These discs facilitate the spacing of the bones. However, when an issue arises in one of these components, it can create back pain. Below, we discuss the top reasons that people suffer from back pain and the latest treatment options available to help you.
Rheumatoid Arthritis
People with ra (rheumatoid arthritis) may experience back pain. In rheumatoid arthritis, the body's own immune system attacks the synovial lining of the joints in the spine. This can cause compression on the spinal cord which can be extremely painful.
Spinal Arthritis/Lumbar Arthritis
Spinal arthritis (also known as lumbar arthritis) can be a painful condition that commonly affects older individuals. It is estimated that between 40-80% of individuals in the United States will develop this condition. However, some younger individuals can develop it as a result of traumatic injury or due to a genetic defect in the cartilage.
Spinal arthritis occurs due to degenerative changes that have taken place as a result of osteoarthritis. Long-term osteoarthritis can cause the cartilage in the discs and facet joints of the spine break down. This creates inflammation, pain, stiffness, weakness and numbness in the back. It can also affect the arms and legs if it is a severe case of spinal arthritis. The pain usually subsides when the individual is lying down.
Lumbar Herniated Disc
The discs in the spine are responsible for maintaining space between each joint. These discs are strong and tough on the outside, but soft and contain a jelly-like substance on the inside. These discs are extremely important because they are strong yet flexible and facilitate the spine's movements.
When a disc herniates, it means the jelly-like substance in the disc has broken through the outer layer. This can put pressure on nerves in the spine and create a significant level of pain.  Disc herniation usually occurs as a result of wear and tear of the spine, known as disc degeneration.
Spondylolisthesis
This is the term used to describe when one of the 33 bones of the spine (vertebrae) slips out of position. It commonly occurs in the lower back and can cause moderate to severe pain. It usually happens due to repetitive trauma to the spine or due to the joints becoming worn and arthritic.
Facet Joint Pain Syndrome/Dysfunction
Facet joint pain syndrome/dysfunction occurs as a result of an arthritic condition. It can affect the neck and the back and is the result of joint changes between the spine and the bones. These changes may cause the body weight to shift unevenly to the facet joints. As a result of this shift, the joint bears the brunt of wear and tear over time, causing the joint capsule and cartilage to break down. This can create bone spurs. Due to the changes in the spine, this can make it difficult for the spine to move easily and with fluidity, causing irritation and inflammation.
Will I Need Surgery? | Back Treatment Options
The great news is that there are many effective treatment options available that avoid the need for back surgery. Recent medical news is now beginning to shed light on the negative side effects of having unnecessary back surgery and the use of long-term nonsteroidal anti-inflammatory drugs (NSAIDs). It is known that the U.S. is in the midst of an opioid epidemic and having invasive back surgery is not always the best option.
Fortunately, there are many conservative treatment options that maximise health through minimally-invasive procedures. Let's take a look at the best back pain treatment options:
Epidural Steroid Injection
This minimally invasive treatment choice is an excellent way to directly target back pain and may help you avoid the need for complex surgeries. This procedure is when a pain doctor injects a corticosteroid (anti-inflammatory) and local anesthetic pain relief medicine to alleviate pain. It is commonly used for low back and leg pain. This procedure should be completed by a Board Certified pain doctor. It can also be completed in under 30 minutes and is highly effective.
Facet Joint Injection
A facet joint injection is an excellent way to feel the benefits of immediate pain relief. It can be performed multiple times depending on how many joints are affected and can even assist a doctor in the diagnosis of your pain. It works by injecting a small amount of local anesthetic into one or more of the small vertebrae along the spine. It is important to ensure that this procedure is carried out by a Board Certified pain doctor
Lumbar Radiofrequency Ablation
Lumbar RFA is an excellent method for long-term pain relief and is typically used to treat chronic low back pain. It is a steroid-free option that applies heat using alternating current technology. It is generally prescribed for individuals who have already had minor procedures, such as lumbar facet joint injections.
Nonsteroidal Anti-Inflammatory Drugs (NSAIDs)
Ibuprofen, Naproxen and Aspirin are some examples of NSAIDs. NSAIDs should be taken exactly as prescribed. Taking large doses or consuming NSAIDs for longer periods of time increases the risk of dangerous side effects. They must not be intended as a substitute for seeing a pain doctor to receive back pain treatment.
Weight Loss
Losing weight can help back pain by removing the excess weight that can create pressure on joints. A Board Certified pain doctor can provide tips and advice on the best way to safely lose weight.
Why Should I See A  Pain Doctor?
As there are many conditions that can be responsible for back pain, it is important you seek medical advice from a pain management physician. Pain physicians are qualified experts in the field of pain medicine who accurately assess and diagnose functional pain. They have access to the latest treatments in regenerative medicine and provide high levels of patient care.
At the VIP Medical Group, minimally-invasive procedures for maximizing health is at the heart of what we do. With Board Certified world-class pain doctors, access to the latest treatments and state-of-the-art facilities, the VIP Medical Group is a Center of Excellence for patient care and outcomes.