The Best Injections For Knee Pain | Treatments From An Expert Medical Center
The Top Five Injections For Knee Pain
If you're wondering 'what is the best injection for knee pain?' then  we can help. We will provide advice from the top medical center in the United States that has access to the latest techniques in pain medicine.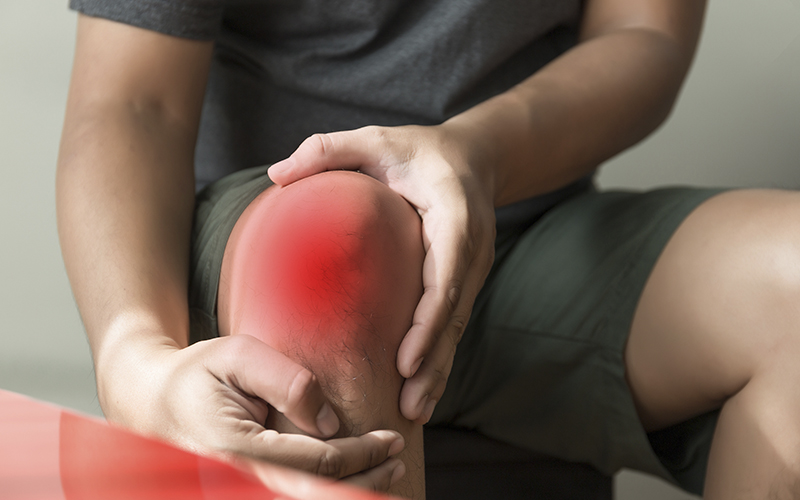 Knee pain can be debilitating and significantly impact day-to-day activities. Without proper treatment, knee pain can get worse over time and cause complications. Fortunately, there are many treatments available that can reduce inflammation and knee pain. We discuss the five best injections for knee pain that are provided by expert pain doctors in the United States.
Genicular Nerve Block
A Genicular Nerve Block is when a pain doctor injects a local anesthetic into the knee joint to block nerves that are contributing to knee pain. Firstly, the pain doctor applies a local anesthetic to the injection site to numb the area. Next, the doctor injects a local anesthetic into the knee joint across multiple areas to prevent the transmission of nerve pain across the knee. An x-ray machine assists the doctor to help the positioning of each needle. The patient will feel immediate pain relief and the steroid will begin to work within three to five days of having the procedure.
Genicular Nerve Radio Frequency Ablation (RFA)
For lasting pain relief, a pain doctor might recommend this treatment option. It works by stopping the nerve supply so that the patient no longer feels joint pain. It involves the placement of heated needles with the assistance of an x-ray machine to guide the doctor. A local anesthetic is injected to numb the area and increase comfort. Upon receiving this procedure, patients are expected to rest for a few days. Patients can return to normal activities within three to five days and enjoy the benefits of this longer-lasting pain relief.
Platelet Rich Plasma (PRP)
Your blood contains natural growth factors and platelets. These growth factors initiate natural healing processes in the body by arousing the surrounding stem cells and body tissues. Platelet Rich Plasma (PRP) injections work by injecting the knee joint with your own platelets to stimulate growth and healing. It is a great way to use your body's natural healing processes to promote the growth of healthy cells in your area of pain.
Steroids
Steroids can reduce inflammation and are injected into veins, muscles and joints. First, the doctor applies a local anesthetic to the area to numb the knee. With the help of an x-ray, the doctor inserts a hollow needle into the knee joint. Once in the correct place, your pain doctor will then inject steroid medicine into the knee.
Viscosupplements
Viscosupplements are used to inject lubricating fluid into the knee joint. The pain management physician will apply local anesthetic to numb the knee joint. Next, hyaluronic acid will be injected into the knee. When injected into the joints, the fluid lubricates the joint and improves the gliding process of the joints. Hyaluronic acid is produced naturally in the body, so it is a safe and minimally-invasive procedure.
What Causes Knee Pain?
Now that we have discussed the best treatment options for knee pain, let's take a look at potential causes. Knee pain is a common problem that affects both men and women. Women are at a slightly higher risk of developing knee pain at some point in their lives. If left untreated, knee pain can lead to further health complications. That's why it is important to consider visiting a pain management physician. Below are some of the most common reasons people have knee pain:
Bursitis – when your joints become painful, tender and swollen.
Dislocated knee cap – the knee cap changes shape after a trauma or sudden movement.
Knee effusion – when excess fluid builds-up in the knee joint. This can be caused by arthritis, injury, or a condition called prepatellar bursitis.
Meniscus tear – the C-shaped wedges between the cartilage and bones (meniscus) act as shock absorbers. When overused, the meniscus can become torn. This is common in runners and athletes.
Tendonitis – when the tendon swells up and becomes tender and painful after a tendon injury.
Sprains and strains – when muscles and ligaments are stretched too much.
Osteoarthritis – the most common arthritis and usually occurs with age.
As there are many potential causes for knee pain, it is important to seek medical advice from a qualified pain doctor. A pain physician will provide an accurate assessment of the pain and provide conservative treatment options that get you back to full health.
Why Should I See A Pain Doctor For Knee Pain?
Due to the ambiguous nature of knee pain, it is important you seek medical advice from a pain management physician. Pain physicians are qualified experts in the field of pain medicine who accurately assess and diagnose knee pain. They have access to the latest treatments in regenerative medicine and provide high levels of patient care.
Many orthopedic surgeons are quick to suggest surgery. Surgery can be risky and require long-term narcotics use. The United States is currently facing an opioid epidemic. It is well-known that over-reliance on medication can be detrimental to health. That's why it is important to see a pain doctor before committing to knee replacement surgery or other invasive procedures.
At the VIP Medical Group, minimally-invasive procedures for maximizing health is at the heart of what we do. With Board Certified world-class pain doctors, access to the latest treatments and state-of-the-art facilities, the VIP Medical Group is a Center of Excellence for patient care and outcomes.