The Top 5 Treatments For Knee Pain | A Pain Doctor Explains
The Top 5 Treatments For Knee Pain According To A Leading Medical Clinic
Knee pain is common and affects around 20% of the population. It can range from pain caused by a knee injury to those whose pain requires surgical intervention via knee replacement surgery. Knee pain can last a long time and severely restrict daily activities, such as driving, sports and day-to-day life. If left untreated, knee pain can get worse and lead to more serious health issues. Fortunately, there are many successful knee pain treatments that are available and don't require surgery! Surgery is risky, can require long-term narcotics and is not always the best option for health. We discuss the top 5 treatments for knee pain according to an expert pain management clinic in the US.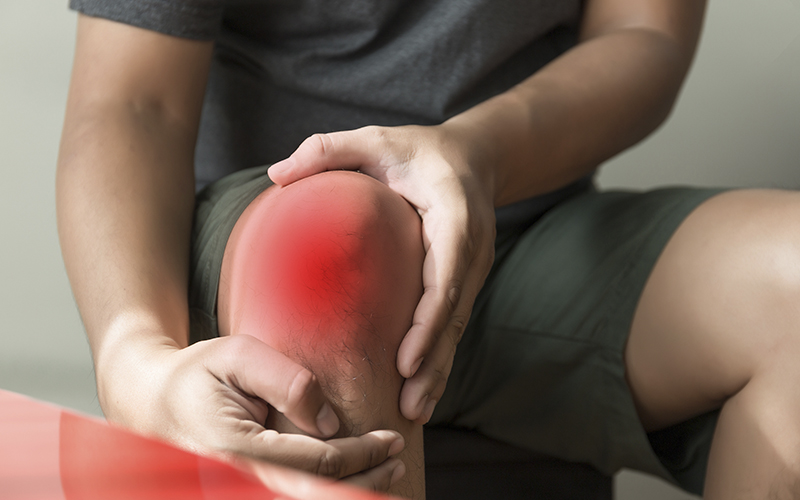 Iovera
This is when cold therapy is used to treat knee pain. An iovera machine applies low or sub-zero temperatures in order to freeze peripheral nerves at the knee joint. This procedure is great as it provides instant pain relief without the need for long-term narcotics.
Cortisone or Steroid Injection
This is when a pain doctor sprays the area of pain with anesthetic (numbing agent). Next, your pain doctor injects anti-inflammatory medicine into the knee joint. This provides instant pain relief and can last for long periods of time.
Genicular Nerve Block
During this procedure, a pain doctor injects the knee with a local anesthetic. This prevents the knee joint from feeling the nerves that are responsible for the pain. Instant pain relief is achieved through this procedure and the full effects are felt between 3-5 days of having the procedure.
Genicular Nerve Radio Frequency Ablation (RFA)
This procedure is an excellent option if you are looking for long-term pain relief. It works by halting the nerve supply in the knee joint. Your pain doctor will place heated needles to prevent you from feeling pain. Your pain doctor will ensure you are comfortable by applying a small amount of local anesthetic.
Viscosupplementation
Viscosupplementation works by injecting fluid into the knee joint to lubricate the knee. First, your pain doctor will apply local anesthetic to ensure you are comfortable and relaxed. Next, they will inject hyaluronic acid into the knee space using a fine needle that is attached to a syringe. Some pain physicians use imaging devices to ensure they are targeting the correct area. Hyaluronic acid is safe and effective as it is naturally produced by the body!
What Are The Side Effects?
With any medical procedure, it is always important to consider potential side effects. The risk of developing a side effect is quite low. Your pain doctor will discuss any potential side effects that may arise from the procedure. If you have any concerns, be sure to voice them with your doctor. Some examples include:
Cortisone or Steroid Injections – skin discoloration, pain and swelling, allergic reaction
Iovera – swelling and bruising; tenderness
Genicular Nerve Block – dizziness, mild headaches, leg and muscle weakness
Genicular Nerve Radio Frequency Ablation – allergic reaction, pain and discomfort, permanent nerve pain, infection.
Viscosupplementation – itchy skin, irritation, stiffness at the injection site, warmth, pain.
The goal of a pain management physician is to maximize health through minimally-invasive techniques. These conservative treatment choices enjoy successful patient outcomes and are administered by Board Certified Ivy League pain management physicians who are experts in the field of pain medicine. Speak to your doctor if you have any questions or concerns about potential side effects. They will put your mind at ease and discuss any concerns.
Why Do I Have Knee Pain?
Knee pain is common and can have many causes. It can range from a minor injury to more severe joint pain as a result of an underlying health condition. It is therefore vital that you consider visiting a qualified pain management physician. These doctors are experts in pain medicine and have access to the latest treatment choices to accurately diagnose and treat a range of knee pain conditions. Some potential causes of knee pain include:
Bursitis – when your joints become painful, tender and swollen
Dislocated knee cap – the knee cap changes shape after a trauma or sudden movement
Tendonitis – when the tendon swells up and becomes tender and painful after a tendon injury
Sprains and strains – when muscles and ligaments are stretched too much
Osteoarthritis – osteoarthritis pain is the most common arthritis and usually occurs with age. Your pain doctor may encourage you to take glucosamine and chondroitin supplements to alleviate pain.
Rheumatoid arthritis – this is a long-term condition that causes pain, swelling and stiffness in the joints.
It is important to receive a diagnosis so that your pain doctor can establish the best treatment plan to suit your lifestyle. Pain doctors have access to the latest diagnostic imaging techniques and assessment tools to ensure you receive an accurate diagnosis. They can also recommend the best conservative treatment options and a specialist physical therapist that will work alongside your treatment. Their goal is to maximise health through minimally-invasive techniques to get you back to where you want to be!
Why Should I See A Pain Doctor?
Pain doctors are leaders in the field of pain medicine. With access to the latest techniques in regenerative medicine and advanced training, a pain doctor will provide the best options for knee pain.
Nowadays, many surgeons can be quick to suggest surgery. Surgery carries many risks, and the U.S. is currently facing an opioid epidemic. Rather than relying on long-term narcotic use and surgical intervention, consider visiting a pain management physician. They will provide exceptional levels of patient care and have highly successful outcomes. You can relax in the knowledge that you are being treated by the most experienced and qualified medical professionals in the field.