The Best Back Pain Doctor New Jersey | The VIP Medical Group
Who Is The Best New Jersey Back Pain Doctor in New Jersey?
If you're suffering from back pain, you aren't the only one. Back pain is one of the most common causes of medical consultations and can drastically interfere with work performance and daily activities. If back pain is not accurately diagnosed and treated, it can get worse and lead to further health complications. Back pain can also be a symptom of many different medical conditions. For these reasons, it is important to seek medical advice from a Board Certified pain doctor.
Pain doctors are leaders in the field of pain medicine and are experienced in accurately diagnosing and treating a variety of pain conditions. Pain doctors use imaging (such as X-Ray and ultrasound) to identify the source of the pain. They then recommend R.I.C.E. (rest, ice, compression, elevation) in conjunction with a minimally invasive treatment option. Pain doctors can also recommend the best physical therapist to help you during your rehabilitation.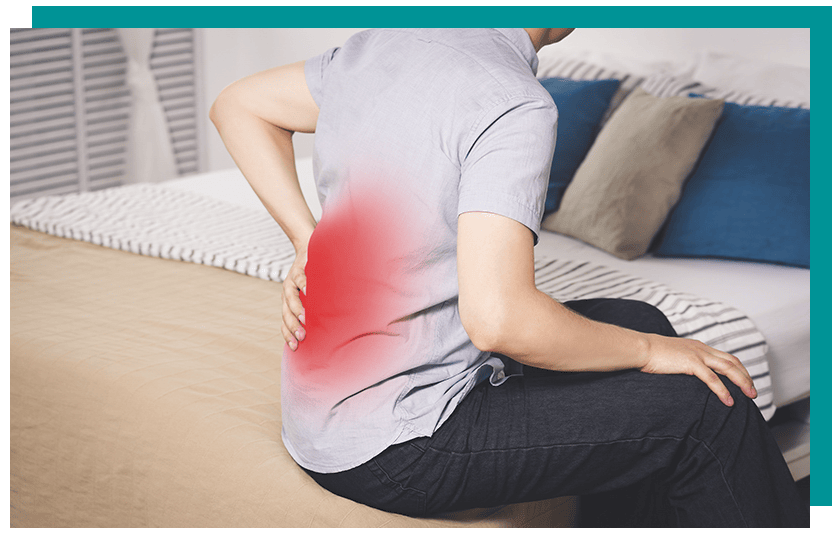 Pain doctors avoid the overuse of narcotics and unnecessary surgeries. Taking narcotics over long periods of time and experiencing invasive surgical procedures do not always maximise health outcomes. Due to this, pain doctors use a more holistic approach to health by combining their extensive knowledge and experience to offer the best minimally invasive treatment options to help you.
Now that we have looked at the importance of visiting a Board Certified pain doctor who can offer these minimally invasive treatments, let's take a look at the best New Jersey back pain doctor in New Jersey:
Dr George Hanna
Dr George Hanna is a double Board Certified interventional pain management specialist with extensive experience in pain innovations and technology. He uses his experience as a Director of Pain Innovations and Technology at Harvard as well as his appointment as the Chairman of Anesthesiology and Pain Management at Chilton Medical Centre to currently serve as the Director of Pain Management at the VIP Medical Group. Dr Hanna is a compassionate physician with extensive expertise in the most advanced techniques to target pain. His main areas of expertise include back, hip and joint pain.
Dr Laura Lombardi
Dr Laura Lombardi is a double Board Certified pain doctor that specializes in Anesthesiology and Pain Medicine. She graduated from Yale University and achieved her medical degree from Wayne State University School of Medicine. Dr Lombardi completed her residency at Columbia State University – New York and her Interventional Pain Medicine fellowship at Harvard University. She is highly experienced in performing advanced procedures and offers minimally invasive, fluoroscopic pain treatment injections. Dr Lombardi is available for consultations in New Jersey.
Dr Shane Volney
Dr Shane Volney is a double Board Certified doctor specializing in Anesthesiology and Pain Medicine. He completed his anesthesiology residency at Vanderbilt University Medical Center where he was awarded the prestigious position of Chief Resident. After finishing his medical training, he was appointed Clinical Instructor at Harvard Medical School where he taught Pain Medicine, Palliative Care and Anesthesiology for seven years. He is actively involved in speaking at national conferences and teaching advanced pain relief to pain doctors. Dr Volney is passionate about improving the quality of life for his patients and develops comprehensive treatment programs to help each patient on an individual basis. Dr Volney is currently welcoming patients in New York and New Jersey.
Why Should I Visit the VIP Medical Group?
Back pain can be due to a range of different medical conditions, from herniated discs to spinal stenosis. If left untreated, back pain can get worse over time and can be even more detrimental to your health. That's why it is important to visit a Board Certified pain doctor. Here are the top reasons you should visit the best NJ spine doctors:
Board Certified Pain Doctors – Board Certification shows that our pain doctors have completed rigorous residency training and are fellowship trained. This demonstrates that our pain doctors have achieved the highest levels of medical training in pain management/medicine.
Friendly and Understanding Staff – from the moment you walk into our state-of-the-art clinic, you will be greeted by our friendly and patient staff. At the VIP Medical Group, we value the importance of establishing meaningful doctor-patient relationships. We will also answer any worries or concerns you may have.
Ivy League Alumni – our pain doctors are all graduates of Ivy League medical schools. Our strong academic background shows our dedication to training and learning. We believe in the importance of keeping up to date with the latest medical advances.
Minimally Invasive Procedures – at the VIP Medical Group, we maximize health through minimally invasive treatment options. We offer the latest procedures in regenerative medicine that avoid unnecessary surgeries or over-reliance on narcotics.
Why Do I Have Back Pain?
At the VIP Medical Group, you will be treated at a Center of Excellence with access to the latest back pain treatments. In order to accurately treat you, it is vital that your pain doctor assesses and diagnoses the causes of your pain. This can be done via imaging (using X-Ray and ultrasound machines) as well as answering questions about your medical history.
There are many reasons you might be struggling with back pain. Back pain can cause neck pain, hip pain, and even leg pain. There are many medical conditions that can create back pain symptoms which is why it is important to visit a Board Certified pain doctor. If left untreated, pain may persist or even get worse.
Let's take a look at some of the most common causes of back pain:
Herniated Disc – this is when the soft cushion of tissue between the bones in your spine pushes out. If it compresses a spinal nerve, it can cause numbness and tingling sensations in addition to pain.
Osteoarthritis – this condition causes pain and inflammation at the joint because the joint cartilage is affected. This makes it harder for bones to glide, causing tendons and ligaments to work harder.
Spinal Stenosis – this is a common condition that occurs when the small spinal canal (containing the nerve roots and spinal cord) becomes compressed. This can create a 'pinching' of the spinal cord and other associated nerves.
Traumatic Injury – back problems can arise when you use muscles that haven't been used in a while. Lifting heavy objects, spinal twists, tripping or falling can all cause damage to nerves and structures in the back.
If you're struggling with back pain, it is important to seek medical attention. At the VIP Medical Group, our friendly and experienced pain doctors can help you. Our pain treatment centers are Centers of Excellence that welcome patients and international athletes from around the world. Our highly experienced medical team will assess your problem, establish a treatment plan, and work with you to get you back to full health.