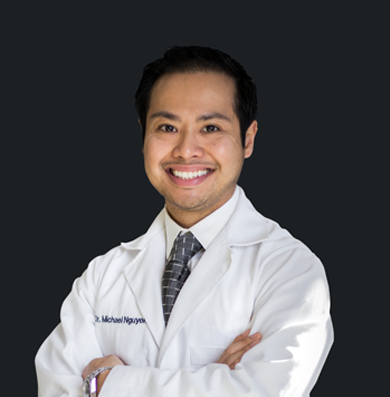 Dr. Michael Nguyen, MD
Interventional Pain Management
Venous Medicine
Minimally Invasive Cosmetics
Interventional specialist Vein Disease and Pain Managment
Dr. Michael Nguyen is a physician at Vein Institute and Pain Centers of America with a clinical and academic practice focused on pain medicine and venous disease. Dr. Nguyen is a highly experienced and well respected pain and vein specialist having treated thousands of patients. Dr. Nguyen serves on the advisory panel for Medtronic, helping to implement strategies and design technology to improve venous care.
Dr. Nguyen is Board Certified in Venous and Lymphatic Medicine and Interventional Pain. He completed residency and advanced fellowship training at Harvard Medical School. Dr. Michael Nguyen was one of the most respected Fellows at Harvard and received the prestigious "Fellow of the Year" award during his final year of training. Upon completion of his training, Dr. Nguyen joined the Harvard faculty where his accolades included "Outstanding Teacher of the Year" and "Mentor of the Year." Dr. Nguyen has published about vein disease in the medical literature, including a textbook on minimally invasive treatments for chronic venous insufficiency. Dr. Nguyen's work has been featured on television and print.
Area of Expertise
Interventional Pain Management
Venous Medicine
Minimally Invasive Cosmetics
Training
Harvard Medical School: Brigham and Women's Hospital
University of Miami



Request an appointment
We are experts in minimally invasive procedures with zero downtime, allowing you to resume regular activities the same day. Leave us your information, and we will reach out to help you verify your insurance coverage, and schedule an appointment with one of our vein specialists.  We are a non-participating provider with BCBS, empire, Aetna, GHI, Cigna, United Healthcare, Oxford, BCBS Horizon, Magnacare and we will work directly with your insurance company to help you get treated with no surprise bills. 
By emailing us or contacting us via web form, you are accepting the inherent
privacy limitations
of online communication. For more information about internet privacy, please read our "
Communication by Email/Text
" document. Please respond
"stop"
to text messages to opt out.