Step 1: Schedule an Appointment
The Vein Treatment Clinic, Lindenhurst, is one of the most accessible vein clinics in Long Island. The vein clinic is located at 481 W Montauk Highway, just on the border of Suffolk County and Nassau County, and a short drive from the southern state parkway. As such, it's highly accessible to patients on the South Shore of Long Island. If you're on the North Shore or the Hamptons, the vein clinic also has locations in Jericho and Hampton Bays. Once you find the nearest vein clinic in Long Island, you can schedule an appointment online or call +1 631-212-1456.
Step 2: Free Insurance Verification
The vein clinics in Long Island provide free insurance verification for all patients. Once you schedule an appointment, you can provide your insurance details to our insurance concierge team. They'll handle all the information, verify your details, and contact your insurance providers to work out the terms and conditions of your coverage. As such, we prepare all the details in advance so you receive a complete overview of your vein treatment costs during your initial appointment.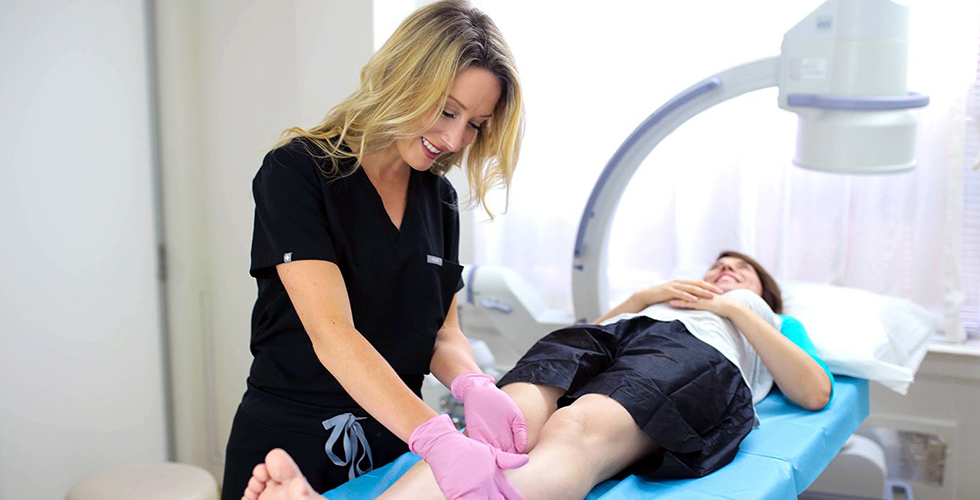 Step 3: Initial Consultation
When you appear for your initial consultation at our vein clinics in Long Island, you'll be greeted by a warm vein care staff. They'll ask you to fill out some paperwork, wherein you'll enter your medical history and symptoms. Once you fill-up the details, the vein doctor will discuss your symptoms, review your medical history, and examine your leg veins. They'll ask if you experience leg heaviness, restless leg syndrome, throbbing leg veins, frequent leg cramps, or other common symptoms of vein disease. This is necessary to diagnose the root cause of your vein problems.
Step 4: Vascular Imaging
After the initial consultation, the vein doctor will perform a thorough vascular imaging test called duplex ultrasound. This test is necessary to identify underlying chronic venous insufficiency, the circulatory disorder responsible for most vein problems, including spider veins and varicose veins. Treating spider veins without addressing venous insufficiency increases the risk of recurrence. The duplex ultrasound test is simple — the vein doctor will use ultrasound energy to visualize the blood flow in your leg veins, revealing the presence (or absence) of vein disease.
Step 5: Treatment Planning
The vascular imaging test will be followed by a comprehensive vein treatment planning process. The vein doctor will discuss all your ideal vein treatment options based on your medical history, diagnosis, symptoms, and insurance coverage options. This is a collaborative process — they'll highlight the advantages and drawbacks of all possible vein treatments, allowing you to make an informed decision.
Step 6: Patient Education
After curating a vein treatment plan, the vein doctor will proceed with patient education. The vein clinics in Long Island have a strong commitment to patient education — we believe you should have a comprehensive understanding of your vein disease and treatment options. To that end, our vein specialists provide a step-by-step overview of your vein treatment process and recovery.
Step 7: Cost Overview
The vein treatment clinic in Lindenhurst follows a strict "no surprise billing" policy. This means you receive a complete overview of your vein treatment costs in advance, with or without insurance coverage. There's no hidden billing, and we ensure you have a clear understanding of how much of the treatment will be covered by insurance and your financial burden. If you're not eligible for insurance coverage, we also discuss possible third-party financing plans. Your vein treatment proceeds once you have complete clarity about your financial situation.
Step 8: Primary Vein Treatment
Your primary vein treatment options include radiofrequency ablation, endovenous laser ablation, venaseal, and clarivein. These vein treatments address the root cause of your vein problems, chronic venous insufficiency. The vein doctor makes a small incision on the skin's surface and inserts a medical device into the diseased vein under ultrasound guidance. Once the device is lodged inside, the vein doctor delivers thermal energy, laser energy, mechanical pressure, or medical adhesives (depending on the procedure) to destroy the problematic vein. This reroutes the accumulated blood in healthier leg veins, thereby restoring optimal blood circulation.
Step 9: Cosmetic Vein Treatment
Your cosmetic vein treatment options include sclerotherapy and ambulatory phlebectomy. These procedures treat spider veins and superficial varicose veins, but they don't address the underlying venous insufficiency. Sclerotherapy is a minimally invasive procedure wherein the vein doctor injects a medicine called sclerosant into the spider veins, making them shrink and fade away from the skin's surface. The results from sclerotherapy appear gradually over three weeks. Ambulatory phlebectomy involves extracting dilated varicose veins through small incisions on the skin's surface. The incision marks gradually heal and fade away.
Step 10: Recovery & Aftercare
The vein treatment clinic in Lindenhurst only provides minimally invasive vein treatments that conclude within an hour with no downtime. The vein doctor will discuss your post-treatment guidelines, such as wearing compression stockings and avoiding heavy lifting. But you can resume most of your daily activities and work immediately after your vein treatment. As such, the entire vein treatment process is extremely convenient, and it doesn't have to disrupt your daily schedule. Most patients schedule their vein treatments during their work lunch break.