Step 1: Free Insurance Verification
The Spider Vein and Varicose Vein Treatment Clinic, Houston, provides free insurance verification to all patients. You can call +1 346-258-7302 to request free insurance verification. The insurance concierge will accept your insurance details and contact your provider on your behalf. They'll also review the terms and conditions of your insurance coverage and work out all the details before your appointment. When it's time for your appointment, you can drive over to 2900 Weslayan St Suite 650, Houston, a short drive from The Galleria shopping mall.
Step 2: Initial Consultation
During your initial consultation, you'll have to fill out a form where you'll be asked about your symptoms and medical history. Please be completely honest about your medical history because it will help the vein doctor determine if you have underlying vein disease. After filling the form, you'll meet with one of the vein treatment clinic's talented vein doctors — Dr. Calvin Jung or Dr. Polina Kyriakides.
During the initial consultation, the vein doctors have two primary goals — understanding your goals and determining if you have vein disease. Most vein problems, including spider veins and varicose veins, are caused by chronic venous insufficiency. Venous insufficiency is a medical condition wherein your vein valves malfunction, and blood accumulates in your leg veins. Over time, the continued accumulation of blood in leg veins leads to vascular dilation and spider veins.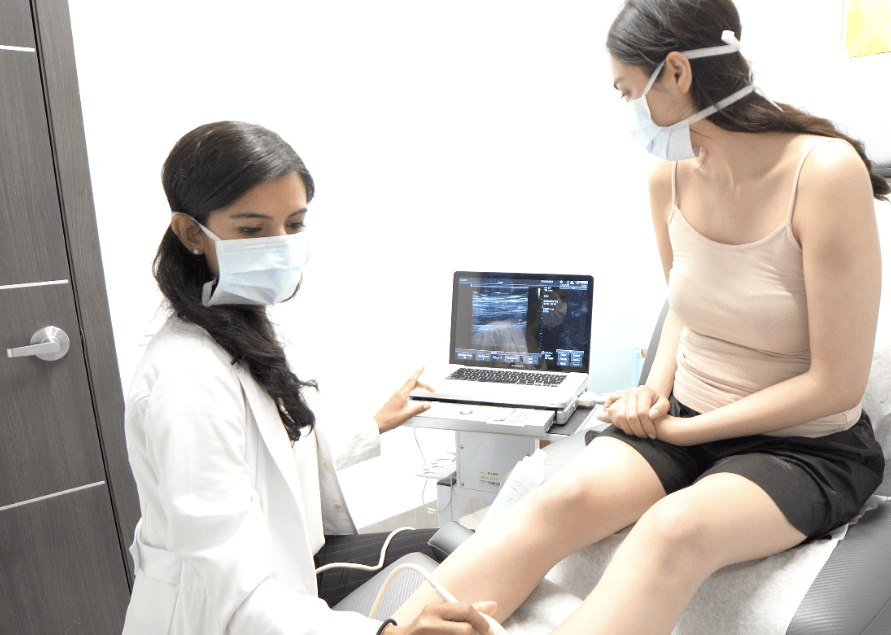 The vein doctor will review your medical history (patients with a history of vein problems are more likely to experience vein disease), discuss your symptoms, and examine your leg veins. Please be honest about your symptoms — leg heaviness, leg swelling, restless leg syndrome, frequent leg cramps, and throbbing leg veins are common signs and symptoms of venous insufficiency. After the initial consultation, the vein doctor might schedule your vascular imaging tests.
Step 3: Duplex Ultrasound
Duplex ultrasound, also known as doppler ultrasound, is one of the leading ultrasound diagnostic tests for chronic venous insufficiency. During this vascular imaging test, the vein doctor uses ultrasound energy to visualize the direction of blood flow in your leg veins on a computer screen. Backward blood circulation and accumulated blood in the leg veins indicate chronic venous insufficiency. Diagnosing vein disease is essential for effective vein treatment — treating spider veins without addressing the root cause would inevitably lead to recurrence.
Step 4: Treatment Planning
The vein doctor will curate a personalized vein treatment plan for you. They'll discuss all your minimally invasive treatment options, highlighting the pros, cons, risks, and costs of each procedure. As such, you're involved in the vein treatment planning process. The vein doctor will curate a personalized vein treatment plan based on your diagnosis, symptoms, potential risks, medical history, cosmetic goals, and insurance coverage options. After selecting the ideal vein treatments for you, they'll provide a complete step-by-step overview of your vein treatment.
Step 5: Treatment Cost
The Spider Vein and Varicose Vein Treatment Clinic, Houston, follows a strict "no surprise billing" policy. As such, you can be assured that you'll receive a complete breakdown of your vein treatment costs without hidden charges before your procedure. Since you would have given your insurance details in advance, you'll also find out if you're eligible for insurance coverage and how much. The vein treatment clinic's financing team will discuss possible third-party financing plans to lower your immediate out-of-pocket financial burden.
Step 6: Primary Vein Treatment
The primary vein treatment is meant for patients with chronic venous insufficiency. The best minimally invasive treatments for vein disease include radiofrequency ablation, endovenous laser ablation, venaseal, and mechanochemical ablation (clarivein). These procedures use different techniques to destroy the diseased saphenous vein responsible for your vein problems. Once the diseased vein is removed, the accumulated blood automatically reroutes into healthier leg veins, restoring effective blood circulation to the heart.
However, different minimally invasive procedures have different techniques:
Radiofrequency ablation destroys the diseased saphenous vein using radiofrequency waves channeled via a catheter inserted through a small incision on the skin's surface.
Laser ablation destroys the diseased saphenous vein using laser energy, channeled via a laser fiber inserted through a small incision on the skin's surface.
Mechanochemical ablation (clarivein) destroys the diseased saphenous vein using a combination of mechanical pressure and sclerosant medicine, channeled via a special catheter with a rotating tip.
VenaSeal destroys the diseased saphenous vein by sealing its walls with a medical-grade adhesive injected under ultrasound guidance.
Step 7: Cosmetic Vein Treatment
The cosmetic vein treatment is meant for patients with spider veins and varicose veins without underlying vein disease. As such, these treatments are usually recommended after the primary vein treatment. The best treatments for superficial varicose veins and spider veins are ambulatory phlebectomy and sclerotherapy.
Ambulatory phlebectomy, also known as microsurgery, is a procedure wherein the vein doctor physically extracts the varicose veins through small incisions on the skin's surface.
Sclerotherapy is a minimally invasive treatment wherein the vein doctor injects sclerosant medicine into spider veins to turn them into hardened tissues eventually absorbed by the body.
Step 8: Recovery & Aftercare
After your vein treatment, the vein doctor will apply pressure on your leg veins as you stand up. You'll have to wear compression stockings for a few days or weeks to ensure smooth blood circulation. The vein doctor will also provide some post-treatment guidelines, such as avoiding heavy lifting and strenuous workouts for a few days. However, you can resume most of your daily activities immediately after the vein treatment — no hospitalization or downtime.