Have You Noticed a Change in the Appearance of Your Veins?
One of the most obvious signs of damaged veins is a change in their appearance. You might notice veins bulging beneath your skin in a ropelike, twisted fashion. You might also see smaller veins forming in threadlike clusters that branch out from a central point. Some veins are naturally larger than others, but varicose veins are swollen and engorged and have a distinct appearance that sends many patients in search of a vein treatment center in Long Island. If you're noticing the formation of varicosities or the development of spider veins, contact our Long Island vein center to learn how we can help!
Are You Experiencing Bothersome Symptoms in Your Legs?
While the visibility of unhealthy veins is typically the first thing patients notice, there are many other symptoms caused by poor circulation. Often, patients don't even realize how certain symptoms are connected to their vascular system, and are relieved to know that there aren't multiple causes for their battery of symptoms. If you have chronic venous insufficiency, you're susceptible to spider veins and varicose veins, as well as symptoms like cramping, burning, swelling, restlessness, heaviness, and fatigue in your legs. More severe cases prompt symptoms like ulcerations, venous dermatitis, and hyperpigmentation on your lower extremities. If you have visible vein damage, along with frustrating symptoms, visit our vein treatment center in Long Island for comprehensive relief.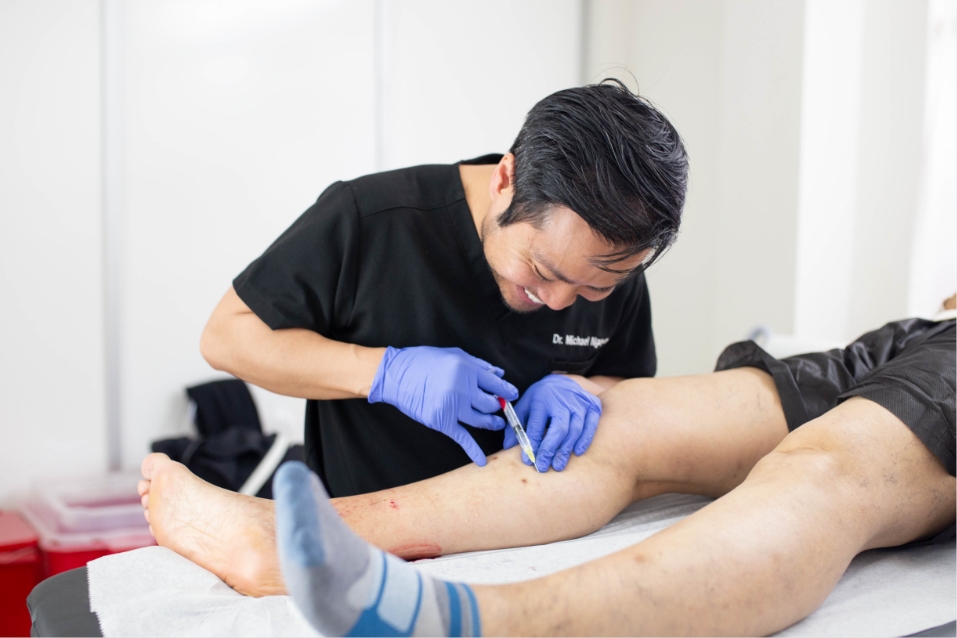 Do Spider Veins and Varicose Veins Run in Your Family?
There are several steps you can take to improve your venous health. Daily exercise, maintaining a healthy weight, and avoiding prolonged sitting or standing are among them. However, an unfortunate truth is that varicose veins and spider veins are largely genetic. If both of your parents have vein issues, you're almost guaranteed to experience them as well. So, if you're noticing any of the symptoms above, or seeing defective veins form beneath your skin, visit one of our Long Island vein centers in North Shore, South Shore, or the Hamptons today. Our LI vein doctors will help minimize your risk, and also minimize the accumulation and symptoms of defective veins.
Curious About Varicose and Spider Vein Treatment Plans?
If you're wondering about the various varicose and spider vein treatment plans available, it's a good sign that it's time to visit a vein treatment center. Some patients aren't bothered by the appearance of unhealthy veins, nor do they experience symptoms. But if you're wondering about treatment plans, you probably don't fall in that category. Like millions of other Americans, you're unhappy with the way your veins look or feel, so there's no reason to tolerate them anymore. Our board certified vein specialists offer countless, customizable ways to treat spider veins and varicose veins in a matter of minutes. If you'd like to get rid of your vein damage, don't hesitate any longer. Today's modern vein treatments are safe, affordable, gentle, and fast, and often covered entirely by insurance. You deserve to feel healthy and confident in your appearance.
Have You Researched Vein Doctors and Vascular Surgeons?
Do you find yourself periodically Googling vein doctors and vein specialists? Have you researched vein surgery or questioned whether to visit a vascular surgeon? If your instincts are telling you to find a medical center for your veins, it's best to follow those instincts. Maybe the sight of your veins impairs your self-confidence, or maybe the symptoms impair your ability to work. Whatever negative impact your veins are having, our Harvard-trained vein doctors want to help. Addressing the cosmetic aspect of veins is important for your well-being. In addition, those superficial veins often signal a deeper issue like chronic venous insufficiency, so it's important to have them assessed. Treating the troubling symptoms of veins has a powerful impact as well, allowing you to engage in a full and productive life.
Wondering Which Vein Specialists Are Truly Vein Experts?
If you're circling around the idea of vein treatment, is it because you aren't sure who should treat your veins? There are several types of vein "specialists" in Long Island, including dermatologists, estheticians, vascular surgeons, and vein doctors. The best choice is an accredited medical center, staffed by board certified vein doctors. While cosmetic spas offer some superficial treatments like topical lasers, most aren't equipped to address the valve failure and weakened vein walls deeper in your legs that typically cause the vein damage at the surface. The result of strictly cosmetic procedures for many patients? Spider veins and varicose veins keep coming back. A vascular surgeon is only required for a small number of patients whose veins are ineligible for, or resistant to, newer treatments. Choose an interventional vein specialist or a vascular surgeon who's trained in, and prefers, the minimally invasive techniques below.
Are You Hoping for a Minimally Invasive Procedure?
If your goal is to treat your veins without surgery, it's a great time to visit a Long Island vein treatment center! The best vein doctors now avoid vein stripping surgery (phlebectomy) and invasive procedures, which are no longer considered a first-line treatment. It's highly unlikely you'll need surgery, and the sooner you visit a vein center, the more likely it is that you can avoid it. Our vein experts use innovative methods like sclerotherapy, VenaSeal, radiofrequency ablation, and Varithena to close off defective venous pathways, without cutting down into your body to remove the vein. A minimally invasive procedure in our office typically takes 15-30 minutes! You're kept comfortable the whole time, but you won't need general or even spinal anesthesia. You can resume your normal activities right away, and you won't have to deal with hospitals, healing time, or surgical risks, since our procedures are all done onsite. If you want a simple solution for your veins, now is the perfect time to book an appointment with our vein doctors!
Want a Vein Center with Board Certified Physicians?
If you're searching for a vein center with strong credentials like accreditation and board certification, chances are, your veins aren't just a cosmetic nuisance. Like many people, your veins might hurt when you touch them, or bleed when they're bumped, or cause your legs to feel swollen, heavy, or exhausted. Your circulation issues might be keeping you up at night, with a restless sensation in your legs, or ulcerations and hyperpigmentation that concern you. Maybe you have multiple varicose veins or an itchy rash near the varicosity. If you're sensing that you need a doctor for your veins, you probably do. Visit our caring team to alleviate those bothersome symptoms and restore the vitality of your circulatory system.
Ready to Visit Our Vein Treatment Center on Long Island?
Are you ready to stop thinking about your veins and start treating them? You'll be so glad you took that step! Our renowned vein doctors offer quick, gentle, effective solutions so you can stop worrying about veins and start living the life you imagine. With 3 locations on Long Island, we're right nearby and ready to restore health to your veins!