1. A Board Certified Vein Doctor Has Verifiable Expertise
If you visit a vein treatment center in LI, there's no guarantee you'll be treated by a vein doctor. Different types of providers call themselves "vein specialists," including estheticians, dermatologists, and plastic surgeons. But only a board certified vein doctor is thoroughly trained in the intricate pathways of your venous anatomy. Choosing a board certified vein specialist, like the physicians at our LI vein centers, ensures that their expertise is not only superior, but also verified by the American Board of Venous and Lymphatic Medicine.
ABVLM certification means the doctor has passed comprehensive exams, trained in the latest techniques, completed extensive research, and participated in medical conferences. This is an additional badge of merit, over and above medical licensure, that is not required to treat veins. So, when your doctor is board certified in venous medicine, you're being treated by a verifiable vein expert.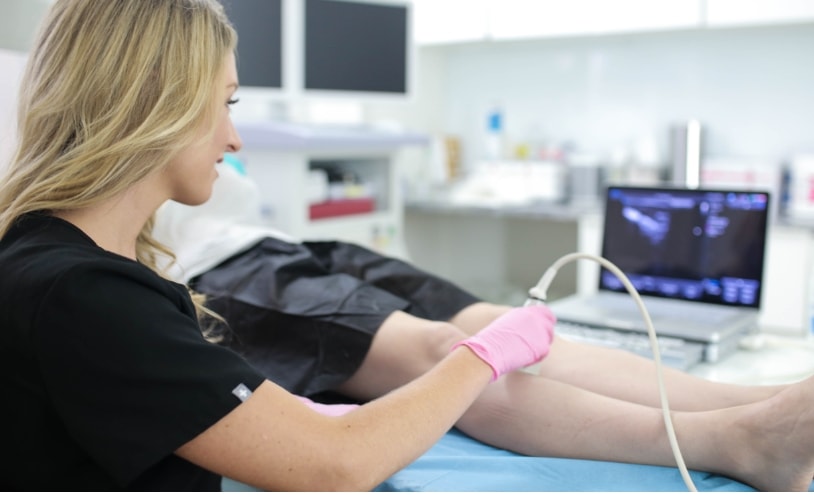 2. An Accredited Vein Center Meets Verifiable Standards
When a vein treatment center in LI is accredited, that means they've completed a voluntary review of their vein center, treatment plans, and vein specialists' qualifications. The Intersocietal Accreditation Commission only provides this distinction to select vein treatment centers, after inspecting their equipment, patient case studies, and doctors' credentials. Some vein centers in LI don't subject themselves to this review, which might mean they aren't confident in their quality or safety standards.
Choosing an IAC accredited vein center ensures that your doctors' qualifications and your treatment plans have been approved by an unbiased third party that only approves a medical group or medical center of the highest caliber. A vein practice that completes this process is not only committed to doing their best, but they're also proven to be the best. Accreditation provides patients with the distinct advantage of verified exceptional care.
3. Certified Vein Specialists Make Verifiable Diagnoses
Varicose and spider vein treatment isn't always as simple as injecting or lasering a vein you can see just beneath your skin. The impetus for spider veins and varicose veins is often in deeper veins and involves venous connections that must be mapped out for safe and effective treatment. When you choose a board certified vein specialist, you'll benefit from superior diagnostic techniques like vein mapping, duplex ultrasound scans, and ultrasound-guided treatments that verify the problematic location before administering treatment.
Estheticians and dermatologists are typically only qualified to use certain techniques like topical lasers or injections for visible vein damage. But those surface veins usually indicate a circulatory issue in deeper veins, like chronic venous insufficiency. When a valve fails, or a vein's walls weaken, blood accumulates, or flows backward in your vein. That causes intra-venous pressure that forces those bulging or trickly looking veins to form at the surface. If you don't work with a certified vein doctor who's qualified to assess and treat the root problem, you'll find those veins appearing again and again.
4. Vein Doctors Use Verifiable Minimally Invasive Procedures
It's one thing for a vein center to offer "gentle," or "non-invasive" varicose and spider vein treatment. It's another thing for those minimally invasive procedures to actually work. Yes, an injection of a sclerosant into a varicose vein is less invasive than vein surgery. But the vein doctor must first identify any connecting veins that could transport the medicine into healthier veins, to ensure a safe procedure. Injecting a sclerosant into a spider vein is a gentle technique. But, if the spider vein stems from a vein disease, it's only a short-term solution.
Yes, minimally invasive procedures are preferable for patients. But it's not just a matter of finding a vein treatment center in LI that offers those. You want to choose one with certified vein doctors, so that your treatment is both safe and successful. Vein treatments are much quicker and easier than they used to be, so don't assume that a spa has a quicker solution than a medical center for veins. In reality, the results will be faster with a doctor, since they look at your vein health holistically.
5. Accredited Vein Centers Are Verifiably State of the Art
A tremendous advantage to choosing an accredited vein center is the superior equipment available to you. Some vascular surgeons only specialize in surgery, and some cosmetic vein specialists only have a handful of techniques to choose from. But our LI vein centers have an abundance of cutting edge treatments including Varithena, VenaSeal, radiofrequency ablation, and multiple modes of sclerotherapy. Notably, our modern techniques are also backed by extensive research and approved by the FDA. Unlike the experimental techniques you'll find at non-medical vein centers, our approach is verified for your safety.
Since our doctors are all trained in ultrasound-guided, minimally invasive procedures, we offer a depth of customizable treatment plans with exceptional success rates. Our ability to pinpoint the exact cause of your vein issues, and deliver treatment with assistive imagery, makes vein treatment not only faster and more comfortable, but also more effective. Less qualified vein centers use more trial and error and might require more injections, more failed treatments, and more discomfort. Our team has a 5-star track record for innovative and effective care.
6. An Accredited Vein Center in LI Has Verifiable Results
One of the best ways to select a vein treatment center in Long Island is to measure their credentials against their results. Start by determining whether the doctors are certified and trained in the latest, safest procedures. Check to see if their vascular surgeon is also trained in minimally invasive procedures. Look for accreditation by the IAC and make sure the vein specialists trained at a reputable university.
Then, compare that against patient and peer reviews. Do they receive 4-5 stars on review sites like Google and Yelp? Have they earned any distinctions such as Center of Excellence, RealSelf Top Doctor, or Certified Diplomates? If a vein center is truly excellent, you'll find evidence of that to support their claims. In addition, a successful medical center frequently expands, just as our practice has opened locations in South Shore, North Shore, and the Hamptons. Visit any of our premiere vein centers today for verifiably remarkable care.