Should My Vein Specialist on Long Island be Board Certified?
No matter which type of specialist you need, board certification is highly important. With venous medicine, it's even more essential since your veins form an intricate pathway to your heart. There are vein centers in New York that are run by doctors who aren't board certified, and even people who aren't doctors. Your vascular health demands a trained specialist to prevent complications like necrosis, pain, bleeding, nerve damage, and pulmonary embolism. Don't take chances with your veins. Choose a vein specialist in Long Island who's not only board certified, but holds multiple certifications, like our vein expert, Dr. Caroline Novak. Certified as a vein specialist, pain specialist, and internal medicine specialist, she provides exceptional vein care.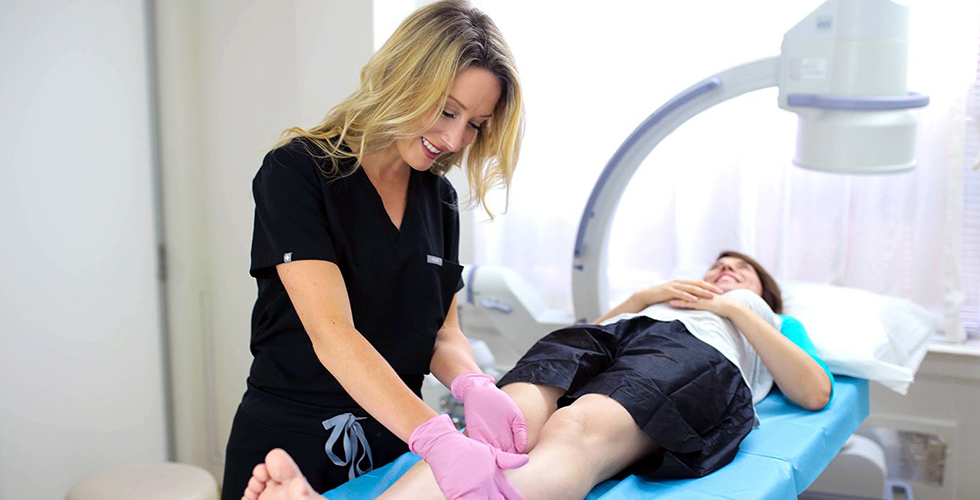 Are All Long Island Vein Specialists Board Certified?
As mentioned above, some vein clinics hire "vein specialists" who aren't actually board certified in vein medicine. Board certification is not a requirement to practice medicine. It's a voluntary path of intensive training, testing, and research in a specific field. Doctors who achieve this distinction have greater experience and expertise in the condition you seek treatment for. Their skill and insight have been tested and approved as superior in their field. Some vein care centers hire board certified doctors, but they aren't certified in venous medicine. It's important to clarify the actual credentials of your practitioner before you agree to treatment.
Are the Best Vascular Surgeons on Long Island Certified?
The best vascular surgeons on Long Island are not necessarily certified in venous medicine. They are required to graduate medical school and obtain a medical license, but the board certification process is optional. Choose a vein specialist who completed this process for better care and peace of mind. Vein surgery is very specific and has also undergone a tremendous overhaul in the last few decades, so you want a doctor who's up to date on the best surgical procedures. In addition, most patients no longer need surgery for spider or varicose vein treatment. So, seek a verified vein specialist, not necessarily a vascular surgeon.
Does 30 Years' Experience Trump Board Certification?
Some patients assume that the length of a doctor's experience is the most important consideration. While a doctor with 30 years of experience will certainly bring a wealth of wisdom to their treatment plans, vein care has also changed significantly over the last 30 years. So, it's critical to choose a doctor who's not only experienced, but also trained in newer, minimally invasive procedures rather than outdated surgical techniques.
Who Can Work at a Vein and Laser Center in Manhasset, NY?
Different professionals fall under the umbrella term of vein specialist. A vein and laser center in Manhasset, NY might be staffed by estheticians, dermatologists, nurses, PAs, NPRs, doctors who aren't certified in vein medicine, or board certified vein specialists. Check beyond the name of the company and the title "vein specialist" to determine who will actually provide your vein care.
Does a Certified Vein Specialist Have More Treatment Plans?
Certified vein specialists are typically trained in a broader scope of treatment plans, and also have the experience to combine treatment methods as needed for a customized approach. Estheticians and dermatologists might perform primarily surface treatments, like topical lasers or minor sclerotherapy treatments, whereas board certified vein specialists can treat those superficial veins, as well the deeper veins that cause them, in addition to larger varicose veins and vein disease. A trained doctor's treatments will address the underlying problem so that damaged veins don't continue to appear. They'll also check for Chronic Venous Insufficiency, a common, yet underdiagnosed condition that generates spider veins and varicose veins.
Do Certified Specialists Use State of the Art Tools?
Board certification, as well as vein center accreditation, means the vein clinic provides a superior patient experience. This includes the use of state of the art tools like Doppler Ultrasound machines and cutting edge treatments like Varithena and VenaSeal. Our vein experts use groundbreaking technology to locate and treat problematic veins with a single procedure. We do so without general anesthesia, hospitalization, or recovery downtime. Our patients resume their typical lifestyles immediately after treatment. If you aren't convinced to choose a certified specialist on merit alone, choose one for their innovative, efficient, and minimally invasive treatment options.
Is Every Vein Care Center a Capable Varicose Center?
It's important to note that some vein care centers only treat minor vein damage, which doesn't always include varicose veins. Telangiectasias, the family of veins that includes spider veins on your legs, can occur on your face or anywhere on your body. These are sometimes treatable with surface procedures. However, the treatment is only temporary if they stem from vein disease or valve failure within a vein. More complex issues like varicose veins and vein disease are not treated by every vein specialist in Long Island. Look for a qualified medical clinic for veins to ensure that it's a capable varicose center and one that treats vein health comprehensively.
How Do I Verify a Certified Varicose Vein Treatment Center?
Here are some questions to ask to select the right varicose vein treatment center: Is the facility accredited by the IAC? Are the doctors certified in venous medicine? Do the doctors offer minimally invasive alternatives to surgery? Were the doctors trained at reputable medical schools? Do the specialists participate in research, medical conferences, and medical textbook compilations? Each of the vein specialists on our team is Harvard-trained, graduated at the top of their class from prestigious medical schools, and is double or triple-board certified. Our practitioners remain at the front of medical research and are trusted resources for other specialists in venous medicine. You'll receive unprecedented care from our compassionate team.
How Do I Choose a North Shore Vein Center or NY Vein Clinic?
When selecting a North Shore vein center or NY vein clinic, start by researching the training and experience of the doctors. Also look at whether the clinic is accredited and check out patient reviews. Inquire about their insurance policies. You want a medical center that accepts most insurance plans and works to determine your coverage pre-procedure, like our insurance specialists do. Our patients consistently leave 5-star reviews and appreciate our affordable treatments, since our procedures are often covered completely.
Which Top USA Vein Clinics Are in Valley Stream, NY?
A perk of living in the USA, vein clinics are conveniently located in every city. So, which one near you is best? Our award-winning physicians provide care in South Shore, North Shore, Hamptons, Manhattan, Clifton, Paramus, and Woodland Park, all convenient to Manhasset, NY and Valley Stream, NY. Contact us today to find the right location to serve all of your vascular needs.
How Do I Schedule a Consultation with a Vascular Surgeon?
Our medical group makes it easy to schedule a consultation with a vein specialist or vascular surgeon. While our team is qualified to perform surgery, you'll be glad to know that you probably won't need it. Most vein issues are now relieved with minimally invasive techniques. Book online or give us a call to have your questions answered, or to be seen right away. Our caring experts explain each vein disease, symptom, and treatment in detail, and we provide different treatment options for you to choose from so you're fully informed at all times. When you work with our team, you'll see how board certification makes a difference!