Which Vein Doctor Do Hamptons Residents Trust for Treatment?
Wondering which vein doctor Hamptons residents count on for spider and varicose vein treatment? Our award-winning team of vein doctors in the Hamptons, Jericho, and Lindenhurst has over 30 years of proven success with all types of vein issues. Our Long Island medical group holds multiple board certifications, and includes Dr. Thomas Arnold, a vascular surgeon and minimally invasive vein doctor; Dr. Caroline Novak, an internal medicine doctor, vein doctor, and pain specialist; and Dr. Kamran Saraf, a vein doctor trained in neurophysiology, biophysics, and anesthesiology. Patients rely on us for groundbreaking treatments, compassionate care, and remarkable results. Contact us today to visit our award-winning vein center in the Hamptons!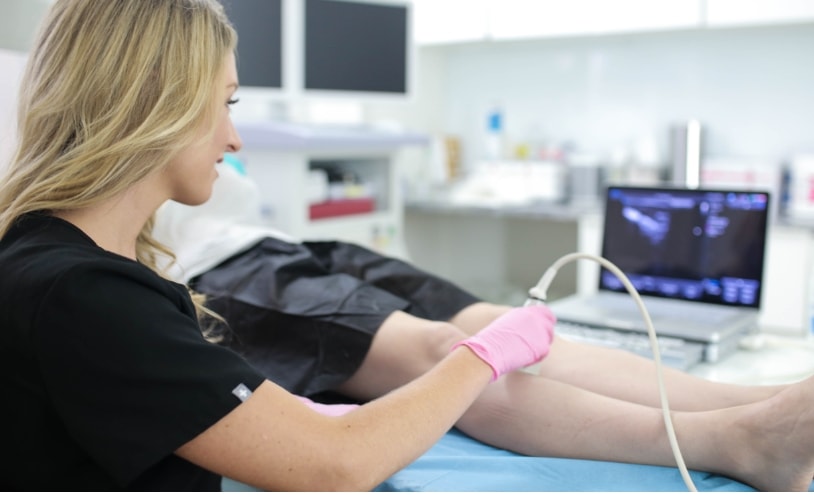 Why Is Dr. Thomas Arnold a Preferred Physician?
Dr. Arnold spent the last several decades perfecting spider and varicose vein treatment. As a vascular surgeon and minimally invasive vein doctor, he possesses comprehensive knowledge of the full range of vein procedures, unlike some vein doctors. He specializes in innovative techniques like sclerotherapy and radiofrequency ablation that eliminate surgery for most patients. And if you need vein surgery, he is highly equipped to treat even the most complicated veins. Vein treatment has changed dramatically over the last 30 years, so you need a doctor who stays current in the latest treatments, which is exactly what you'll find with Dr. Thomas Arnold.
Why Does 30 Years of Experience Matter?
Dr. Arnold's 30 years in the medical field is essential to his success because he has seen the tremendous advances in vein medicine and is trained in the full scope of options for each patient. He's also joined by a team of Harvard-trained vein experts with diverse medical backgrounds and unique expertise at our other vein clinics. Our talented experts, like Dr. Caroline Novak and Dr. Kamran Saraf, each have extensive training that complements one another. Our doctors consult each other regularly, providing superior care to our patients. Venous anatomy, medical history, comorbidities, lifestyles, and risk factors are different in each patient. When you choose our award-winning team, you're guaranteed customized, cutting-edge care.
Why Should You Visit the Best Vein Center for Bulging Veins?
It's important to visit the best vein clinic because bulging veins aren't just visually unappealing. They're often a sign that you have a common vein disease called Chronic Venous Insufficiency. Left untreated, this disease progresses, causing more damaged veins to appear, as well as symptoms like swelling, fatigue, heaviness, itchiness, cramping, and restlessness in your legs. In advanced cases, venous ulcerations, hyperpigmentation, blood clots, and life-threatening complications are possible with Chronic Venous Insufficiency. Our highly-trained experts treat this vein disease, as well as the visible vein damage, often in a matter of minutes. By identifying venous valve failure with ultrasonography, we isolate the origin of circulatory inefficiency and treat the problematic veins. Many vein centers aren't equipped for this level of care, so choose Dr. Novak, Dr. Arnold, or Dr. Saraf for superior results.
Why Do You Need a Trusted Doctor for Your Blood Vessels?
Veins are one type of blood vessel with a specific duty. Arteries (another type of blood vessel) pump oxygenated blood away from the heart and deliver it throughout your body. Veins return the deoxygenated blood back to your heart to obtain more oxygen. This is no easy task, especially for leg veins which must pump blood against the force of gravity. Veins can sustain valve failure, which complicates their job. This causes the formation of spider veins and varicose veins, as well as frustrating symptoms. A reputable vein doctor is required in order to identify the breadth of the issue and provide comprehensive relief.
Your venous anatomy is unique to you. If you have a defective vein, doctors must identify any connecting veins, blood clots, and dysfunction in deeper veins for safe and successful treatment. In the wrong hands, treatments like sclerosants can mistakenly travel into healthy veins. Injections that aren't performed correctly can cause nerve damage, necrosis, or even an embolism. While vein treatment is very safe with qualified vein doctors, it's important to choose one with the right certifications and experience, and to choose one who you trust.
What Makes Our Hampton Vein Clinic Superior?
Our vein treatment clinic in Hampton Bays is superior in several key areas. Here are just three of the ways:
First, we are an accredited medical center, which means we've passed a rigorous, voluntary review of our staff, facilities, and procedures and earned the rare distinction of accreditation by the IAC.
Second, all of our doctors are double or triple board certified in vein medicine and additional fields like anesthesiology, internal medicine, pain medicine, and vascular surgery. We treat your overall vascular health, not just the veins you see at the surface. This makes our treatments more effective and more sustainable since we address the root cause.
Third, our doctors are known for compassionate care, more time spent with patients, and collaborative treatment plans where we involve you in the decision, so you're totally comfortable with the plan.
Want to Schedule an Appointment with a Hamptons Vein Doctor?
If you're ready to visit our esteemed vein doctors, you'll find us at 225 West Montauk Highway, Suite 3, in Hampton Bays. give us a call at (212)273-1617, or schedule an appointment online today! We have two other convenient Long Island locations, as well, so we'll schedule you at the closest one to you. Our insurance specialists will verify your insurance coverage for free before your appointment, so you'll know exactly what to expect. For most patients, treatment is covered completely. We look forward to eliminating your bulging veins, spider veins, and vein disease to restore your circulatory health.