Tip #1. Look for vein clinics close to your home or place of work in Texas.
Thanks to modern advancements, minimally invasive vein treatments are in-office and outpatient procedures that conclude within an hour with no downtime. Because of their incredible convenience, patients generally opt for treatment during their work lunch break — they don't need to change their schedule or carve extra time for the treatment. This is especially important because vein treatments sometimes necessitate multiple sessions. However, your vein treatment can only be convenient if your chosen vein clinic in Texas is close to your home or place of work.
The Spider Vein and Varicose Vein Clinic in Houston, Texas, is one of the most accessible vein clinics in Texas. It's located at 2024 Richmond Ave #300 in Uptown Houston, one of the most popular and thriving areas in Houston, a short drive from the iconic Galleria landmark. If you're from Houston, River Oaks, or other neighboring regions, we encourage you to schedule a consultation at the vein clinic in Texas. After booking an appointment, you can also request free insurance verification from the vein clinic.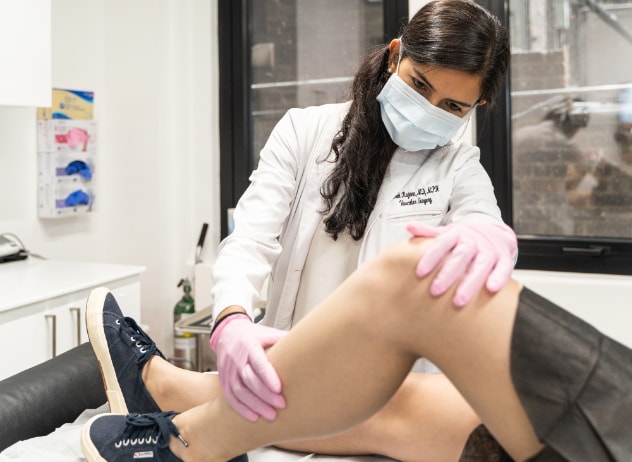 Tip #2. Read the vein clinics' patient testimonials to learn about the patient experience.
You can learn a lot about a vein clinic from its patient testimonials and ratings. Platforms like Facebook, Google, and RealSelf allow patients to rate and review their medical vein clinics. Furthermore, as third-party platforms, the vein clinic doesn't have the authority to change or modify the reviews, making them completely authentic. You should focus on vein clinics with unanimous 5-star ratings because it indicates a perfect track record and stellar vein care standards.
The Spider Vein and Varicose Vein Clinic, Texas, has 5-star ratings and reviews on all platforms. One of the recent patients wrote, "I had a great experience at the Vein Clinic. The whole staff was very friendly, knowledgeable, and professional. Ana scheduled my appointments in a limited time frame, so I could finish all my treatments. Dr. Jung did awesome work, and I can't wait to see the results! I highly recommend Dr. Jung and his team."
Tip #3. The vein doctor should be friendly and have a strong educational background.
Location and testimonials help you narrow down your list of vein clinics — but they shouldn't be your deciding factors. One of the most important factors to consider is the vein clinic's vein doctors and staff. You should look for vein clinics with highly-trained vein doctors specializing in the latest minimally invasive vein treatments. They should have a stellar educational background, and they must be compassionate.
The Spider Vein and Varicose Vein Clinic, Texas, is led by Dr. Calvin Jung, an incredibly talented and highly skilled vein doctor specializing in the latest vein treatment protocols. He graduated with honors from the New York University Langone Medical Center and completed his surgical residency at the same university. He also specializes as a cosmetic surgeon, giving him an added advantage over other vein doctors — he's uniquely capable of restoring your legs' cosmetic beauty.
Tip #4. Thorough consultation and diagnosis are essential for effective vein treatments.
When it comes to vein treatments, the value of a thorough initial consultation and diagnosis can't be underestimated. Most vein clinics treat spider veins and varicose veins as cosmetic problems, i.e., they perform spider vein removal in Houston without identifying or treating the root cause of spider veins. However, varicose veins and spider veins are usually symptomatic of an underlying medical condition (chronic venous insufficiency) wherein blood accumulates in the leg veins. Treating spider veins without addressing the root cause is pointless — the spider veins may return.
The Spider Vein and Varicose Vein Clinic, Texas, performs incredibly comprehensive vein care. It performs thorough vascular imaging tests using the latest diagnostic technologies, such as Duplex Ultrasound, to visualize the direction of blood flow in your leg veins. The vein doctor also examines your leg veins, discusses your symptoms, and reviews your medical history. The comprehensive consultation allows them to curate the ideal vein treatment plan for your unique needs and goals, ensuring optimal and long-lasting results.
Tip #5. Minimally invasive vein treatments are safer, more effective, and more convenient than vascular surgeries.
The Spider Vein and Varicose Vein Clinic, Texas, specializes in minimally invasive vein treatments that are safer, more effective, and more convenient than vascular surgeries. You must avoid vein clinics that provide vein surgeries or even recommend them as suitable options. The truth is that vascular surgeries have been deemed obsolete for over a decade because of the emergence of minimally invasive procedures, such as endovenous laser ablation, endovenous radiofrequency ablation, venaseal, sclerotherapy, clarivein, and more.
Tip #6. The vein clinic should help with insurance coverage.
Minimally invasive vein treatments are eligible for insurance coverage if you have underlying chronic venous insufficiency. However, all vein treatments aren't equally eligible, and patients must often take several measures to enhance their insurance eligibility, such as wearing compression stockings for at least six months before the procedure. You must look for vein clinics that accept all insurance plans, provide free insurance verification, and actively help with insurance coverage.
The Spider Vein and Varicose Vein Clinic, Texas, accepts all insurance plans, including Medicare, and provides free insurance verification. The insurance concierge works out the terms and conditions of your insurance providers, and the vein doctor actively recommends vein treatments with the highest potential for coverage. As such, they actively work with you to minimize your out-of-pocket financial burden.
Schedule a consultation with the vein doctor.
The Spider Vein and Varicose Vein Clinic is undoubtedly one of the most reputable vein clinics in Texas. If you have the signs or symptoms of vein disease, please schedule a consultation with your chosen vein clinic in Texas.