The Spider Vein and Varicose Vein Clinic in The Hamptons, LI
The Spider Vein and Varicose Vein Clinic in Hampton Bays is the most accessible and advanced vein clinic in Hamptons, LI. Our vein clinic is strategically located at 225 W Montauk Highway Suite 3, Hampton Bays, in partnership with the excellent group of skin specialists known as MDCS Dermatology. Besides a vein clinic in the Hamptons, we also have state-of-the-art vein clinics in Jericho on the north shore and Lindenhurst on the south shore. Wherever you might be located in Long Island, you can find one of our advanced vein clinics near your location.
Below, we highlight all of the reasons we're considered the best vein clinic in the Hamptons.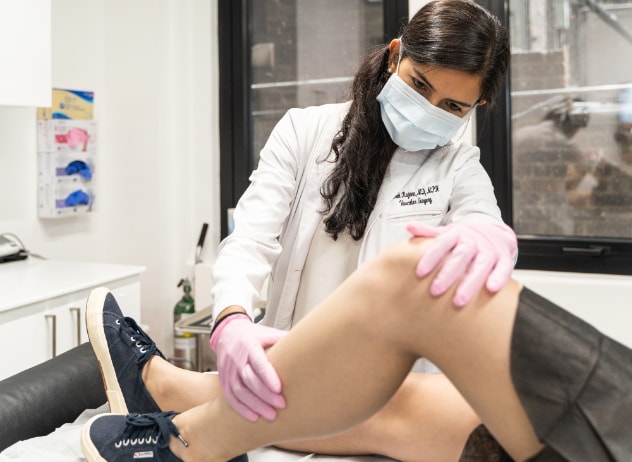 5-Star Ratings and Reviews
Our vein clinic in the Hamptons has unanimous 5-star ratings and reviews from all patients. That's a pretty hard feat to accomplish and maintain over extended periods. Google, Facebook, and Real Self allow patients to leave scathing reviews for vein clinics if they're dissatisfied with the service or results. As such, our perfect ratings reflect that we maintain flawless standards of vein care and a perfect track record.
We quote one of our most recent patients: "What an amazing experience I had with Dr. Arnold and his team! The entire team was knowledgeable, friendly, professional, and caring throughout every vein treatment procedure I had. I would highly recommend this practice to others."
Talented Vein Doctors
The Spider Vein and Varicose Vein Clinic in the Hamptons is affiliated with VIP Medical Group, one of the country's leading collectives of vein clinics and vein doctors. The VIP Medical Group individually selects the country's best vein doctors from Ivy League medical schools, prestigious residency programs, and fellowships. We ensure that our vein doctors specialize in the latest and safest minimally invasive vein treatment protocols.
Our vein clinic in Hampton Bays is led by Dr. Thomas Arnold, one of the country's most experienced vein specialists. Dr. Arnold has over 25 years of experience with vein treatments, and he has always been at the forefront of minimally invasive vein treatments. He graduated from the prestigious University of Pennsylvania and joined the State University of New York at Stony Brook in 1993. Since then, he has been dedicated to serving the patients in Long Island.
Dr. Arnold is a warm and compassionate vein doctor who has performed thousands of minimally invasive spider vein and varicose vein treatments. He specializes in ultrasound-guided procedures, which ensures optimal results for all his patients. Furthermore, he always discusses your goals and symptoms, understands your medical history, and curates personalized vein treatment plans. His patients always feel comfortable under his care.
IAC Accredited Vein Clinic
The Intersocietal Accreditation Commission officially certifies the country's leading medical centers for abiding by their rigorous standards of safety and technological advancements. IAC accreditation is a completely voluntary process, but it helps distinguish the country's safest and most advanced medical centers. Only a handful of vein clinics undergo IAC accreditation, and fewer still pass their tests. Ours is one of the few IAC-accredited vein clinics in the country.
Comprehensive Vein Care
The Spider Vein and Varicose Vein Clinic in the Hamptons believes in comprehensive vein care — in stark opposition to the cosmetic treatments favored by most other vein clinics. Most vein doctors assume that spider veins and varicose veins are cosmetic problems, so they only remove the superficial problems without addressing the root cause. However, spider veins and varicose veins are actually symptomatic of chronic venous insufficiency, a circulatory disorder wherein blood accumulates in leg veins, causing vascular dilation and spider veins.
Treating spider veins without addressing the root cause is like painting over a stained wall without fixing the leaky pipes within — the stains will inevitably return. Most medical centers and spas only remove spider veins without treating vein disease, resulting in a high rate of recurrence. However, our vein doctors perform thorough ultrasound scans to identify chronic venous insufficiency and curate a comprehensive vein treatment plan. We address the root cause of your vein problems, ensuring long-lasting results.
Minimally Invasive Vein Treatments
The Spider Vein and Varicose Vein Clinic in the Hamptons provides minimally invasive spider vein and varicose vein treatments, such as radiofrequency ablation, endovenous laser ablation, venaseal, and sclerotherapy. These minimally invasive vein treatments are performed as in-office procedures that conclude within an hour with no downtime, allowing you to resume your daily activities and work immediately.
During the vein treatment, the vein doctor makes a small incision on the skin's surface to insert a catheter into the diseased saphenous vein under ultrasound guidance. Depending on the chosen procedure, the vein doctor may channel thermal energy, laser energy, or medical adhesives into the diseased vein to make it seal shut or collapse, rerouting the accumulated blood into healthier leg veins.
The primary vein treatment is usually followed by ambulatory phlebectomy or sclerotherapy. Ambulatory phlebectomy involves the physical extraction of superficial varicose veins through small incisions on the skin's surface. Sclerotherapy involves injecting a sclerosant medicine into the spider veins to make them fuse and seal shut, turning into hardened scar tissues eventually absorbed by the body.
Free Insurance Verification
We provide free insurance verification for all patients before the appointment. Our insurance concierge will contact your providers on your behalf, work out the terms and conditions of your insurance plan, and help you optimize your coverage. We also provide a complete breakdown of your vein treatment costs, with and without insurance coverage, before the procedure. As such, you can proceed with the vein treatment with complete mental clarity, knowing exactly what you'll have to pay.