#1. Location
Location is the first factor to consider when looking for the best vein clinic in LI, but it's not the most important. You must consider the location only to ensure accessibility. After all, there's no point in finding the world's best vein clinic if it's several hours away. Vein treatments often necessitate multiple sessions, so you must find an easily accessible vein clinic in LI that's a few minutes from your residence or place of work.
The Spider Vein and Varicose Vein Clinic, LI, has three highly accessible vein clinics on the south shore, north shore, and the Hamptons. As such, wherever you might be located, you can find an accessible vein clinic near your place.
The south shore vein clinic is located on the Montauk Highway in Lindenhurst, a short drive from the southern state parkway and right beside the Bergen Point Golf Course.
The north shore vein clinic is located at 350 Jericho Turnpike, Jericho, just one block from Whole Foods and beside the long island expressway.
The Hamptons vein clinic is located at 225 W Montauk Highway in Hampton Bays, a short drive from South Hampton, Water Mill, East Hampton, and other neighboring regions.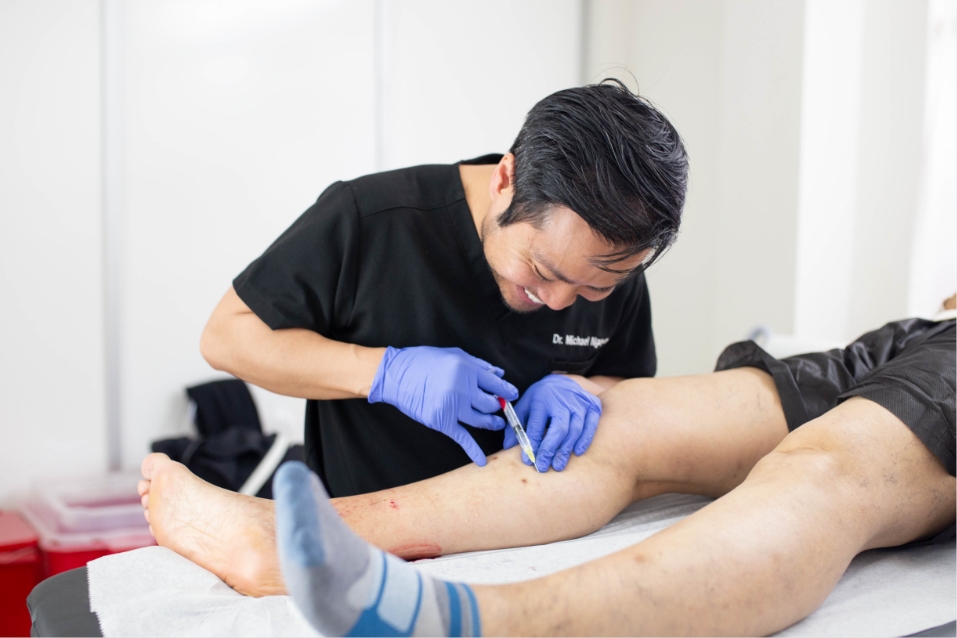 #2. Reviews
You must also consider the vein clinic's reviews and patient testimonials. There's no central agency or organization that ranks the vein clinics in Long Island — that's why you must consider patients' testimonials for a ranking. You should look for vein clinics with perfect 5-star ratings and reviews from patients, which indicates a perfect track record and stunning patient care standards. Patient testimonials also provide direct feedback about the vein treatment experience. You can generally find the vein clinics' reviews on Google, Facebook, and RealSelf.
The Spider Vein and Varicose Vein Clinic, LI, has unanimously flawless reviews from all patients. The following is one of their recent reviews:
"So happy I found VIP Medical Group. From the moment I walked in, the entire staff was welcoming and friendly! There is no waiting, which is a plus! Dr. Saraf did the procedure on my legs. He is so friendly and professional. He explained everything he was doing and put me at ease. The procedure was painless. Dr. Saraf will call or text you after your procedure to check up on how you are doing. Now, that's sweet! I'm so happy with the results. My legs feel and look great! Oh, the office is clean and Covid-safe! I actually looked forward to my office visits!"
#3. Vein Doctors
After narrowing down the list of the most accessible and well-reviewed vein clinics, you must consider their vein doctors. The right vein clinic must be led by highly skilled, experienced, and compassionate vein doctors with years of experience. They should have graduated from reputable medical institutions, and they should ideally be board-certified. Board certification isn't necessary to practice vein care, but it provides an objective guarantee that the vein physician has undergone strict professional challenges, such as fellowships, residencies, and other tests. As such, board-certified vein physicians are tried-and-tested veterans of vein treatments.
The Spider Vein and Varicose Vein Clinic, LI, is led by some of the country's leading vein experts: Dr. Kamran Saraf, Dr. Caroline Novak, and Dr. Thomas Arnold.
Dr. Kamran Saraf is the leading vein doctor at the south shore vein clinic. He received his medical degree from the University of Miami, trained at the Texas Medical Center, and completed his fellowship training at the University of Pittsburgh Medical Center. He has won numerous awards and scholarships, including the Maryland Senatorial Scholarship and the University of Miami Academic Achievement Scholarship.
Dr. Caroline Novak is a double-certified vein physician specializing in minimally invasive vein treatments and internal medicine. She graduated with honors from the prestigious University of Chicago, attended the University of Illinois Medical School, and completed a prestigious residency at the Northwestern Memorial Hospital in Chicago. She's an incredibly compassionate vein doctor with a flawless track record.
Dr. Thomas Arnold is the leading vein doctor at the Hamptons vein clinic. He has 25+ years of experience as a vein doctor, and he always stays abreast of the latest developments in vein care. He specializes in vascular surgery and the latest minimally invasive vein treatments, but he only resorts to surgeries if absolutely necessary. He also ensures your overall comfort.
#4. Vein Treatments
You must also consider the vein clinics' offerings of vein treatments. You can generally find an overview of their varicose vein treatment options from their websites. The best vein clinics should only provide minimally invasive spider vein and varicose vein treatments, such as endovenous ablation, sclerotherapy, ambulatory phlebectomy, etc. Minimally invasive vein treatment plans conclude within an hour with no downtime and negligible risk of complications, and they have nearly perfect success rates. As such, there's no need for vascular surgeries.
The Spider Vein and Varicose Vein Clinic, LI, only provides minimally invasive spider vein and varicose vein treatments. Furthermore, each vein treatment plan is uniquely customized and designed according to the patient's diagnosis, symptoms, and individual goals. Their vein treatment options include the following:
Endovenous Radiofrequency Ablation
Endovenous Laser Ablation
VenaSeal (Vein Glue Treatment)
ClariVein (MechanoChemical Ablation)
Sclerotherapy
Foam Sclerotherapy
Pre-Mixed Foam Sclerotherapy
Ambulatory Phlebectomy (Microsurgery)
#5. Insurance Verification
Finally, you must look for vein clinics that accept all major insurance plans and provide free insurance verification. In most cases, spider vein and varicose vein treatments are covered by insurance plans if you have underlying chronic venous insufficiency. As such, vein doctors must take an active interest in helping you minimize your out-of-pocket financial burden.
The Spider Vein and Varicose Vein Clinic, LI, accepts all major insurance plans, including Medicare. Furthermore, our vein doctors actively discuss your insurance coverage while curating the vein treatment plan. You receive a complete overview of your vein treatment costs with or without coverage before the procedure. This allows you to proceed with the treatment with a clear mind.