The vein clinic is 5 minutes from River Oaks  
Our spider vein and varicose vein clinic is located at 2900 Weslayan St Suite 650, Houston, a short 5-minute drive from River Oaks via San Felipe St and Willowick Rd. Our vein clinic near River Oaks is ideally suitable for patients from Uptown Houston, The Galleria, Highland Village, and other neighboring regions. However, patients from all over the country travel to our vein clinic to consult with our nationally recognized vein doctor, Dr. Calvin Jung.
Our state-of-the-art vein clinic has unanimous 5-star ratings and reviews from all patients on Google, Facebook, and Real Self. This shows that we maintain a perfect track record and excellent standards of vein care. Most patients are hesitant about seeking vein treatments because they believe the process would be strenuous, difficult, or long. However, we perform in-office and outpatient procedures that conclude within an hour with no downtime or complications.
You may book an appointment online or call us at +1 346-258-7302. Please continue reading to learn what you can expect from our spider vein and varicose vein treatment clinic in Houston.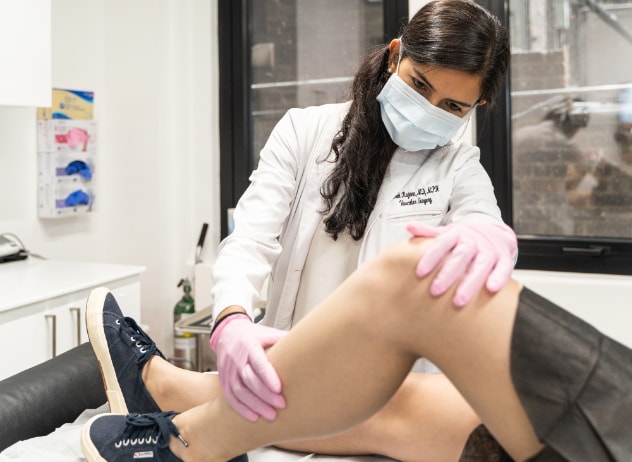 #1. You can expect free insurance verification
We offer free insurance verification before your appointment. Most patients don't realize that most vein treatments can be covered by medical insurance, especially if you're diagnosed with chronic venous insufficiency, the root cause of most vein problems. You can enter your name, contact details, and other relevant information on our website to request free insurance verification.
Our insurance team will work out the terms and conditions of your insurance plan to determine how much of your vein treatment would be covered by insurance. Furthermore, our insurance concierge also contacts your insurance providers on your behalf to work out the details and maximize your insurance coverage potential. We do everything possible to ensure your vein treatments are financially accessible.
#2. You can expect a thorough consultation
After booking an appointment and requesting free insurance verification, you'll have to go for your appointment. We encourage you to arrive at the vein clinic about 15 minutes early, so you can fill out the necessary forms. You'll have to enter your medical history details and symptoms. The most common signs and symptoms of vein disease include leg heaviness, frequent leg cramps, restless leg syndrome, leg swelling, and leg pain.
During your initial consultation, the vein doctor will examine your leg veins, discuss your symptoms, and review your medical history. The vein doctor will also understand your goals and determine the likelihood of chronic venous insufficiency. Diagnosing vein disease is essential because it allows the vein doctor to treat the root cause of spider veins and varicose veins, thereby ensuring long-lasting relief from vein problems.
#3. You can expect ultrasound tests
You can expect vascular imaging tests after the initial consultation. The vein doctor will administer an ultrasound scan, known as duplex ultrasound, to visualize the direction of blood flow in your leg veins, which will confirm the presence or absence of chronic venous insufficiency. After the ultrasound test, the vein doctor will finally curate a minimally invasive vein treatment plan. You must avoid vein clinics that provide treatments without a diagnosis.
#4. You can expect a personalized treatment plan
Our vein doctors provide personalized vein treatments rather than cookie-cutter vein treatments. They will discuss all of your vein treatment options, highlighting the advantages and drawbacks of all treatments. You are given all of the information necessary to make an informed and educated decision. Furthermore, we also consider your insurance coverage options while curating the treatment plan.
The vein doctor will curate your vein treatment plan based on numerous factors, including your cosmetic goals, symptoms, diagnosis, medical history, allergy risks, and insurance coverage options. After selecting the ideal vein treatment plan, the vein doctor will walk you through the entire process so you know exactly what to expect. You'll also receive an overview of your vein treatment costs.
#5. You can expect minimally invasive spider vein and varicose vein treatments
We only provide minimally invasive spider vein and varicose vein treatments. Minimally invasive procedures are safe and highly effective, with nearly perfect success rates. Furthermore, they conclude within an hour with no downtime, allowing you to resume your daily activities and work immediately after the procedure.
Radiofrequency ablation, endovenous laser ablation, and venaseal are the most effective vein treatments for chronic venous insufficiency. During endovenous ablation, the vein doctor makes a small incision on the skin's surface to insert a catheter or laser fiber into the diseased vein. When activated, the catheter or laser fiber generates thermal or laser energy to destroy the diseased vein, rerouting the accumulated blood into healthier leg veins.
VenaSeal is one of the most effective minimally invasive procedures for venous insufficiency. The vein doctor injects a medical glue into the diseased vein to seal its walls shut. The accumulated blood reroutes into healthier leg veins, and the diseased vein is eventually metabolized by the body. However, VenaSeal isn't yet covered by all insurance plans because it's a relatively new procedure.
Ambulatory phlebectomy and sclerotherapy are the most reliable treatments for superficial varicose veins and spider veins. During ambulatory phlebectomy, the vein doctor physically extracts superficial varicose veins through small incisions on the skin's surface. During sclerotherapy, the vein doctor injects a medicine called sclerosant into the spider veins, turning them into scar tissues eventually absorbed by the body.
#6. You can expect a quick, lunchtime procedure
Our minimally invasive vein treatments are in-office and outpatient procedures that conclude within an hour with no downtime. Most of our patients seek vein treatment during their lunch break and resume their daily activities immediately. You'll have to wear compression stockings for a few days, but that won't affect your ability to perform day-to-day activities.