1. Booking an Appointment Is Easier
One of our Jericho vein doctors' top priorities is simplifying vein care for our patients. We start by taking the hassle out of booking an appointment at a vein center on Long Island. You can schedule an appointment online, book a visit over the phone, or even call us to chat and decide if you'd like to come in for a visit. We won't leave you holding on the phone, or waiting for months to see one of our doctors. With 3 premiere vein centers near Jericho, we ensure that each patient is seen when they need to be.
2. Acquiring Insurance Coverage Is Easier
A common concern patients have about treating varicose veins and spider veins is the question of what it will cost. This is never a concern for our patients, since we have a dedicated insurance team who works with all major carriers to determine your coverage prior to your vein treatment. You can call our insurance specialists directly at (631) 305-2827 to see which procedures you're eligible for. Since our team files paperwork on your behalf and handles all of the necessary steps to acquire coverage, our patients always get the best price for vein treatments. In fact, many patients' procedures are 100% covered.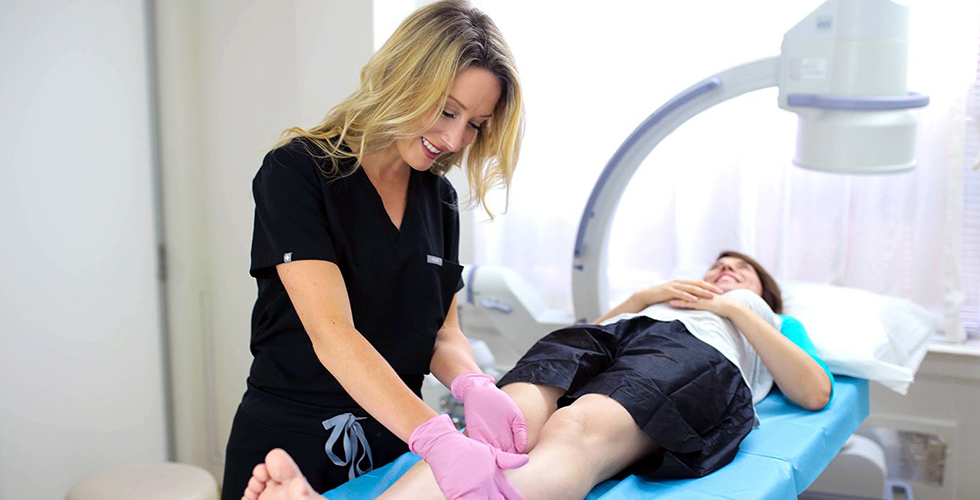 3. Getting to Our Medical Center Is Easier
If your legs are swollen, achy, tired, and crampy, the last thing you want is a lengthy commute to your vein doctor's office. Our vein center in Jericho is located right off of the Long Island Expressway and Northern State Parkway, so you can find us easily. In addition, we have multiple locations on Long Island, including vein centers in the Hamptons and in Lindenhurst. While we have locations in NYC, you don't have to drive into Manhattan to get world-class care from our vein doctors. Premium care is right around the corner from our North Shore and South Shore neighbors.
4. Communicating With Our Vein Specialists Is Easier
Do you ever find it hard to talk to your doctor? Maybe the doctor uses medical lingo that's confusing. Perhaps they're in such a hurry that you can barely say three words before they're out the door. You might have symptoms that feel too personal to discuss with a doctor you hardly know. Or maybe you've left messages, but they never return your call. It's important for your doctor to understand what you're going through in order to properly treat you. But what should you do if your doctor is hard to communicate with? You should visit our compassionate vein center where listening is one of our vein specialists' best skills. We're always accessible, even providing you with a concierge to facilitate communication. And we're committed to making sure you're completely informed by explaining things clearly and answering every question.
5. Choosing a Vein Treatment Is Easier
Choosing vein treatments used to be easier, since there were less to choose from. Patients with varicose veins typically had to deal with them or resort to vein stripping with a vascular surgeon. Today's minimally invasive methods are far quicker, gentler, and safer. However, the wealth of options makes it harder for patients to choose. At our vein center in Jericho, doctors simplify this process by explaining the pros and cons of each procedure and revealing which ones are appropriate for your vein condition. Varicose veins and spider veins are often linked to the same disease, but they aren't resolved in the same way. Some patients aren't eligible for certain vein treatments, and no two patients' veins are the same. Visit our acclaimed, accredited medical group for an expert's recommendation.
6. Avoiding Vein Surgery Is Easier
Some vein centers on Long Island only perform vein surgery. One clue that this is true is if all of their doctors are solely trained as vascular surgeons. While some patients require vein stripping surgery, the vast majority don't. Choosing a minimally invasive vein treatment center is key to avoiding vein surgery if you don't need it. While some of our doctors specialize in surgery, all of our doctors are board certified in vein medicine and trained in minimally invasive treatments. We offer several ways to treat veins non-surgically. With our procedures, you avoid general anesthesia, hospitalization, stitches, scarring, and recovery time. You experience all the benefits of beautiful veins without the risks of unwarranted surgery.
7. Eliminating Spider Veins and Varicose Veins Is Easier
One of the distinct advantages of our LI vein centers is that our doctors are trained in ultrasonography. This means that they can quickly locate trouble spots within your veins and identify problems like venous insufficiency, dilated veins, and blood clots. It also means they can position each vein treatment device exactly where they want it and monitor the medicine as it treats your veins. What does this really mean for you? It means your treatment is faster, more accurate, and less uncomfortable, since there's absolutely no guesswork involved. At other vein centers, you might be subjected to multiple injections or improperly placed needles, due to the lack of ultrasound imaging. But with our medical group, precision is guaranteed.
8. Recovering Is Easier
Since we use minimally invasive methods, like sclerotherapy and endovenous laser therapy, whenever possible, our patients recover right away. Most people head straight back to work and return to their typical routines. The most our patients experience is a bit of swelling, bruising, or injection site discomfort, all of which dissipate quickly. Many of our treatments leave absolutely no evidence behind, other than the disappearance of your unhealthy veins. Since we don't need general anesthesia to treat your veins, you can be in and out of our office in under 30 minutes. Our vein experts get it right the first time, often treating both veins and vein disease with a single procedure, so you can get on with your life.
9. Maintaining Vein Health Is Easier
One of the tricky things about treating veins is that they're regularly subjected to pressure. They must constantly pump blood to your heart, whether you have healthy blood pressure or not. Our vein doctors educate you about how to assist this process. We offer tips to prevent future vein damage and lifestyle adjustments you can make to decrease the symptoms of vein disease. We teach you how to improve your circulation to keep your veins strong and vital. Vein damage and vein disease become more prevalent as we age. With our team of physicians, venous health will be easier to achieve.
10. Your To-Do List Is Easier
Varicose veins and spider veins might diminish your confidence, but they might also diminish your energy. Elevated blood pressure and impaired blood flow leave your legs feeling tired, achy, and swollen. Midway through the day, all you want to do is get off of your feet, which reduces your productivity, but also your fulfillment in life. When you treat unhealthy veins and venous insufficiency, you'll suddenly find your to-do list much easier to complete. What's more, you'll move past that to-do list with energy left for the things you actually want to do!