Your Search for Diagnosis & Treatment of Pain In Front of Knee is Over
One in four American adults suffers from knee pain. It is incredibly common and debilitating. When you have pain in front of or behind the kneecap, it can be especially frustrating. Bending the knee, descending stairs and inclines, and even just walking can be excruciating. What caused your knees to ache in the first place? What can you do to relieve the pain?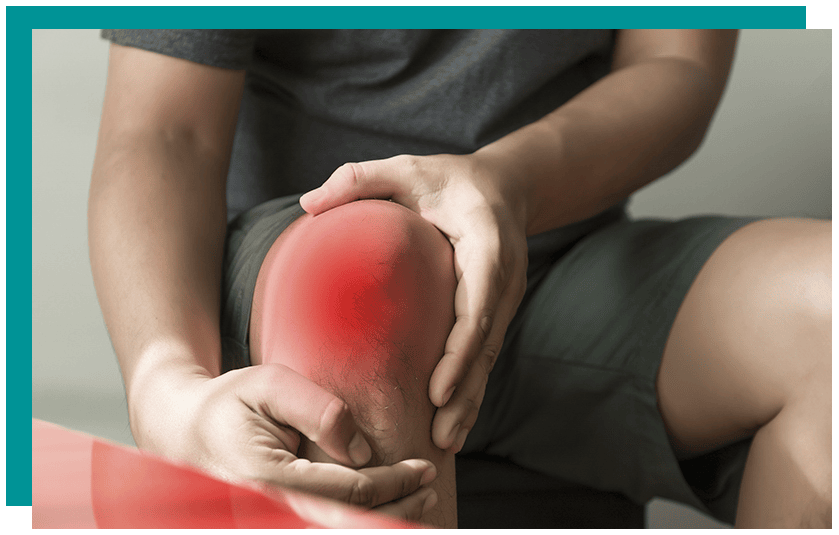 There are several common causes of pain in the front of the knee:
Patellofemoral pain syndrome: a condition characterized by dull, aching pain and stiffness around and behind the kneecap. It's known as "runner's knee" or "jumper's knee" because it's common in people participating in sports or climbing stairs. It's also common in manual laborers. Overuse and problems with kneecap alignment are common causes of patellofemoral pain syndrome.
Chondromalacia: a condition characterized by sharp or aching pain around and behind the kneecap due to cartilage breakdown. Overuse, injury, and aging are common causes of chondromalacia.
Patellar maltracking: a condition characterized by a painful patella (kneecap) that slips out of place. Leg malalignment and muscular imbalances or weaknesses are common causes of patellar maltracking.
Patellar tendonitis: a condition characterized by dull pain and tenderness, swelling, warmth, and redness of the soft part of the knee below the kneecap. The pain can become sharp with activity. It is due to inflammation of the patellar tendon, a fibrous tissue that connects the kneecap to the shin muscles. Overuse from athletic activities like running and jumping are common causes of patellar tendonitis.
Prepatellar bursitis: a condition characterized by dull pain and tenderness, swelling, warmth, and redness over the kneecap. It's due to inflammation of the prepatellar bursa, a fluid-filled sac that covers the kneecap. Frequent and prolonged kneeling is a common cause of prepatellar bursitis.
Knee arthritis: a condition characterized by dull pain over the kneecap. There are two types of knee arthritis: osteoarthritis and rheumatoid arthritis.

Osteoarthritis: a condition characterized by varying degrees of chondromalacia. Pain worsens with activity. Overuse and aging are common causes of osteoarthritis.
Rheumatoid arthritis: an inflammatory condition caused by autoimmune disease. Pain improves with activity, and is often accompanied by swelling, warmth, redness, and tenderness over the kneecap.
You may have already tried conservative treatments for your knee pain: rest for a period of time, ice, compression, elevation, weight loss, NSAID or analgesic pain medication, physical therapy, and changes in footwear, playing surfaces, and training techniques. But your pain still hasn't gotten better. Pain Treatment Specialists can help.
What Type of Doctor Can Help You Diagnose and Treat Pain In Front of Knee?
Pain Treatment Specialists are pain medicine doctors with specialized training in preventing, diagnosing, and treating pain conditions, including knee pain. If you are looking for a premier pain management clinic, that accepts most health insurance plans, turn to Pain Treatment Specialists. The pain doctors at Pain Treatment Specialists are Harvard-trained and board-certified with the American Board of Anesthesiology Pain Medicine. They offer the best medical advice and the most advanced techniques and procedures to help you achieve pain relief. Pain Treatment Specialists clinics are located in New York City, and in Clifton, Paramus and Wayne, New Jersey.
As the experts in pain medicine, pain specialists are uniquely equipped to deliver immediate, long-lasting results. Our team of skilled physicians includes Dr. George Hanna, Dr. Michael Nguyen, and Dr. Namrata Khimani. Each one of our doctors provides compassionate care, and cutting-edge pain medicine interventions. By scheduling an appointment with our specialists, you can begin to treat your pain immediately, and avoid major complications and permanent damage.
Why Visit VIP Medical Group in NY or NJ?
Upon arrival at one of our clinics, your pain doctor will meet you for your scheduled consultation. At this time, he or she will have the opportunity to talk with you about your overall health and your specific pain symptoms. Your doctor will take a medical history to get to know you and your pain better. He or she will then perform a careful physical examination. He or she will test for soft tissue and joint tenderness, and will observe the symmetry, alignment, range of motion, strength, and stability of your hip, knee, and ankle joints. Your doctor may even order some blood tests and joint fluid tests (arthrocentesis), nerve conduction studies, or imaging studies, such as an x-ray or MRI.
With this information, your doctor will be able to diagnose your knee pain, and will work with you to find a treatment plan that's right for you. A wide array of knee pain treatment options are available. When at all possible, Pain Treatment Specialists will avoid treating with narcotic pain medications or surgery, but will refer you to an orthopedic surgeon if need be.
Knee Pain Treatments:
Dіѕеаѕе Modifying Antі-Rhеumаtіс Drugs (DMARDѕ): medication that slows the progression of autoimmune diseases like rheumatoid arthritis.
Steroid and Hyaluronic Acid Knee Injections: Corticosteroid and hyaluronic acid injections delivered by a pain medicine doctor into the knee joint can reduce your knee pain and swelling. These treatments can enable you to participate in physical therapy.
Iovera: Pain physicians deliver this cold therapy, known as "cryotherapy," to freeze peripheral nerves that cause pain in joints, like the knee. This freezing of the nerve deactivates it from feeling pain.
Genicular Nerve Block: When injections and other therapies fail, pain medicine specialists use ultrasound and a local anesthetic medication to block the genicular nerve of the knee from feeling pain.
Genicular Nerve Radiofrequency Ablation: When other treatments fail to treat chronic knee pain, pain doctors turn to radiofrequency ablation of the genicular nerve (GNRFA). GNRFA involves genicular nerve block followed by removal of the genicular nerve with radiofrequency.
At the end of your visit, you will meet with a member of our billing department. She will help explain to you your treatment insurance coverage and benefits. Before any treatment is done, you will be given a detailed outline of how much you will owe (if anything). We will work directly with your insurance company to help you get treated as soon as possible. You can rest assured that there will be no surprise bills or hidden costs. Schedule an appointment with one of the best knee pain medicine doctors in NY and NJ for management of your knee pain today.